For the second consecutive year, all roads in District 6-6A football ran through Marcus.
The Marauders swept their conference schedule once again, posting a 6-0 district record and leaving no doubt in doing so. After winning four of its seven district ballgames by 10 points or less in 2019, Marcus' margin of victory in 6-6A skyrocketed to 30.2 points this season. 
Naturally, the league champions were front and center for numerous superlative awards in the 6-6A all-district team, recently voted on by its coaches.
That included a pair of repeat accolades from 2019, including at the very top where Marcus senior quarterback Garrett Nussmeier earned a unanimous nod for district MVP. Nussmeier was the engine behind the Marauders' first unbeaten regular season since 1995, passing for 2,815 yards, 33 touchdowns and five interceptions. The LSU commit added 128 rushing yards and a touchdown, and had the highest completion percentage of any quarterback ranked in the area's top 20 in Class 6A (72%).
"He went undefeated in district and led us against some really good teams. He did outstanding," said Kevin Atkinson, Marcus head coach. "He was the reason we were clicking so much on offense for sure.
The Marauders entered the postseason undefeated thanks to strong play in all three phases — an offense that averaged 46.2 points per game, a defense that allowed 22.7 and a special teams unit that routinely controlled field positions. Keying the lattermost was senior Christian Espinoza, who in addition to helping anchor the Marcus secondary handled punting and return duties for the Marauders. Espinoza was named 6-6A special teams player of the year.
Espinoza tallied a 38-yard net punt average, including three kicks pinned at the 1-yard line, and totaled 117 yards on punt returns and 154 yards on kickoff returns. When he returned the ball on kickoffs, Marcus' averaging starting field position was at the 33-yard line.
"Christian works extremely hard. Our goal every offensive series was to end it with a kick, and if that meant punting the ball then we were in good hands with Christian," Atkinson said. "And as a returner, he was so dynamic as well. Him being able to field punts was a definite asset to us."
Meanwhile, Atkinson and his coaches were named staff of the year for the second straight year.
One rung below the Marauders sat Lewisville, which went 4-2 and placed second in the district. The Farmers paved a third consecutive playoff appearance on the strength of an offense that averaged 42.3 points and more than 500 yards per game.
Senior quarterback Taylen Green and junior running back Damien Martinez had plenty to do with that and, fittingly enough, were voted as co-offensive players of the year. 
Green followed up his first year at Lewisville with a dynamic senior campaign under center, throwing for 2,663 yards, rushing for 659 more and totaling 32 touchdowns.
"He's such a dynamic playmaker. When a guy with his ability touches the ball every single play, you've got a chance," said Michael Odle, Lewisville head coach. "Pre-snap with his experience and knowledge, and post-snap with his arms and legs, he's an incredible playmaker who spread the ball all over the place. He's an unbelievable player, leader, captain and student, and that'll be really hard to replace."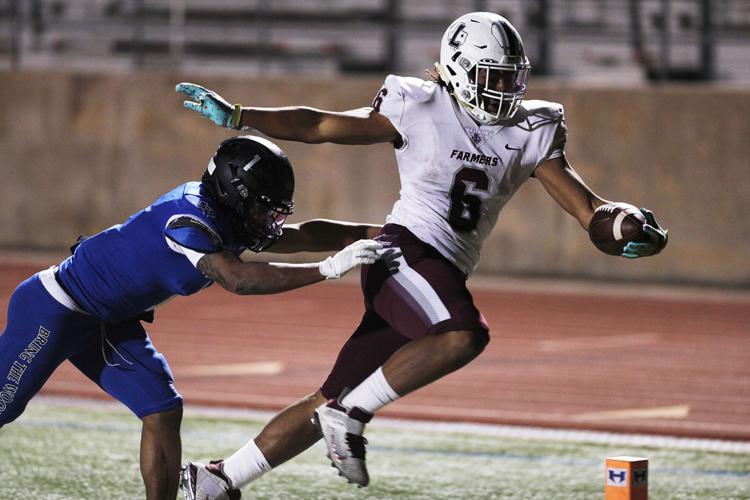 Green had plenty of help from Martinez, who led the Metroplex in rushing from start to finish during the regular season. He tallied 2,010 yards on the ground on 8.7 yards per carry and totaled 31 touchdowns on the year.
"He's jut a workhorse. He can run inside the tackles or outside, he can catch and pass protect," Odle said. "He's a complete running back who gets better as the game goes on. He's such a tough guy to tackle who can run through you or around you. He cares a lot about his craft and the success he had was in part due to his work ethic."
The Farmers won five of their final seven games during a 7-4 campaign, and thanks in part to a young defense that came into its own as the year progressed. That included a big year in the secondary for freshman Jayden Hardy, who was named the district's defensive newcomer of the year. Hardy's first varsity campaign included 56 tackles, three pass breakups, two interceptions and a forced fumble.
"He kept getting better. We brought him up during the summer to get a look at him, and his IQ is just so high," Odle said. "He learned both safety and corner and flat-out won the job. He turned into the quarterback back there. He was lining people up, making checks and calls. He has a lot of skill as well and did so much for us as just a freshman."
Flower Mound senior Stone Eby was also recognized for his work on defense, capping high school career with a defensive player of the year nod. Eby anchored a stingy Jaguar defensive front and racked up 58 tackles (14 for loss) as well as 3.5 sacks, two fumble recoveries and two pass deflections entering the team's final regular-season game.
Stone is one of the most intense competitors I have been around," said Brian Basil, Flower Mound head coach. " He is one of those elite players who not only pushes himself to compete at a high level, but everyone else around him as well.  He was a dominant factor in every game we played and he has a bright future at SMU."
On the other side of the ball, Plano West sophomore Vance Feuerbacher was voted 6-6A offensive newcomer of the year. The first-year letterman contributed in all three phases for the Wolves, including as the team's backup quarterback where he played integral roles in their wins over Lewisville, Plano East and Plano. On the year, Feuerbacher ran for 314 yards on more than 5.0 yards per carry, threw for 82 yards and totaled six touchdowns.