It was a year to remember for the Plano East girls basketball team.
The Lady Panthers ran the table in District 6-6A at 14-0 for their first conference championship since 2008 and parlayed that success into a trip to the regional finals — something the program hadn't achieved since 1993.
Some of 6-6A's other heavyweights shined as well. Plano advanced to the regional quarterfinals for the eighth time in nine years, Hebron scored one of the biggest upsets of the postseason after knocking off state-ranked Denton Guyer in the bi-district round, and Lewisville played perennial power Allen down to the wire in its first-round tilt.
Standout players from those programs, as well as the rest of 6-6A, raked in postseason accolades as part of the league's all-district team. 
District champion East led the way with three of the conference's five superlative awards, including an MVP honor that head coach Jessica Linson said didn't come easy in picking a nominee given her team's balance. Ultimately, it was the well-rounded skill set and leadership of junior Donavia Hall that stood out.
Hall averaged team-high marks in points (10.6) and steals (3.1) and was second on the Lady Panthers in rebounds (5.1) and assists (2.5).
"For our end-of-season meetings last year, the challenge to [Hall] was for her to up her basketball IQ and to slow the game down. I noticed in my first year, she would force a lot of things so we wanted to her slow her mind and the game down," Linson said. "When she was able to figure that out, all of her natural attributes came out. She was our most consistent, dominant player and showed up in points, rebounds, assists, steals, deflections — she showed up across the board."
Just as instrumental in East's momentous season was the district's stingiest defense at just 40.1 points allowed per game. Anchoring that effort down low was sophomore Idara Udo, named 6-6A's defensive player of the year after averaging 6.1 rebounds, 1.0 steals and 0.9 blocks per game.
"[Udo] has been a pleasure to watch grow and I'm blessed to be able to coach her — only being a sophomore who's so ahead of her time," Linson said. "You don't find too many girls her size in high school who can guard one through five. She took ownership and pride in being a defensive player and loved it. 
"Our kids had confidence that she could clean up our mistakes and she was so active in rebounds and blocks. I'm so anxious to see the kind of defender she can be."
Linson, meanwhile, was named 6-6A's coach of the year following her second season leading East.
"To see all of the work we've all put forth, it's always nice to be recognized from other district coaches," Linson said. "We've all worked through a lot of things together and done a good job building the product. This award was about the kids and the hard work the entire staff put in."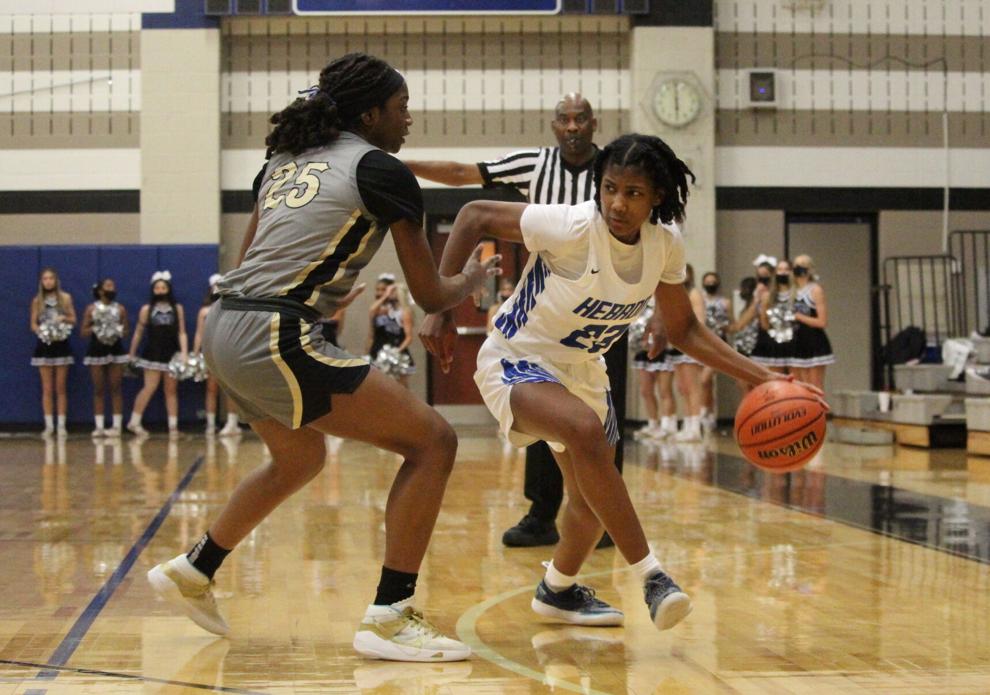 Playoff qualifiers Hebron and Lewisville accounted for the district's other two superlatives. The Lady Hawks advanced to the area round of the playoffs despite starting two freshmen — one of whom earned newcomer of the year honors following a breakout campaign by Paris Bradley.
Tasked with running point guard as a freshman, Bradley averaged 9.2 points, 4.6 rebounds, 3.1 assists and 2.2 steals for Hebron.
"Paris Bradley is a coach's dream. She is not only super talented, but she is arguably the hardest-working kid in the program," said Lisa Branch, Hebron head coach. "She isn't a natural point guard — she was thrown into that position and led our team to the second round of the playoffs. Paris is a fast learner and a natural talent."
Lewisville senior Laila Lawrence, meanwhile, was named 6-6A offensive player of the year. It's familiar territory for the Lady Farmers' leading scorer, as Lawrence earned an all-district superlative in three of her four years on varsity. She nabbed newcomer of the year as a freshman and split 6-6A defensive player of the year honors as a junior prior to being named the conference's top offensive player as a senior.
Selections for the league's all-district first team were Marcus junior Abby Barr, East junior Ada Anamekwe, Plano senior Amaya Brannon, Hebron senior Demauria Miles, East junior Kayla Cooper, Flower Mound sophomore Madison Cox, Plano senior Mikayla Eddins, Plano West sophomore Monica Marsh, Lewisville sophomore Mya Dotson, East junior Tiana Amos and Coppell sophomore Waverly Hassman.
Second-team selections went to Hebron senior Camille Thomas, Coppell senior Chloe Hassman, Flower Mound junior Hailey Bingham, Lewisville senior Haley Allen, Plano senior Khuyler Hardy, Flower Mound senior Paulina Porter, Plano sophomore Salese Blow, Flower Mound junior Sarah Edmondson, East junior Savannah Adjetey and East sophomore Taylor Haggan.