The high school swimming postseason kicked off on Friday, setting the stage for a four-week trek to Austin and a hopeful shot at a state championship.
Swimmers and divers from Lewisville ISD and Coppell have made that journey plenty over the years and those programs roster several student-athletes capable of concluding their respective seasons on the podium. Here are just a few to keep an eye on. 
Jenna Watson (Flower Mound)
The Lady Jaguars placed third overall at last year's state meet and could be poised for another big postseason in the coming weeks. Flower Mound's talent is wide-ranging and that includes a storied senior class that has helped submit some of the fastest swims in program history.
Watson, the school record holder in the 200-yard individual medley and as a contributor in all three relays, is among that group. 
The SMU commit will conclude her high school career by competing in the 200 IM and 100 breaststroke, as well as on the 200 medley and 200 freestyle relays, this postseason. Watson is among the state's premier competitors in the 100 breaststroke after placing third last year at state and should once again be in the mix this time round. 
Maggie Gholston (Flower Mound)
Another staple of the Lady Jaguars' vaunted senior class, Gholston's versatility will be on display this postseason. A fixture in the 50 freestyle — an event she placed eighth in at state last season and is again slated to race this time around — Gholston has added the 500 freestyle to her repertoire as well.
An Auburn commit, Gholston has managed to dip her time in the 500 free below the five-minute mark — a threshold that could put her in the medal mix at state, should she qualify.
Gholston has a hand in four school records at Flower Mound, including individual marks in the 50 free and 100 free, and is a force on the relay circuit as well. She teamed with Watson, sophomore Julia Wozniak and alum Chloe Archer to take second at state in the 200 free relay last season and is expected to compete both the 200 free and 200 medley relays this postseason. 
Jacob Dix (Flower Mound)
Dix is a two-time state qualifier in the 100 backstroke, placing 20th as a sophomore last year, but will instead take aim at prominence in the 200 free and 100 free during his junior postseason.
He has found plenty of success in both race this season, including finishes of first place in the 200 free and second place in the 100 free at the annual TISCA meet in November, and sported the No. 1 seed time in both events at Saturday's district meet.
The program record holder in the 200 free, Dix will also look to help Flower Mound's 200 and 400 free relays punch return tickets to the state meet. 
Johan Pretorius (Coppell)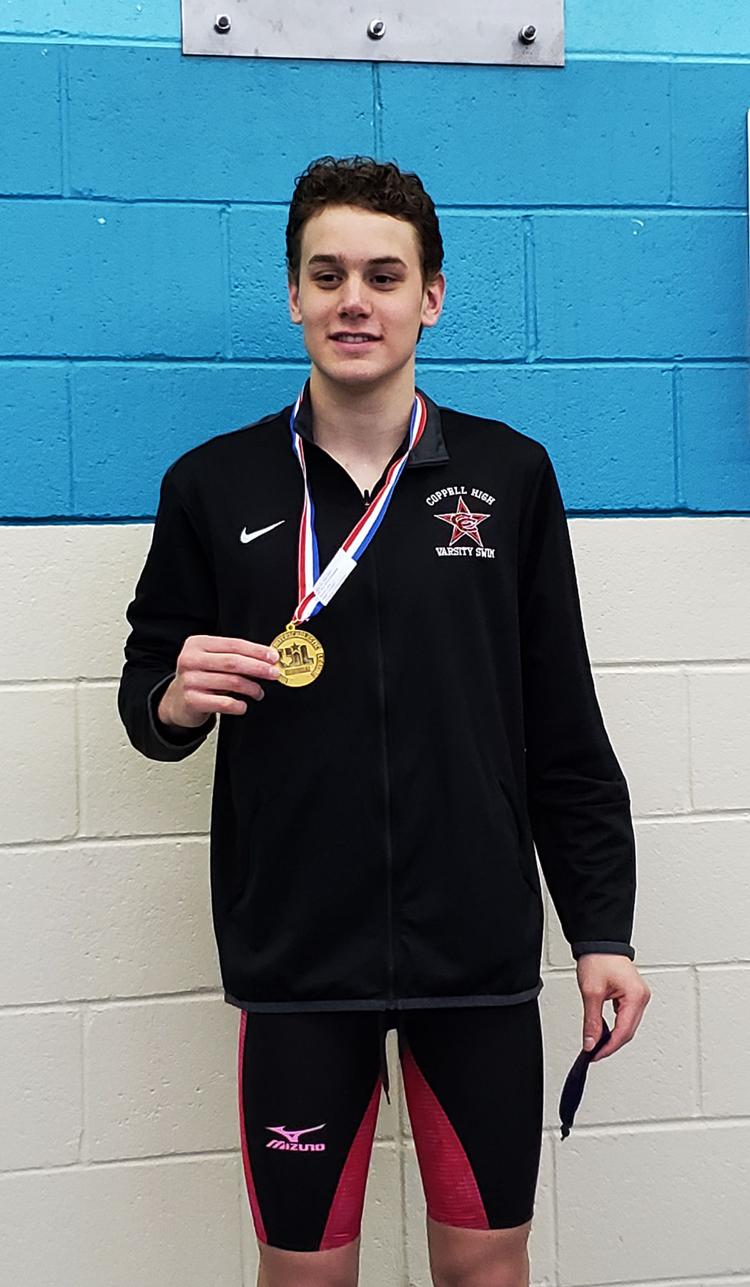 One of the Metroplex's premier swimmers in the 100 backstroke, Pretorius will set his sights on a third consecutive trip to state in the event in the coming weeks. Pretorius' state meet resume includes finishes of 13th place (sophomore) and 11th place (junior).
The Army commit managed a fourth-place finish in the race during the annual TISCA meet back in November, swimming a 52.20 but shaved 1.6 seconds off that time one month later. Should Pretorius hover around that 50-second mark this postseason, a chance at cracking the finals heat at state could be in the cards.
Sydney Rice (Marcus)
One of just 10 freshman divers to earn a NISCA All-American selection last season, Rice looks to build off her banner debut campaign and potentially net her first-ever trip to the state meet. 
As a freshman, Rice managed a sixth-place finish at regionals and will look to improve on the 400.30 points amassed in that event last year. Among Rice's work throughout the 2019-20 regular season were first-place finishes in the Aggieland, Westside Aquatic Center and Kyle Tilley Invitational meets — good enough to once again qualify for the Lady Marauder for All-American consideration.
Head district dive coach Sherry McGuire noted that Rice has improved her 11-dive list this year by adding a reverse 1.5 somersault in a pike position and a reverse 1.5 somersault with a half twist. 
Noah Kelly (Hebron)
Although programs like Southlake Carroll and Flower Mound are sure to send their share of swimmers to the podium this postseason, Kelly could wedge his way into that conversation. Hebron's junior sprinter will participate in the 50 free and 100 free — qualifying for regionals in the latter last season and finishing one spot shy of advancing in the former.
Kelly has been one of 5-6A's top sprinters this season and carried the conference's No. 4 seed time into Saturday's district meet. 
Morgan Gullette (The Colony)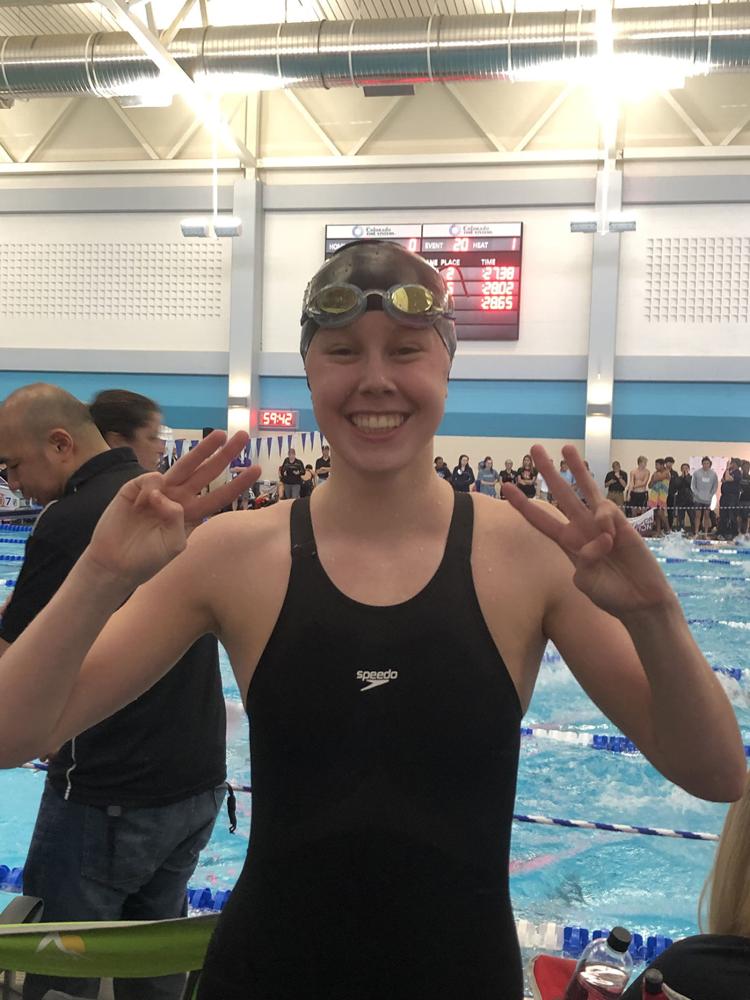 Although Gullette won't compete alongside the aforementioned LISD programs during the postseason, the senior distance swimmer has already shown she can hold her own against 6A competition this season.
In November, Gullette managed a second-place finish in the 100 backstroke and a 10th-place swim in the 200 free at the TISCA meet, despite sharing the pool with a litany of swimmers in the UIL's largest classification.
Committed to Drury, Gullette was a two-time finalist at last year's state meet, qualifying in the 200 free and 500 free, and she will reprise competition in those same two races — events where she holds a school record, along with the 100 back — during her final high school postseason. 
Kaleb Ikbal (The Colony)
Just a sophomore, Ikbal has been on the rise this season for the Cougars. Ikbal enters the postseason with a pair of school records under his belt — besting the program's top marks in the 200 IM and 100 breaststroke — and is expected to compete in the 200 IM and 100 butterfly to round out his sophomore campaign.
Ikbal got a glimpse of upper-echelon competition in November when he placed eighth in the 200 IM at the TISCA meet in a race mostly comprised of 6A swimmers.