THE COLONY — For all the problems the Hebron girls soccer team's pressure-cooker offense has caused opponents this season, Marcus has been the only one to have an answer. That remained the case Friday when the two sides collided in the Class 6A regional quarterfinals.
For the third time this season, the Lady Marauders produced a clean sheet against the Lady Hawks — nursing an early goal to the finish line for a 1-0 victory at Tommy Briggs Stadium.
"We've been resilient all year. I think our district prepares us for these playoff games — the amount of talent in 6-6A is ridiculous," said Chad Hobbs, Marcus head coach. "We were prepared for this. We know that they have some extremely talented players and I'm so proud of the way our back line stepped up today."
Anchored by Caroline Hilliard, Grace Martin, Kennedy Wise and Chloe Adams, plus goalkeeper Bry Russell, the Lady Marauders withstood every punch thrown by the Lady Hawks, particularly in the second half when Hebron was at its most aggressive. Operating with the wind at their backs, the Lady Hawks generated a plethora of shots on goal and after failing to muster so much as one through the first 40 minutes.
Taylor Cheatham, Matilda Torres and Eleanor Hays were active in the Lady Hawks' attempted rally, keeping possession in their attacking third of the pitch for most of the second half and putting Marcus on the defensive. The Lady Marauders didn't budge — a familiar trend in the head-to-head meetings between the two district rivals.
While Hebron averaged nearly three goals per match against the rest of its schedule, all three matches against Marcus dealt the Lady Hawks their only scoreless outings of the season.
"It's a great rivalry. We respect them totally," said Robert Vaughn, Hebron head coach. "I'm not sure what that formula has been this year, but I thought we outplayed them in the second half. I feel like we just ran out of time."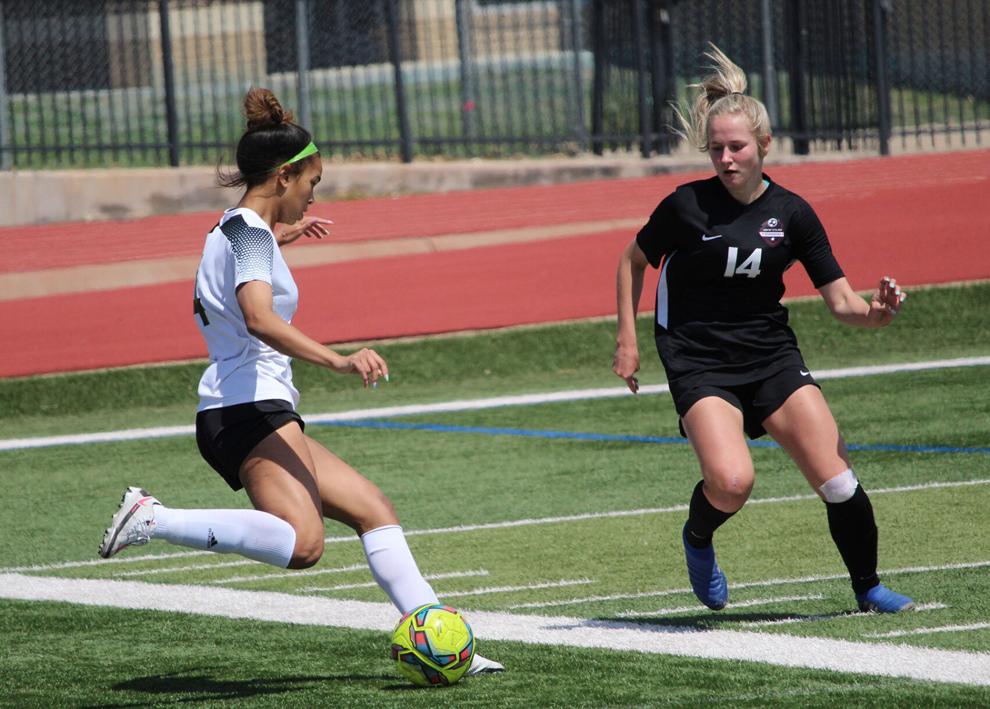 The Lady Marauders lured Hebron into a game of catch-up early on, awarded a penalty kick in the 10th minute after the Lady Hawks committed a foul in the box. Maddie Reynolds obliged, burying a shot into the far left side of the net for a 1-0 lead.
"Playing against Hebron, we know it's going to be tough," Hobbs said. "To get an early goal gives us a boost of confidence and settles us down a little bit. It was definitely big to get that one early."
It was a sequence that punctuated an early offensive by the Lady Marauders, who much like Hebron, fared better with the wind at their backs. Generating three corner kicks in the first half alone, Marcus also created chances deep in Hebron territory thanks to some lengthy throw-ins by Hilliard. 
The Lady Hawks managed to avoid any initial damage and didn't yield much in the run of play — Marcus' only other shot on goal came on a header by Nina Mazzola in the 37th minute — but the requisite counterattack never materialized.
"The wind messed us up in the beginning. They pressured us and were right in our faces," Vaughn said. "We made some mistakes and couldn't get anything going. We played a lot better in the second half but just couldn't finish, and that's been something we've been doing well. Give them credit, though. Marcus pushed their people back and secured it."
The Lady Hawks close their season out following a third-place finish in 6-6A — a result the team parlayed into its first regional quarterfinal appearance since 2017 after wins over Allen (2-1) and Arlington Martin (3-2) — all while entrusting big minutes to numerous underclassmen.
"The future is going to be bright," Vaughn said. "We just talked about with the freshmen, sophomores and juniors that next season just began today. This season is in the books, so now we've got to prepare for next year and try to go a little further."
Marcus moves on to meet Keller or Trophy Club Byron Nelson next week at a time and place to be determined.
"Those 14 games in district prepares you for games like this," Hobbs said. "It's nothing new and you're already used to these tough battles and tight games. Our girls are mentally prepared."