Election Day is May 7th, and on the ballot are candidates running for Place 3. Also on the ballot are two proposed amendments to the Texas Constitution.
Early voting runs from April 25 through May 3, and Election Day is May 7. Primary runoffs are May 24.
Community members can access specific voting information including times, dates and locations through their respective county websites.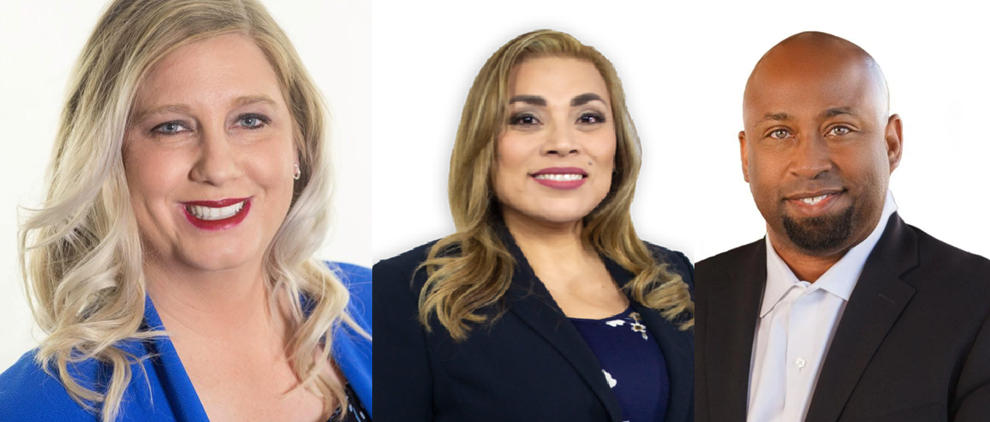 What is the most important issue in your city and how would you solve it?
Neighborhood equity matters. As a resident of Carrollton Heights, our neighborhood has been enrolled in the Notice Funding program for the Neighborhood Oriented Targeted Infrastructure and Code Enforcement efforts for Carrollton. And while we are grateful for the opportunity to make our neighborhood a safer place eventually (e.g., install sidewalks and fix the roads to be able to accommodate the fire department down the streets), there are many neighborhoods that are forgotten and or the timeline becomes lapsed. I want to be the voice to represent all residents of Carrollton and I want to make sure I can speak for those that cannot advocate for themselves. We have a lot of work to do, and it all starts with city communication and transparency on what matters most. And while we cannot tackle all at once, we have work to do in prioritizing and bringing projects that need attention to the forefront like the Carrollton Heights community and others who have not received attention.
If I am elected to City Council, I will work with the City to:
Push transparency and timelines on progress of projects (and upcoming) with City Officials and responsible departments for overseeing projects (and how we can gather input from neighborhoods needing attention). Your comments and concerns matter. Active and consistent communication efforts with residents to make sure we are all in the know (and that resources are shared with those that need it the most).
The most important current issue in my opinion is the proposed "Road Diet"/ Complete Street that the city of Farmers Branch has proposed by planning and zoning. This initiative involves Josey Lane, Webb Chapel, Midway road coming out and into the city of Carrollton. Farmers Branch is proposing to take out one lane out of each street thereby slowing traffic to a crawl. This will have a tremendous effect on the Carrollton residents that commute back and forth to work each day. Carrollton needs to be proactive in addressing our concerns with the city of Farmers Branch as this proposals is not a neighbor friendly proposal.
The city's most important issue continues to be how and to what are city funding is allocated. The largest portion of the city's expenditures goes to personnel. Investing in our first responders is a huge priority and I plan to advocate for competitive compensation and benefits. Another issue we currently face is our aging infrastructure and the need to maintain high-use areas. As a councilmember, I will work collaboratively with our city as well as residents to address areas in need of infrastructure maintenance. I will work diligently to ensure our tax dollars are well spent and allocated.  
---
How do you think the city should be addressing public safety?
Increase police presence in South Carrollton (and other areas of higher crime areas) and ensure that Safety Resource Offices are present in all schools.
Increase our National Night Out Events city-wide in October 2022 to involve our community in the shared responsibility of making our city safer, together. Other cities host seminars in starting a National Night Out. I would like to invite all community organizations and HOAs to join us.
Encourage the continued community presence and institute a mentorship program with our first responders to curb teen violence. We all need to be role models.
 The residents of Carrollton must have adequate public safety and health
Keeping our police and fire departments fully staffed and funded is a must, as well as utilizing first responders to respond specifically to mental health crisis. This has proven effective in other cities. 
Public Safety is and remains a top priority. I believe our city should be addressing this need by recruiting more officers and work to retain good talent. We can do this by offering more competitive wages and also providing all the resources necessary for all first responders to adequately do their difficult jobs. Half of our fire stations are outdated and are in dire need of renovations.
---
What are your ideas in addressing traffic in the city and the region?
 City Council cannot fix this issue alone. Our city continues to grow at a rapid pace, and we have to assess what Carrollton will look like in thirty years. Access to services is critical and I would like to gather the collective voices of Carrollton to see where we can make the most impact. We've made great strides in public transportation, but the creation of a task force is key (and learning best practices from our neighboring cities).
Carrollton should reinforce traffic safety where possible. Reducing accidents and traffic congestion on our streets not only saves lives; but saves the city labor costs and reduces commuter travel time. We must take advantage of the American Rescue and the Infrastructure and Jobs Act to address traffic congestion. 
There are different areas in the city where we can improve our traffic flow. I believe we should visit/revisit any traffic flow studies to adjust for our city's rapid growth. With the impending expansion of the I-35 corridor, we as a city must be proactive to anticipate any redirection/flow of traffic. Public transit like the new Silver Line should also provide transportation options for residents to take advantage of. Our voice at the NTXCOG should be assertive to assist in planning our regions mobility efforts and plan.
---
Where do you feel the city should focus development efforts?
Carrollton is in a re-development stage. I know we would all like to see more upscale and diverse shopping centers, filled with restaurants, small businesses and other vibrant commerce in Carrollton. We have several key intersections with vacancies that are unmet opportunities (and would support our growth as a community).
If the City of Carrollton loses its lawsuit against the Texas Comptroller's regarding Rule 3.334 which would cause the City of Carrollton to potentially lose $7 million dollars. The city may need to start reevaluating the Valwood Business Park district which houses the distribution companies.  
We should investigate further developing the land (I realize it currently sits in flood plain), north of Sandy Lake Park. There are many acres there that are prime for a mixed-use development. As the Interstate 35 is expanded we should also develop land adjacent to that thoroughfare preparing it to attract major corporate companies and large businesses.
---
Is the city spending money in the right places? Is there anything you would change?
The City has been a good steward of taxpayer dollars, but we have work to do. With the rising cost of real estate, we need to consider how best we can support our residents to remain residents of Carrollton.
Yes, the City of Carrollton is spending its money in the right place.
As a resident of Carrollton, I would like to evaluate how we are spending funds in the infrastructure realm. I know we currently have plans in place to address our roads, but I would like to revisit those plans to ensure we still have enough to cover the growing need.
I believe our city is fiscally conservative and I would like to continue that trend and explore options to increase our sales tax revenue.  
---
What's your history of community involvement in the city/area?
Community involvement is at the core of who I am as Nikki Ellis. I've run my entire campaign on "Our Community, Our Responsibility" and I mean that in every facet of my life. I always tell my girls, Emma and Charlotte as my Memaw has taught me, "If it is to be, it is up to me" and I know my girls, my students and my community are always watching. Social responsibility is a choice and I choose good for others. In my vast work across Carrollton and surrounding communities, I have served and continue to serve in leadership positions with the Neighborhood Advisory Committee (formerly a Commissioner), current President of Good Elementary PTA, Teacher Appreciation committee with Carrollton Elementary, and incoming Fundraising Board Chair with the Carrollton Early Childhood PTA. All of these organizations represent Carrollton in the most authentic of ways, each working to better the lives of others. Everything I do is for my family and our community.
I have been serving the Carrollton area for over 20 years. 
Carrollton-Farmers Branch ISD school board trustee 2009-2018.
Metrocrest Services – Past Treasurer
Metrocrest Chamber of Commerce- Past Board member
Rotary- Past President
Mentor-Student Athletes in Carrollton-Farmers Branch ISD – 2009-2012.
Carrollton Creekview Highschool- Mustang Mentor Program (Mentoring Football players) 2015 & 2016. Mentored Creekview high school students.
Dress For Success – Dallas- taught financial literacy courses to disadvantage women.
Texas Can Academy- Farmers Branch, Texas- (Volunteer Guest Speaker) 2011 www.texascan.org
Carrollton-Farmers Branch ISD (CFBISD) Annual 5th Grade Career Fair (Volunteer Business Exhibitor) 2015-2017. Annual Guest presenter to the CFBISD 5th student fair.
CFBISD Early College Highschool – Serves as a mentor to the high school students.
CFBISD – Newman Smith Highschool - International Business Academy- Incubator Program – Business mentor
CFBISD- Dewitt Perry Middle School – Annual Speaker for the 7th and 8th grade Career Day
Rotary Club 2008- Present
Bea's Kids 2010-2015
Carrollton Select Youth Football Organization (Coach) 2003-2004.- Coach
I am an active volunteer in our community outreach through the church where my husband and I are part of the pastoral team. I also volunteer with the Thanksgiving Soup Kitchen outreach by gathering food donations, food preparation and serving 5000+ meals. I am an advocate for youth and promoting higher education. I believe that when we equip our youth with the skills and knowledge to succeed, they will become I am a board member for Grace Christian Preschool of Carrollton.
---
Why are you the best candidate for this position?
The City Council sets the vision for the City of Carrollton. I bring a fresh voice and new face to our community interests. I'm raising a family here and I know I can best represent other growing families (both long-time residents and incoming families). I will bring all of Carrollton together, because We are TEAM Carrollton. We cannot be afraid of trying new approaches and gathering more voices to make our town greater together. I've never met a stranger. And while admittedly, I don't know everything, I am an agile and continuous learner that actively collaborates with others to find solutions. I get things done. Just ask the
I am running for Carrollton city council place 3 for two reason #1 it is an open seat and #2 to bring my proven leadership skills that I know will help build a strong Carrollton community. 
I have been serving the Carrollton community for 20 plus years through various organization helping Carrollton to be a strong vibrant city. I serve on local, state, and national boards. 
I was a 2019 Finalist National Small Business Association Business Advocate of the Year.
I have my BBA and MBA in Finance and Accounting; I received my executive education from Dartmouth College- Tuck School of Business. 
I am the only candidate in this race with the experience and track record of achievements to deliver results for Carrollton on day one. I previously served  three terms on the Carrollton-Farmers Branch ISD school board. During my tenure our graduation rate increased from 81% to 94%. During my tenure, I voted 6 straight years to lower the tax rate. I advocated for our students and teachers  down in Austin during past legislative sessions for increase funding for our schools.  As the CEO of a state and local tax practice I have helped cities to recover $11.1 Million in sales and use tax dollars. I graduated from Carrollton-Farmers Branch ISD R.L. Turner High school of which in I was inducted into the R.L. Turner High School Hall of Fame. 
For the past 20 years I have worked in the finance field, receiving my BS in Information Systems and my MBA in Finance. I am currently a Store Operations Manager at GameStop and am also a small business owner. My professional experience has prepared me to be the best candidate for this position. I have worked with large budgets in the billions and assisted in managing, auditing, and analyzing them. Me being able to work with colleagues in various positions within a large corporate structure gives me experience necessary to work in a complex city structure.