Two city employees received special recognition Tuesday for efforts that went beyond their daily jobs — they both stepped up to save a life.
Donna Lynch, the city's marketing, communications and events director, was eating in a downtown Celina restaurant when a woman came up to her and told her that Celina resident Tawnia King was choking.
"Donna immediately gets up, performs the Heimlich maneuver, unlodges whatever she had and saves Tawnia's life," Mayor Sean Terry told residents Tuesday.
King, who spoke at Tuesday's meeting, pointed out that she and Lynch were essentially strangers and called Lynch her "guardian angel."
"Love your neighbor as yourself," King said, "but move like Donna did on my day when I needed her most."
King also called for city officials to schedule regular first aid courses that would train residents in such procedures.
"It saves lives, and it saved mine," King said.
The city also recognized Celina Firefighter Rob Hale. On June 1, Hale was traveling with his family by plane to Baltimore when a flight attendant asked for a doctor or paramedic on board.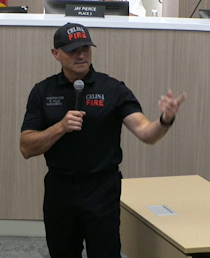 Hale responded and treated a patient who was dealing with a potentially lethal cardiac event, Terry said, calling a doctor by satellite phone and providing care to the patient. Hale then stayed with the patient throughout the flight and handed him off to paramedics who were waiting at the airport.
"I'm grateful to live in the city that we live in and to work here as well," Hale said Tuesday. "It's such an honor."
He added that his co-workers would have done the exact same thing if put in that situation.
"I have no question whatsoever that they would have stepped up and helped out in a time of need," Hale said.