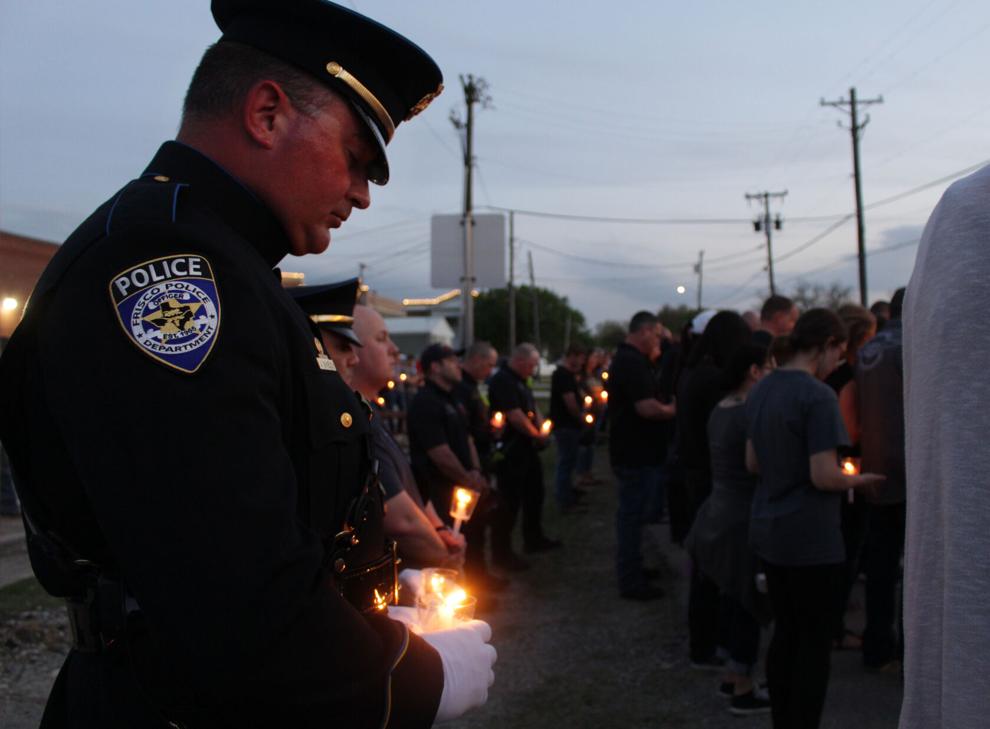 As the sun went down over Colorado Street on Thursday night, candle flames passed from one person to another to honor a fallen community member.
Celina Police Det. KC Robinson, 33, died Monday while off duty in a car crash in Whitesboro, Texas. His 6-year-old daughter Brynlee also died at the scene.
Robinson served the Celina community for three and a half years after working with the Gainesville Police Department. As Celina grappled with the loss of one of its first responders, the community gathered Thursday evening for a candlelight memorial to honor Robinson and his daughter.
"KC was truly a servant to his family and for the city of Celina," Interim Celina Police Chief Allwin Barrow said to the gathered crowd. "Not just the Police Department has lost an officer, but the entire city of Celina and his family have lost his kindness and dedication and service to us all."
Since the crash, Barrow said Celina Police officers have been standing 24 hours a day with KC and Brynlee Robinson and with KC's wife and high school sweetheart, Lauren, who was taken to a Plano hospital.
The memorial gathering allowed community members to remember Robinson for both his character and for his passion. He was one of the department's lead instructors, a member of the special response team and had just recently become a detective, Barrow said. Robinson also helped to start the department's peer-to-peer support program.
"Just the heart that KC had to not only take on his own stresses, but to volunteer to ask others to come to him with their problems, to take on their stress, that's the heart that you gave your son," Celina Police Lt. Tim Hale told Robinson's family, seated at the front. "That's the heart that we all love from KC, and that's the heart that we're going to miss."
Robinson was passionate about training and a phenomenal instructor, Hale said.
"Never before KC had we had people coming to Celina to get training from little bitty Celina, Texas," he said. "KC started that for us. He started a legacy that's going to carry on for a long time. I feel like this greatest legacy, though, is the compassion that he had for others."
Celina Police Sgt. Kyle Peck recounted stories of Robinson as a co-worker and friend, including his ability to quote movies, his enthusiasm about wearing Hawaiian shirts on Fridays and when he played The Beach Boys on a boombox in the office.
Peck also recalled seeing many videos of Brynlee Robinson, including her doing Karate or swimming.
"Brynlee, you know your dad and your momma love you more than anything in this world," Peck said, "And I hope you know that this police department loves you too."
The Celina Police Association FOP Lodge 123 has established a link where community members can donate funds, the only official way to provide donations, the association has said. All donations given through April will go directly to Robinson family.
In closing, Peck recalled Robinson's father saying "God won't give you any more than you can handle."
"And you know, He's giving us a run for our money right now," Peck said. "He is. But I think you're right. I hope we've made you proud. I know your boy did. I know your granddaughter did."