Car horns peppered Frisco on Sunday as a line of painted vehicles toured the city.
The horn sounds came from cars adorned in support of Democratic presidential candidate Joe Biden. Some cars sported solely flags and signs while others feature red, white and blue decor. One car presented a cardboard cutout of Biden's face.
Still other vehicles featured signs for candidates running on a more local level.
With an election season heating up in the midst of a global pandemic, car parades have become a popular way to gather rally-goers in a way that fits the times. Michele Ingalls, Frisco Democratic Club vice president, said Sunday's event is a change from what has been a campaign strategy mostly characterized by phone calls, text messages and social media posts.
"We miss that interaction, and it's something fun," Ingalls said. "It's something to say, 'Hey, we are Democrats, we are out here."
Ingalls, who rode in the Frisco route at Sunday's county-wide event, said the event gave people a chance to get to know their candidates and for candidates to get to know their constituents. The route for Frisco, featuring Texas House District 33, included parts of Anna and Farmersville. 
The route was one of five scheduled by the Collin County Democratic party to give residents the chance to paint, honk and wave support for national and local candidates. The routes, organized according to state house districts, were named after the respective Democratic candidate in each district. The event gave those candidates the chance to drive on their eponymous routes with constituents, said Dorly Roy, event planning team member.
For Frisco Democratic Club Secretary Virginia Burgan, the event's inclusion of local candidates is a way to remind voters to tally choices all the way down their ballots.
"For this time of year, normally you wouldn't have Frisco City Council and Frisco ISD on the ballot," she said.
Due to the COVID-19 pandemic, city and school board of trustees elections moved from May to November. Burgan said the long ballot for this election cycle has caused some worry. At the same time, she said, there's hope that there could be an alternative effect.
"What people are hoping is that what the energy that a presidential campaign and a big competitive senate race for Texas (will) do, it'll drive out voters who might not come out for a city council race or school board, but hopefully they'll stay and go all the way down," Burgan said.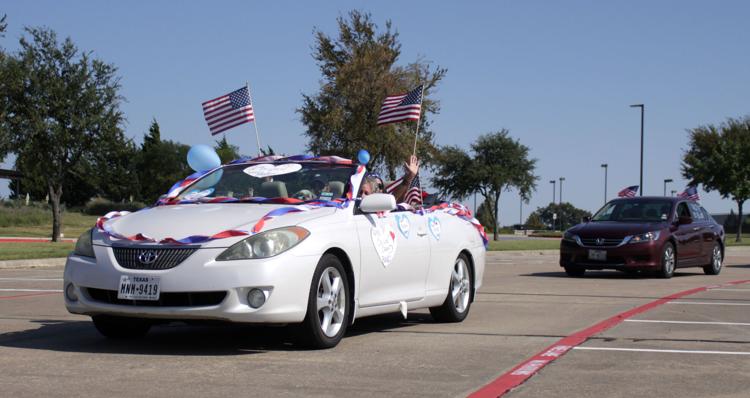 Frisco resident Gail Stevens, who decorated her white convertible in red, white and blue streamers, balloons and American flags, said she attended because she was concerned about what was going on in the country. She mentioned a New York Times opinion piece that identified Collin County as one of the top 10 "bellwether" counties in the presidential election. The article labeled the county's polling outlook as a "tossup."
"I think it's very exciting," she said, "and I think it's a really important responsibility for all of us to stand up and speak out and take action and to recognize that we can make changes. But they're changes for everybody. They're not for a slice of America."