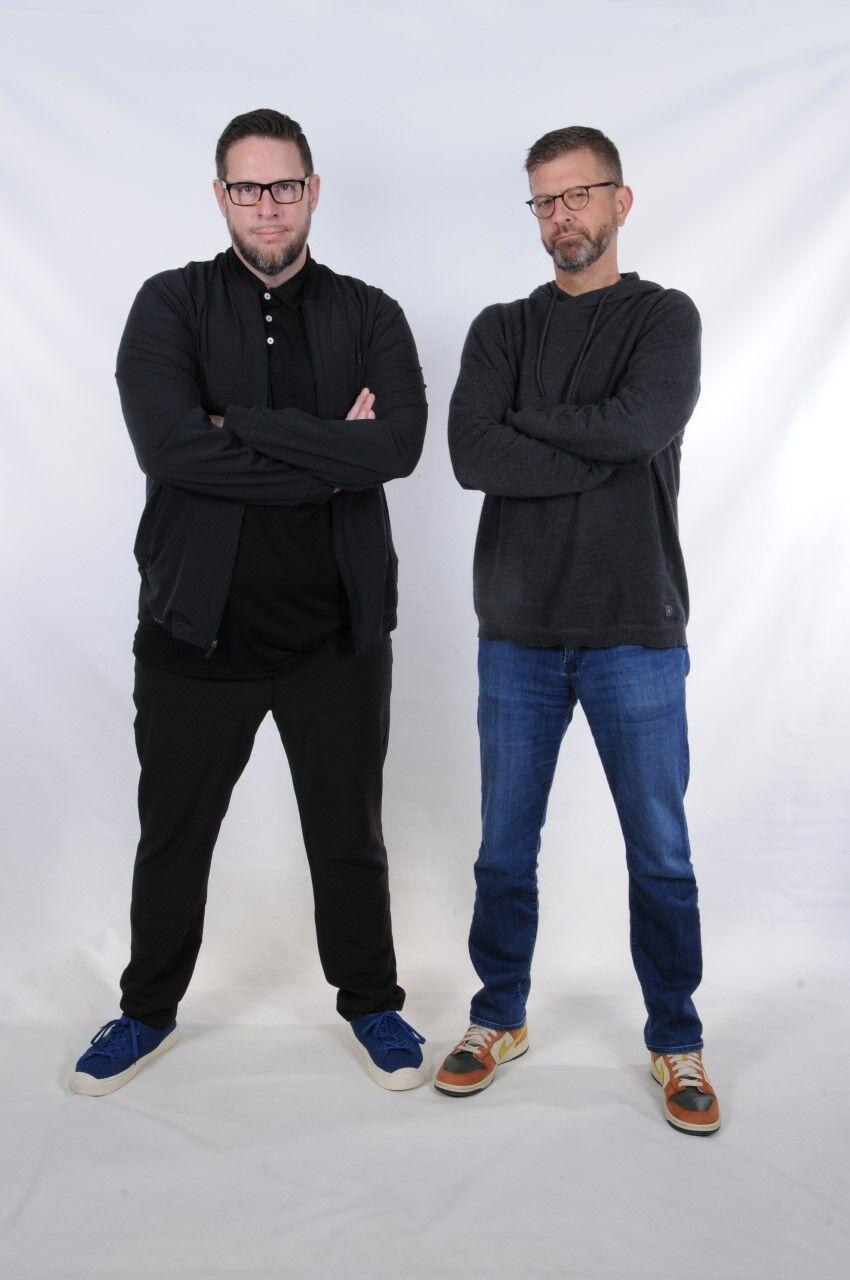 In the 38 years that Ben Rogers and Jeff "Skin" Wade have been friends, they've risen to North Texas fame via radio waves. Since then, they've focused in on Celina, opening a brewery in 2020 and even bringing live radio along for the ride.
What brought you to Celina? 
Ben Rogers: While house hunting, we fell in love with Celina. It was an instant fit for us. It was like our entire family fell in love with the area simultaneously. We were all walking around like that emoji with hearts for eyeballs. I love the charm, the heart and the true sense of community. It's small, but growing. Rapidly. But most importantly, it's growing the right way. It's an area of the Metroplex that is full of promise! 
What made you want to open a brewery? 
BR: We had been looking for a cool, new business opportunity outside of radio. And obviously we (and our listeners) love beer! In fact, Skin is extremely knowledgeable about the local craft beer scene — and I absolutely love marketing. I was visiting with beloved Celina resident and good friend Clay Thomas while watching our sons play baseball, and he mentioned the possibility of putting a brewery in a building he and Ryan Griffin had just purchased. This time — it was a light bulb emoji above my head! Soon after we pitched them our concept and we were off to the races! 
Skin Wade: We're really fortunate to be in the situation we're in. It all came together really quickly, and the willingness of some great brewery owners in the DFW to offer their guidance and advice combined with the crew we've assembled has given us a shot at actually succeeding.
What is the future of Rollertown Beerworks? 
BR: Our talented team is working tirelessly — hustling our tails off in an extremely difficult industry — in an attempt to grow this thing the right way. Our No. 1 priority is always the quality of our beer, and our Head Brewer Tommy Miller is a legend in the field. We're now available in over 60 DFW restaurants with more coming online soon. Our production capacity is increasing rapidly, but carefully and purposely, as we do everything we can to meet growing demand while insisting that the quality of our beer remains the driving force. I'm not sure what exactly the future holds, but it's a lot of fun to think about our humble, little Rollertown dream one day being something that all good beer-drinkin' Texans are proud of. 
SW: Once I can go to a concert and order our beer on tap at some of the great local DFW venues, I'll be really satisfied that we arrived at our future.
Tell us about your favorite on-air moment. 
BR: Probably the time we had President Bush on the show and in my extreme nervousness, I — unfortunately — embarrassed myself with a terrible question. I had done some last-minute research and thought I'd found a nugget that could lead to a fun, interesting and hopefully lengthy answer. I asked if it was true that when he owned the Texas Rangers he had learned how to speak Spanish so he could communicate better with star players Pudge Rodriguez and Juan Gonzalez. Instead of a long, glorious answer, he simply replied, "No." He then offered nothing else. Just silence… and a teaspoon of awkward interview shame for yours truly. Research gone wrong! Haha.  
SW: I don't know that it's specific moments necessarily that stand out as much as the times that we've interviewed people like Billy Bob Thornton, or Jeff Goldblum, or Sheila E or Dirk Nowitzki or as Ben mentioned, President George W. Bush. That's pretty crazy to take inventory of the last decade or so and realize all the interesting people that we've been afforded the opportunity to talk to.
Do you have any ritual or routine before going on the air? 
BR: No. 
Just kidding. Couldn't resist President Bush-ing you. 
We typically kick ideas around with showmates Kevin Turner and Krystina Ray in the hours leading up to each show launch. Those conversations are so much fun. My face usually hurts from laughing before the show even starts. I also consume about a gallon of Live To Give Coffee before each show. That's probably the closest thing I have to a routine. 
SW: It varies from day to day, but the most important part is actually waking up. If that first miracle happens then everything else falls into place. 
What keeps you two together after all these years? 
BR: My excellence, really. My undeniable greatness is a spaceship-sized magnet for Skin's soul. He'd be absolutely lost without me. His kids confided that to me while I was raising them. 
In all honestly, I don't know exactly why he's stayed with me during this entire glorious adventure… but I'm beyond grateful that he has. Skin is one of the smartest, funniest and most talented people I have ever known — and he absolutely does not need me to be successful. We've been friends since I was 12, and btw I'm 50 now. So, we've got 38 years of shenanigans together, and his friendship is one of the highlights of my entire life. He's helped me in a billion ways, with everything from parenting or financial advice to just being there for me during those times when life has been most difficult. I love that dude. It's an honor to call him my business partner… in several businesses. But most importantly, he's one of the best friends anyone could ever hope to have. 
SW: I echo all of Ben's sentiments back his way. We always play to each other's strengths and I think that's a really important part of keeping a partnership like that alive. It has to be about the partnership and we both very much understand that.
What's your fondest childhood memory?
BR:  I had an amazing childhood — growing up in Richardson. My parents worked hard to create something out of absolutely nothing. They took the hands they were dealt growing up in Roswell, New Mexico and worked relentlessly to provide me and my two brothers with a far better childhood experience than they had here in DFW. More than a specific memory of one incident or story, I just remember being happy and loved. My folks were totally dedicated to our family — always present — from coaching youth sports teams to family vacations. I was a handful too… I didn't make it easy on them, but they never stopped believing in me, which is a very powerful thing.
SW: The single most indelible moment of my childhood was barely being 6 years old and experiencing the overwhelmingly visceral opening 10 minutes or so to Star Wars in 1977.  It shaped me in ways I can't explain without sounding pretentious and boring folks to tears.
What's your favorite movie?
BR: Ask me 10 times and I might give you 10 different answers, but I think "Forgetting Sarah Marshall" is probably my favorite. I love the insanely deep and talented cast — and no matter how many times I see it, it cracks me up every time. A few other favorites are "Shawshank Redemption," "Field of Dreams," "Role Models," "Hot Rod," "The Fugitive," "The Empire Strikes Back," "Jaws" and "Anchorman." 
SW: It always depends on mood, but I've probably watched "Goodfellas" more than any other flick. Pretty flawless.
Tell our readers about your families.
BR: My saint of a wife, Kat, and I have been together almost 30 years. We have three amazing kiddos (Max is 15, Miles is 13 and Gracie is 10.) My family is everything to me — and by far the biggest source of joy in my world. Each one of them is so different, unique and special in their own way. But the credit for all of that joy goes to my wife, Kat. She's the glue that holds our family together. She's hard working, selfless and the best thing that has ever happened to me. 
SW: My wife Tricia and I really enjoy spending time together because we share so many of the same sensibilities and we always agree on what we want to do when we travel. That's so important that we continually embark on exciting new experiences together and it really keeps us connected. She's an amazing mother to Maya (16) and Desmond (14) and I'm very proud of how my kids handled the unique adversity of the pandemic. Extremely proud. I also love that my wife and daughter are best friends. It's beautiful to be around that. We're really fortunate.
If you were on a deserted island, what is the one item you couldn't live without?
BR: My PS5. I love playing Call of Duty with friends. It's my favorite way to relax and chill. That and bacon. I'd have to have bacon. 
SW: How'd I end up on a deserted island? I think we're burying the lead here.
Tell our readers something about you they would never guess to be true.
BR: I make songs for Dude Perfect. Over the years they've become dear friends, pick-up basketball buddies and even business partners. I wrote and performed their Overtime intro and more recently wrote a song for them called "Pet Peeves" which has 10 million views on YouTube! They even let me be in the video! By the way, my daughter Grace helped me write both songs.
SW: That I get paranoid when people are guessing things about me.