An $8 million project focusing on Downtown Celina's inner loop is slated to bring enhancements including stormwater drainage, improved water pressure, back-in slanted parking and even some paved lone stars.
On Dec. 14, the Celina City Council approved awarding a contract for the city's downtown inner loop project to a contractor. The project comes as the first phase of the inner loop, he said, which stems from the city's downtown master plan.
The project focuses on Colorado Street from Walnut Street to where it dead ends in the north; Beech Street from Colorado Street to Louisiana Drive and on Pecan Street between Arizona Drive and Ohio Street.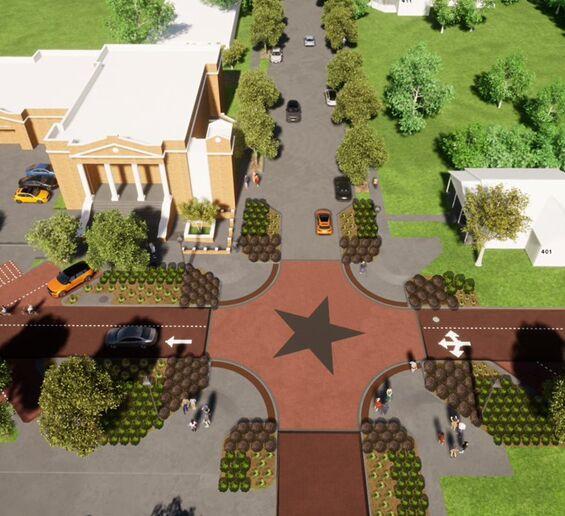 Phase one of the downtown inner loop project includes stormwater enhancements that will provide a stormwater system downtown, Celina Engineering Director Andy Glasgow told council members.
"Right now, we do not have a stormwater collection system downtown," Glasgow said, "and a lot of you have been living here for decades, if you drive downtown, you see the ditches filling up with water. We're actually going to create a stormwater system. So we're going to take it on the ground and discharge it to the creek to the north."
Glasgow added that the project was one of the first major drainage projects in the downtown master plan.
The project also includes replacing 30-plus-year-old pipes as part of water improvements.
"So hopefully by the end of the project, we would have increased water pressure for the residents taking a shower, washing the dishes, and so on and so forth," he said.
Enhancements include adding back-in angled parking as well as parallel parking and street parking. Glasgow said the city will work to provide tutorials to residents on how to use back-in angled parking spaces.
New lights in the loop will include places for banners that can advertise local city events, Glasgow said, and project plans include adding landscaping, including 64 new Natchez Crape Myrtle, Cedar Elm, Chinquapin Oak and Chinese Pistache trees.
Renderings presented on Dec. 14 also show paved Texas stars at some intersections as part of the project enhancements.
Glasgow said Dec. 14 that construction should take about 1.5 years but added that the city would meet with the contractor to try to shorten the timeline.
The contract approved by the council reports a $7.8 million cost plus roughly $1 million in contingency, according to city documentation.