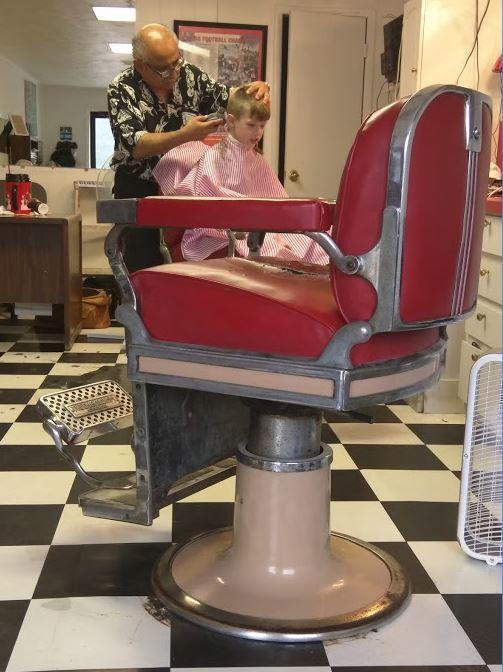 Most people don't know his last name, but it seems that everyone knows him. David Renteria is the town barber in Celina, but he goes beyond just being a barber.
Dave is one of the town historians. Dave moved here in 1965, back when Celina had two grocery stores on the square and not much more. He can tell you about the town and the people who live here. No, he doesn't gossip, and I've never heard him speak poorly of others. He speaks of them in their joy and sadness, about their new grandchildren or the loss of a family member. He speaks of them like they were his family.
Dave can talk about the Celina football team. You see, Dave was an all-state running back in 1974. Celina was the co-state champions, the first of many titles. Dave will tell you about it and will tell you that he made all-state because everybody blocked. He takes no credit for running the ball because it took a team to win.
David's Barber Shop reminds me of the Mayberry RFD or the Andy Griffith Show. It has one barber chair, one barber and a big window in front. He has a magazine rack that he should donate to the Smithsonian and a desk covered with his Bible studies. Dave will pray for you or with you. He even goes to the nursing home and hospitals to take care of his customers. That goes beyond customer service – it is friendship.
Dave has decided to retire after being here, cutting hair, for 35 years. Thirty-five years at 20 heads a day, minimum. Thirty-five years of standing on his feet, many days without a lunch break. Dave has cut hair on three generations of people, maybe four.
He is ready for his retirement, and deservedly so. He has spent many hours on his feet. Dave has traveled the world with his wife, Judy, and has shared the stories of the lands he traveled, and now he is moving to one of them. Mexico will allow them to live well and to still be able to travel.
The worst part of Dave retiring is we will be losing our confidant. We will be losing our therapist. Barbers are like preachers or bartenders – we trust them with what is on our minds. Dave knows about our shortcomings and about our biggest victories in our lives. He knows about our divorces and our kids. He is someone that we can talk to and he does give advice that is Bible-related or common-sense related. He doesn't share our failures, just his own.
I am one of the friendliest guys you will ever know, but I am reserved. I don't go out of my way to make friends just like I don't go out of my way to make an enemy.
Dave is my best friend in Celina.
No, we don't go out and eat together, and we don't visit at each other's houses. We visit in his barbershop. It is not uncommon for me to let five or six guys go ahead of me when waiting on a haircut so Dave and I can finish our visiting. Of course, it doesn't take long to cut off what little hair I have, so this is how I get my visiting time in. Dave is my friend, my confidant and my preacher, just like he is yours. He has prayed for me and over me. That is what a friend does.
I don't know if Celina has a man of the year award or a key to the city, but I do know who deserves it the most. Dave has done more for this community than most would imagine, and he did it differently than most would. He did it through friendship not charity. He did it with the spoken word and a handshake at the end of every haircut.
Dec. 30, Celina is losing their biggest fan and are we losing our friend. Good luck, Dave. And maybe vacation here, sometime, amigo.