After totaling just 48 points through the first three weeks of the season, Celina's football team needed just over two hours to eclipse that figure Friday against Paul Pewitt.
The Bobcats (1-3) struck early and often, scoring twice on their first three plays from scrimmage, which set the tone for their first foray into the win column on the season after a 55-0 shutout of the visiting Brahmas.
"The first three weeks, we felt like we were so close, but we were young in some positions and kept improving," said Bill Elliott, Celina head coach. "I think we're finally starting to figure some things out. We're starting to make plays."
The Bobcats made that known from the opening kickoff, recovering a short kick that immediately set them up in Brahma territory. Two plays later, sophomore Noah Bentley found junior Collin Urich streaking down the sideline for a 36-yard touchdown and a 7-0 lead just 15 seconds into the ballgame.
"We thought we could get an onside on them. We watched the film study and our coaches did a good job on that," Elliott said. "We worked on that all week and it worked out perfect."
The Bobcats also made it a point to attack Pewitt deep from the onset. Bentley's first five drop-backs all resulted in shots downfield. The signal-caller connected on two of those home-run balls, following up the early score to Urich with a 45-yard touchdown pass over the middle to senior Grayson Wester for a 14-0 advantage with 8:55 left in the opening stanza.
"We just wanted to try and jump up on them and get some momentum going fast," Elliott said. "We've got some good receivers, our quarterback can throw the ball and has a great arm. We wanted to take advantage of what we do well."
That led to big nights for Bentley and Urich. The sophomore had a hand in six Celina touchdowns — throwing for five and rushing for another — on his way to a 251-yard passing night, with Urich hauling in five balls for 119 yards and three scores.
"They've played together for a few years. They're young players who have a lot of talent and we look forward to more of that," Elliott said.
Celina 35, Pewitt 0 @ 11:10/3QHave a night, Collin Urich! The Celina WR hauls in his 3rd TD of the ballgame, this time from 35 yds out. That's 4 catches for 111 yds and 3 TDs for Urich. pic.twitter.com/gJqbLKrhKX

— Matt Welch (@MWelchSLM) September 19, 2020
Bentley added a 5-yard touchdown pass to junior Brady Cunningham just before halftime to swell the Celina advantage to 28-0 at the break — already exceeding the Bobcats' highest single-game scoring clip for the season.
They did so despite having to deploy numerous backups on Friday, including at quarterback with Bentley in place of senior Reagan Davenport. Elliott noted that his team was down six starters, adding that those absences were all the result of injuries and nothing related to the coronavirus.
"I have no COVID on my football team right now," Elliott said.
No matter the personnel, Celina made an emphatic push toward its first win on Friday. The team's emphasis on a hot start was something Pewitt could ill afford to surrender. The run-heavy Brahmas totaled 50 carries in the ballgame but only averaged 3.5 yards per carry and failed to complete a pass on four tries from quarterback Hayden Green.
The Brahmas totaled only 173 yards of offense versus 415 for Celina and didn't run a play in Bobcat territory until late in the second quarter. Their effort was paced by 73 rushing yards from Deiontray Hill, while Celina sophomore Trae Hollins — making his second straight start — buoyed the Bobcat rushing attack to the tune of 51 yards on 11 carries.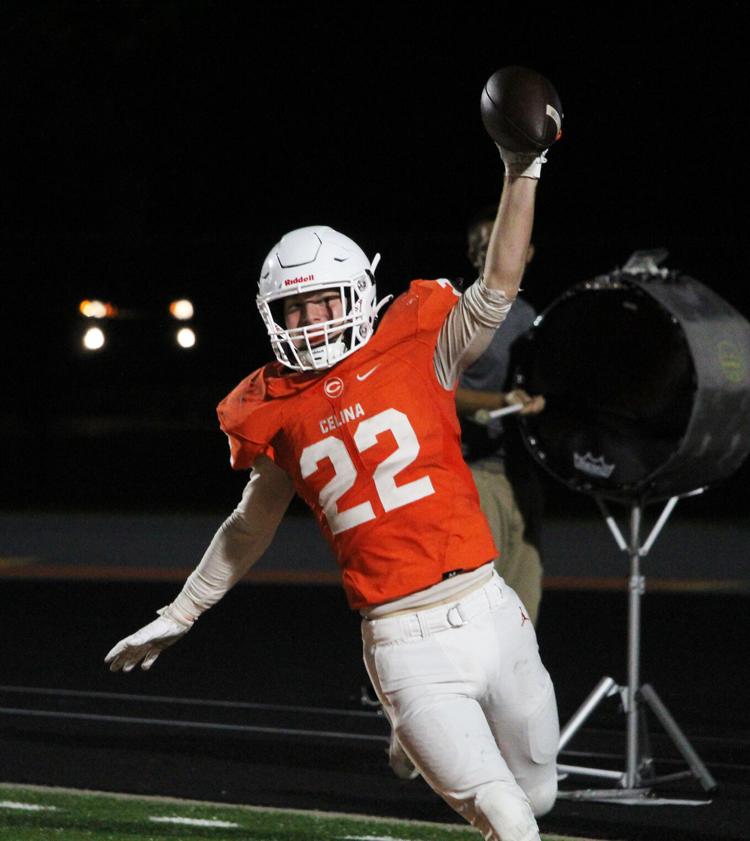 Celina's special teams chipped in early in the fourth quarter after forcing a fumble in the end zone on a Pewitt kickoff return, which was recovered by senior Tyler Merchant for a touchdown with 8:07 to play.
It was a welcome sight for the Celina faithful after a rare three-game losing streak to begin the season. The Bobcats were scheduled to rest up with a bye for the upcoming week before closing out their non-district schedule with a trip to the Alamodome in San Antonio to take on Boerne on Oct. 2, but on Saturday, Dave Campbell's Texas Football's Matt Stepp reported that the Celina-Boerne game has been cancelled.
The Bobcats are currently searching for an opponent to play on Friday.