McKINNEY — With first place in District 5-6A hanging in the balance, Prosper hit all the right notes down the stretch of Tuesday's state-ranked showdown with McKinney Boyd.
Despite a back-and-forth three-and-a-half sets, the Lady Eagles caught fire behind an 11-2 run to close out a 3-1 victory (25-21, 20-25, 25-19, 25-13) and take sole possession of the top spot in the district standings. The Lady Broncos, meanwhile, suffered their first loss in 5-6A play and dropped to 4-1.
"Starting against Guyer, that's kind of how we've been playing," said Erin Kauffman, Prosper head coach. "We've got a lot of talent from top to bottom, especially in the front row, so when our defense starts playing well then we can really grab that momentum."
Prosper did so on Boyd's home floor, blitzing the Lady Broncos over the back half of the fourth set for a exclamation mark on the four-set win. Boyd led the final frame 9-7 behind some timely offense from juniors Hannah Billeter and Avery Calame, who finished the match 17 and 11 kills, respectively, before the Lady Eagles seized the lead for good with a 6-0 run sparked by back-to-back points from sophomore Ella Chaney.
As Billeter hammered down her 17th kill of the match to trim Prosper's lead to 14-11, the Lady Eagles shifted gears. Amassing 11 of the final 13 points of the set, Prosper racked up six kills and two aces as part of the closing barrage. 
Senior Sami Jacobs punctuated the win with a kill and ace for the final two points of the night.
"We only graduated one starter and have five others back from last year," Kauffman said. "Last year, we came here and won in five and it was a barn-burner. We didn't play that well, but the girls knew what to expect tonight. Boyd rides on momentum and works very hard, so we knew we had to keep our cool after dropping that (second) set."
The homestretch was a far cry from how the Lady Broncos had conducted themselves earlier in the bout. Despite dropping the first set, 25-21, Boyd authored a run of its own late in the second stanza — leading Prosper by as many as seven points on its way to a 25-20 win to even the match at 1-1. Billeter and Calame had their fingerprints all over the set with a combined 10 kills between the Lady Broncos' top two hitters.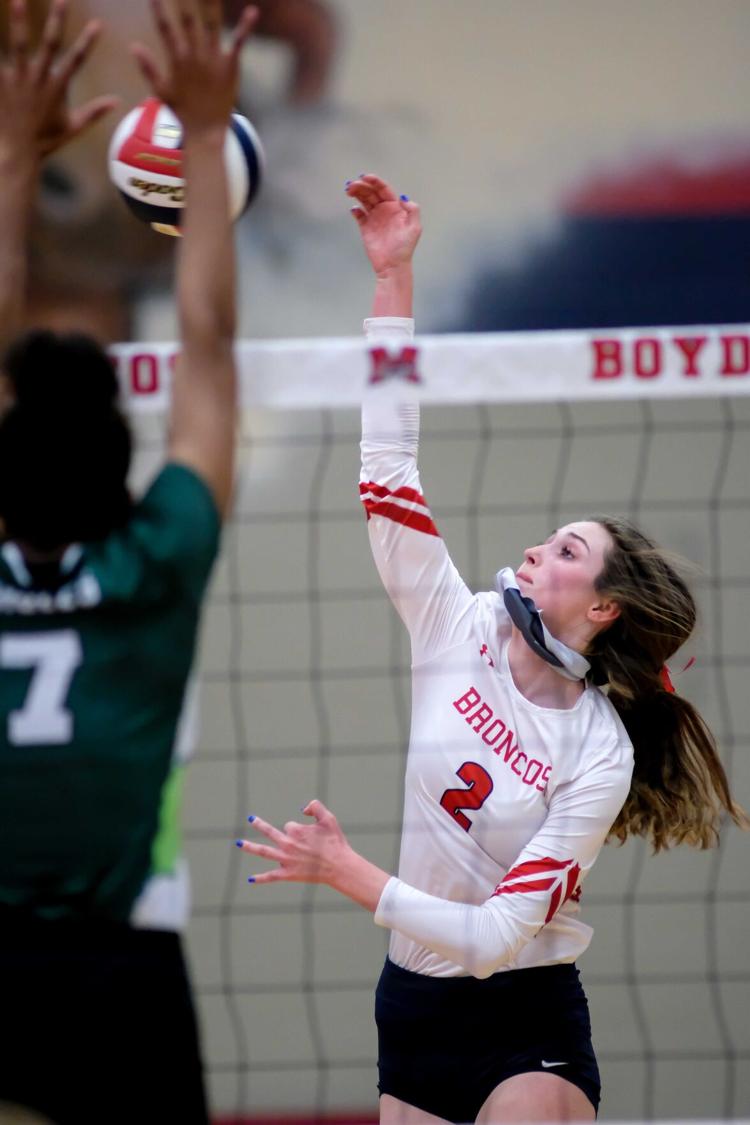 "We were serving tough and getting them out of system," said JJ Castillo, Boyd head coach. "If that happens, it usually works in your favor. They run that offense so well and are so sharp, so trying to get them out of it was the goal and that's what we did in that second set."
Castillo said her team's blocking contributed to Prosper's ability to regain momentum over the final two sets. The Lady Broncos had a tougher time slowing the Lady Eagles' arsenal of hitters, four of whom finished the night with a hitting percentage of .400 or better.
"We're scrappy and have a strong defense, but we had to slow the ball down tonight and just weren't doing that," Castillo said. "Everything else was solid, but against a good, balanced offensive team like Prosper, you have to slow the ball down and block."
Jacobs led the pack with 17 kills, followed by 15 for senior Bailey Birmingham and 11 for senior Nikki Steinheiser. Chaney was active at the net with four blocks to complement her six kills on a .750 hitting clip. 
Jacobs helped sway momentum back in Prosper's favor during the third set with six kills, while Birmingham chipped in four.
"Sami struggled in the back row and sometimes when girls aren't playing well, instead of benching them, you give them one thing to focus on," Kauffman said. "For her, her passing wasn't going well so we put someone in for her. When she got back in, we wanted her to focus on her blocking and her front row, and because she was so good offensively, it took mind off the other stuff. She did a really good job bouncing back."
The win kept the Lady Eagles unbeaten in district play at 6-0, completing a first-round sweep of the conference round robin. Prosper returns to action at 6:30 p.m. Tuesday when it hosts Little Elm.
Despite the setback, Boyd became the first team in 5-6A to take a set off the state-ranked Lady Eagles. Castillo aspires for more from her Lady Broncos, however.
"They're a good team and we hadn't really played that caliber of team since Flower Mound," Castillo said. "Being challenged and pushed like that is good and really helps you figure out what you still need to work on. We want to learn from this and keep getting better."
The Lady Broncos close out the first half of their district schedule at 5:30 p.m. Friday when they host Little Elm.