Before Heritage and Independence kicked things off on Oct. 3 in a battle between its two junior varsity football programs, Heritage team trainer and junior Hannah Bedell drove the team cart to the opposing sideline.
As she approached the Knights' sideline, she made sure one player in particular heard her friendly heckling.
Independence sophomore Jordan Bedell knew exactly who Hannah was. and although he tried to avoid his cousin at all costs, he couldn't as he prepared to take on a team with another familiar face.
On the other sideline was Heritage sophomore Jared Bedell, getting ready to take on his cousin on the gridiron, while his older sister playfully attempted to psych Jordan out before things got started.
"Yup, I'm the proud cousin and sister," she said. "I was rooting for No. 50 that night."
It just so happens that both Jordan and Jared both sport No. 50 this season for their respective teams — both play the exact same position and share the same last name.
It was also the third time in the last four years that the two cousins squared off on the football field, and Jordan's team had never defeated Jared's – until two weeks ago.
"We already knew we were going to win," Jordan said.
Although Jared wanted the victory so he could have bragging rights over a cousin he has known for his entire life, he really wanted an opportunity to go head-to-head with Jordan, but the two were never on the field at the same time.
"I was really just trying to ask my coach if I could play defense against him," Jared said. "But that didn't happen because the coaches don't want us to play both offense and defense right now."
Leading up to that night, coaches from both sides were well aware of the family affair that was set to take place. Heritage head coach Kenneth Gilchrist particularly got a kick out of it and made the most of this matchup.
"I'm not sure what Independence calls it, but we called it the 'Bedell Bowl,'" he said. "We had a little fun with it calling it that. That's the neat thing about Frisco — you can play with each other all the way until you get to high school and then play against each other."
However, Gilchrist wasn't the first person to come up with the Bedell Bowl.
Jordan's father, Randy Bedell, and Jared's father, Gary Bedell Jr., rarely competed against each other in anything growing up and that included sports. In fact, the two specialized in different sports throughout their childhoods and even participated in various activities and organizations such as the Boy Scouts.
The two brothers passed that down to their sons, who both grew up together in the Boy Scouts as well and to this day still play on the same recreation-league basketball team on the weekends.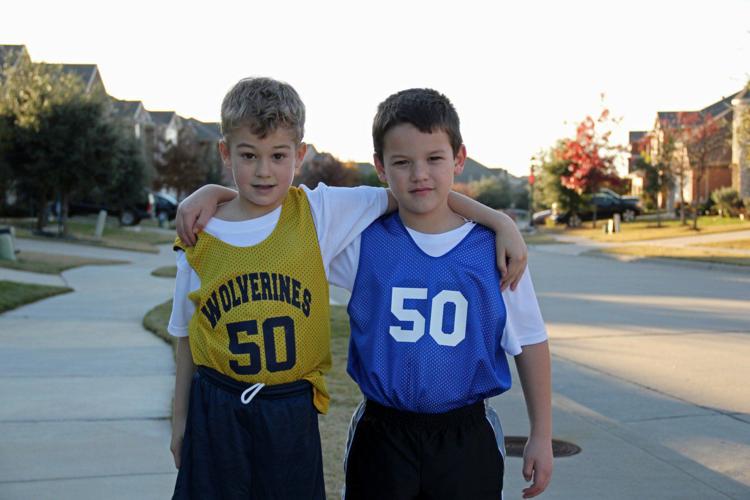 "As much as it might appear as a rivalry on paper, it's really not," Gary said. "They are probably more like brothers than they are rivals. They have never really been that competitive and don't trash talk to one another, and it sort of parallels our relationship because we didn't really trash talk growing up either."
But one could argue that started to change once the opening of Nelson Middle School a few years ago separated the two boys and carried over into high school.
After Nelson and Maus Middle Schools didn't play against each other their eighth grade year, the rivalry picked back up as freshmen when Gary coined the now-annual meeting between the two as the Bedell Bowl.
During this span, Jared and Jordan have coincidentally been given the same jersey number twice, starting with No. 60 and then No. 50 this season, which just so happens to have extra meaning to the Bedell family — Randy sported No. 50 back when he played basketball at The Colony.
Despite those strange coincidences and the overall uniqueness of the matchup, there are no losers in the Bedell Bowl.
"The coaches might see it as a competitive rivalry, but we just see it as an opportunity for all of the Bedells to be in the same place," Gary said. "It's also an opportunity for these boys to continue this interesting legacy that has been created of almost being like twin brothers always playing sports together. Once a year, we look forward to seeing them on the same field at the same time."