McKINNEY — For the second time this season, Denton Guyer quarterback Eli Stowers called game against Prosper.
The Wildcats' star signal-caller ran in a touchdown as time expired back on Oct. 30 to give Guyer a 24-23 come-from-behind victory on the Eagles' home turf. History repeated itself on Saturday at McKinney ISD Stadium as Stowers, with a welcome assist from his offensive line, overpowered Prosper for a 5-yard rushing touchdown in triple overtime to net the game-winning points in a 30-24 victory in the Class 6A Division II Region I final.
The win sent Guyer back to the state semifinals, keeping its hopes of a return trip to the 6A Div. II championship game afloat. Prosper, meanwhile, had its season dashed in the fourth round for the second consecutive year and finished at 8-4 overall.
"It was an unbelievable season. We battled through some ups and downs and had to win a one-point game on the last night of the regular season just to get in the playoffs," said Brandon Schmidt, Prosper head coach. "They just continued to fight and battle. We're indebted to these seniors for everything they've done for us these last four years."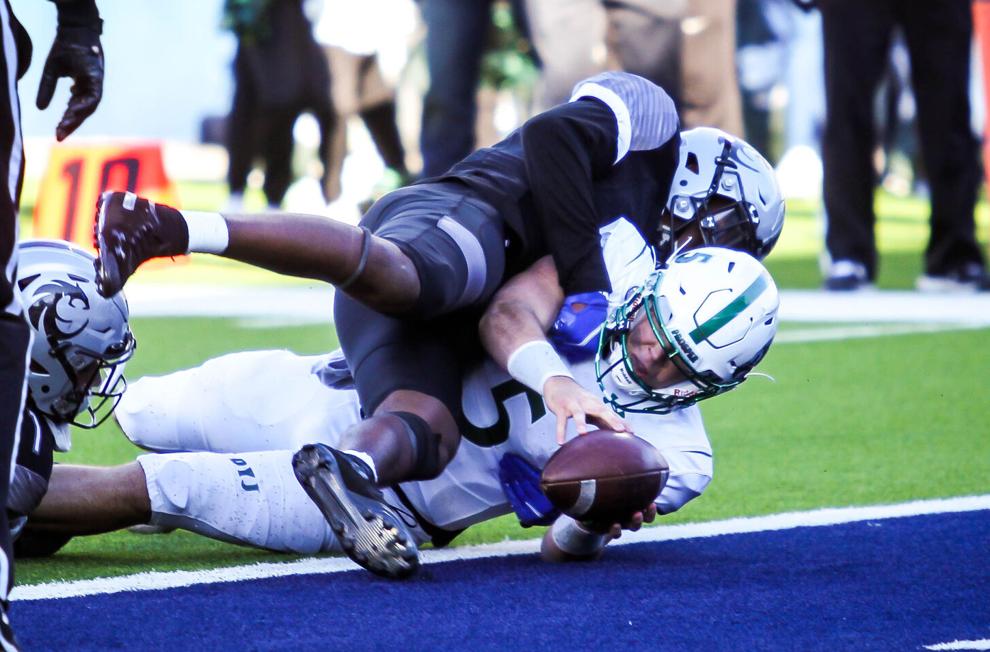 Those upperclassmen nearly willed Prosper to its first state semifinal berth since 2008 in a game that was there for the taking on Saturday. But in playing down to the wire once again with Guyer, the closing moments of the regional finals had an eery sense of deja vu for Prosper.
Exiting regulation tied 10-10, Guyer found the end zone on all three of its overtime drives with each one orchestrated on the ground by Stowers — scoring on touchdown runs of 13, 17 and 5 yards. 
Stowers set up his 5-yard game-winner with a 19-yard run and had 80 rushing yards overall in the win. Fifty-six of those yards came in overtime, as Prosper limited the quarterback to just 2.1 yards per carry in regulation.
"I'll have to watch the film, but he's a big guy," Schmidt said. "He's a big, physical runner and that wears you down and make him hard to tackle."
FINAL: Denton Guyer 30, Prosper 24Wildcats walk it off on Prosper again. Who else, but Eli Stowers (with a nice boost from the OL) to power through for a 5 yard TD to send Guyer back to the state semifinals. pic.twitter.com/z7DGsWOJZU

— Matt Welch (@MWelchSLM) January 2, 2021
Stowers and the Wildcats smelled blood not long before sinking the dagger into Prosper's season. After trading touchdowns for the first two overtimes, the Eagles at last blinked after a 42-yard field goal attempt by senior Brad Larson was blocked to wrest control back to the Wildcats in the third overtime. Three plays later, Stowers was in the end zone and Guyer was on to the state semifinals.
"They've got a great program and their coaching staff does a great job. I feel the same way about us. It makes for some exciting football games," Schmidt said.
Prosper hung tight for the first two overtime frames thanks to some timely playmaking from senior quarterback Jackson Berry. He scored on a 5-yard run in the first overtime and then came through on fourth down to find senior Cameron Harpole for a 9-yard touchdown in the second extra period to knot the count at 24-24. Berry capped his high school career with 163 passing yards, 40 rushing yards and two touchdowns, while top target Harpole caught eight balls for 62 yards and a score.
"They're great football players. We were just trying to give Jackson an opportunity to make plays and he did a great job finding Cameron," Schmidt said.
Prosper 24, Denton Guyer 24 @ OT2Jackson Berry and Cameron Harpole do it again! 9 yard TD on 4th down knots this one back up. Overtime #3 on the way! pic.twitter.com/ZacrUWK0AC

— Matt Welch (@MWelchSLM) January 2, 2021
Prosper's red-zone offense found new life in overtime after some hardships in regulation. The Eagles advanced inside the Prosper 15-yard line five times and came away with only 10 points over the first four quarters. 
Larson put the Eagles in front 3-0 on a 24-yard field goal with 2:26 left in the first quarter, only for Guyer to fire back with a 25-yard make by kicker Michael Mayfield with 11:16 left in the second stanza.
Prosper found itself back in the red zone two more times in the first half, only for each drive to be quashed by an end-zone interception. Guyer's Marquan Pope and Jaden Fugett denied potential Prosper scoring chances, including one that came on a tipped pass with 16 seconds left in the first half that kept the score at 3-3.
The Eagles had a chance to make amends early in the fourth quarter after working their way to first-and-goal from the 7-yard line, but Guyer's front line denied three straight Prosper runs and then stopped Berry short of the end zone after a 15-second scramble.
"Their front five on defense are really talented. We really struggled to find some creases to run the ball," Schmidt said.
At last, Prosper found the end zone with 3:30 left in the fourth quarter after dialing up a 1-yard sweep to junior Tyler Bailey that knotted the count at 10-10. Guyer had seized its first lead with 4:11 left in the third quarter after a 15-yard touchdown pass from Stowers to Jace Wilson.
Those plays were far and few between for the Wildcats, who were held to just 198 yards in regulation. Prosper's defense forced a pair of turnovers on interceptions by Bailey and senior Ryan Medeiros and turned the Wildcats over on downs twice in the second half after stuffing the Guyer ground game on fourth-and-short.
Guyer's run game accounted for just 127 yards in regulation before Stowers and Co. roared to life with 58 yards on just seven carries in the three overtimes to seal a spot in the state semifinals.