One year removed from a season mired in injuries, growing pains and a rare missed playoff appearance, the Plano West softball team was all smiles Friday night.
From postgame hugs to joyous jumping up and down, and even an attempted water cooler bath for head coach Mike Ledsome, the Lady Wolves' (10-0 in district) bounce-back campaign now includes a District 9-6A championship after erupting for a district-high in runs scored in a 13-6 victory over visiting Prosper (7-3).
"It means a lot. I know coming in, these girls were saying that last year was last year and it was time to move on. We knew what we had and this team has been working so hard for this," Ledsome said. "They're tired and they're still working hard. They wanted this redemption year and wanted to be the best they could be."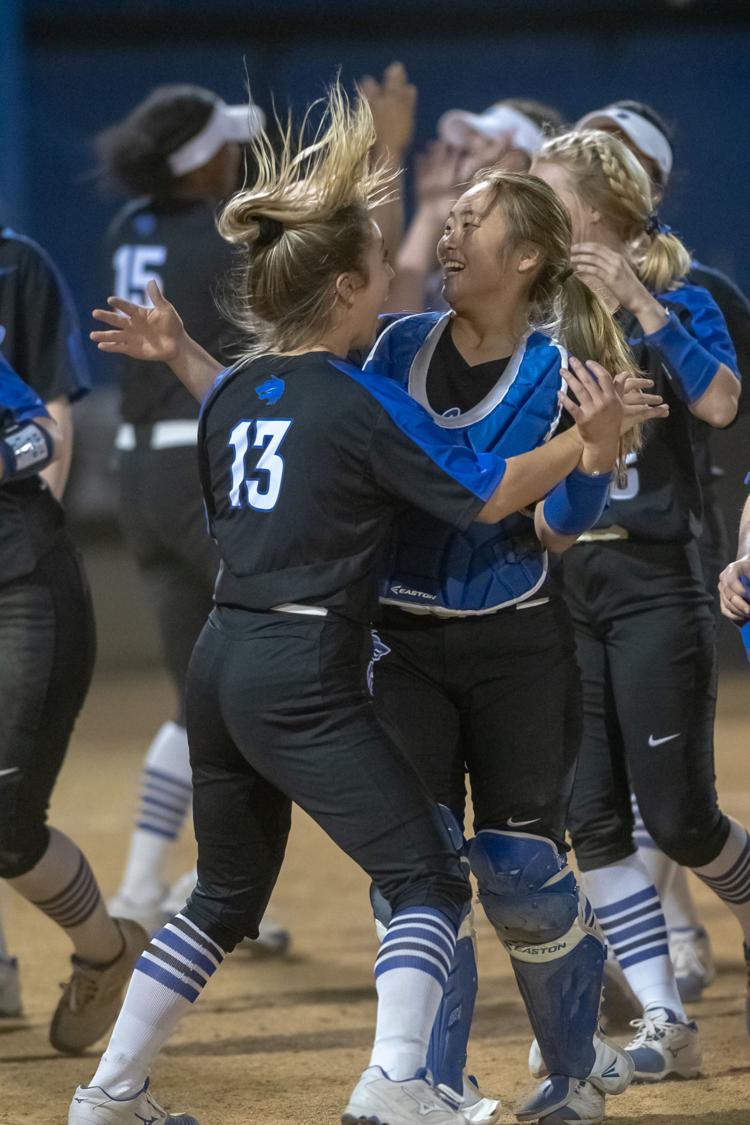 Doing so on Friday required overcoming an adversity like no other on the Lady Wolves' unblemished 9-6A résumé – blindsided by a hot-swinging Prosper offense for a 6-0 deficit through one-and-a-half innings.
Having not allowed more than three runs in any of their prior nine district outings, the Lady Wolves were at the mercy of the Prosper bats, helmed by a three-run homer from freshman Gabby Coffey in the first inning. Fellow freshman Ayden Allen plated two more runs on an single to right field in the second stanza and later beat out a throw home on a short grounder up the middle to put Prosper in control, 6-0, before star senior pitcher Tatum Boyd could so much as record her first strikeout of the contest.
"The offense is locked in right now and they're having great at-bats at the plate," said Todd Rainwater, Prosper head coach. "Tatum Boyd is one of the best pitchers in the state. We left bases loaded a couple times and had some missed opportunities, but if you're getting six runs and 13 hits off a pitcher like that, we feel like we'll have a chance to win."
Despite the Lady Eagles' promising start, the Lady Wolves returned fire in the form of 13 unanswered runs – 10 split between the second and third innings. West batted around the order in both innings, totaling 10 hits and getting all nine batters on base at least once.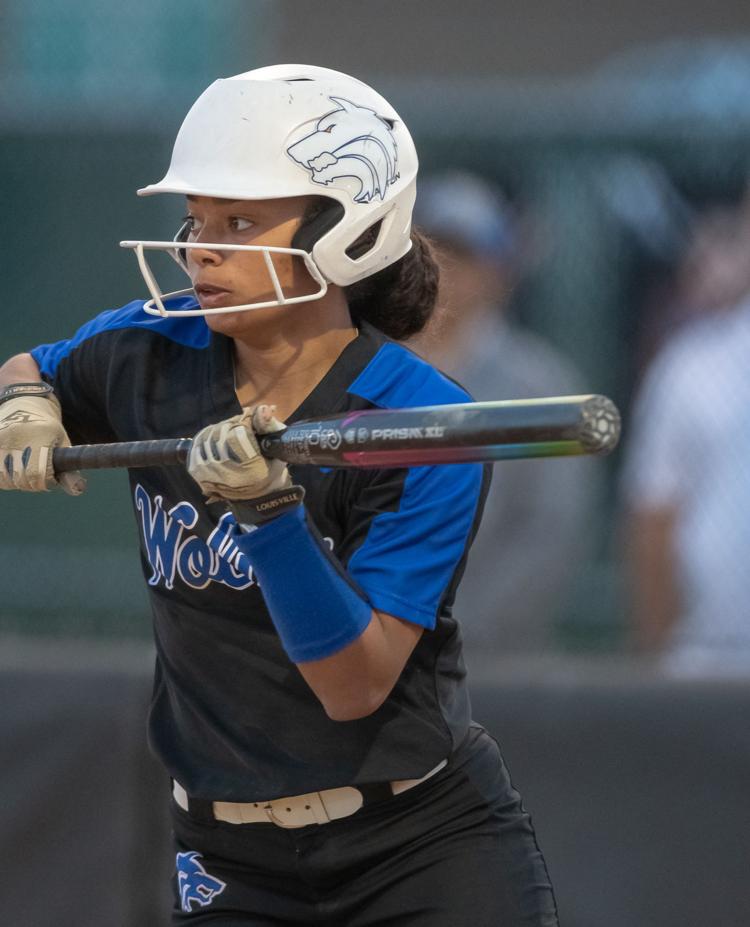 Jamie Cendana tied the contest up at 6-6 in the third with a two-out triple before an Elisa Rosado grounder resulted in a Prosper error that scored Cendana for the Lady Wolves' first lead of the contest. Three batters later, Morgan Luster blew the game open for the soon-to-be district champs, ripping a sharp grounder down the third-base line to clear loaded bases and grant West a 10-6 advantage.
"We've won from behind, but that was the first time for something like that. I don't think we've been down by that much all year," Ledsome said. "I think we came in a little tense and tight, knowing what this game meant. Now that we've clinched, we could relax a little, but I think they want to go undefeated. Still, we can now take a deep breath."
The Lady Wolves didn't relent, swelling their lead with three more runs in the fifth inning, including one manufactured off an intentional walk of Boyd that resulted in the star pitcher immediately stealing second base while Rosado scampered home.
"[Boyd] looked over at [Rosado] – they've been playing together all their lives – and it's something we've talked about – if Elisa's on third and we get a walk, to look for that and try and get into a rundown," Ledsome said. "Tatum just looked over at 'E' and gave her the sign. They executed it perfectly."
Prosper opted to intentionally walk Boyd three times on Friday – a tactic clean-up hitter Luster benefitted from to the tune of four RBIs on 2-of-4 hitting. She was one of six Lady Wolves to log at least two hits on Friday, led by a scorching 4-of-5 effort from Rosado, who fell a home run shy of the cycle.
"I was just trying to put a good swing on the ball," Rosado said. "Lately, I haven't felt too confident at the plate, and it's true that you just have to keep putting good swings on the ball until one falls. I'm really glad I could help my team out."
Catie Kim, Chandler Gurney, Faith Counter and Cendana all added two-hit performances as well, pacing the Lady Wolves to a 17-hit night against the Lady Eagles.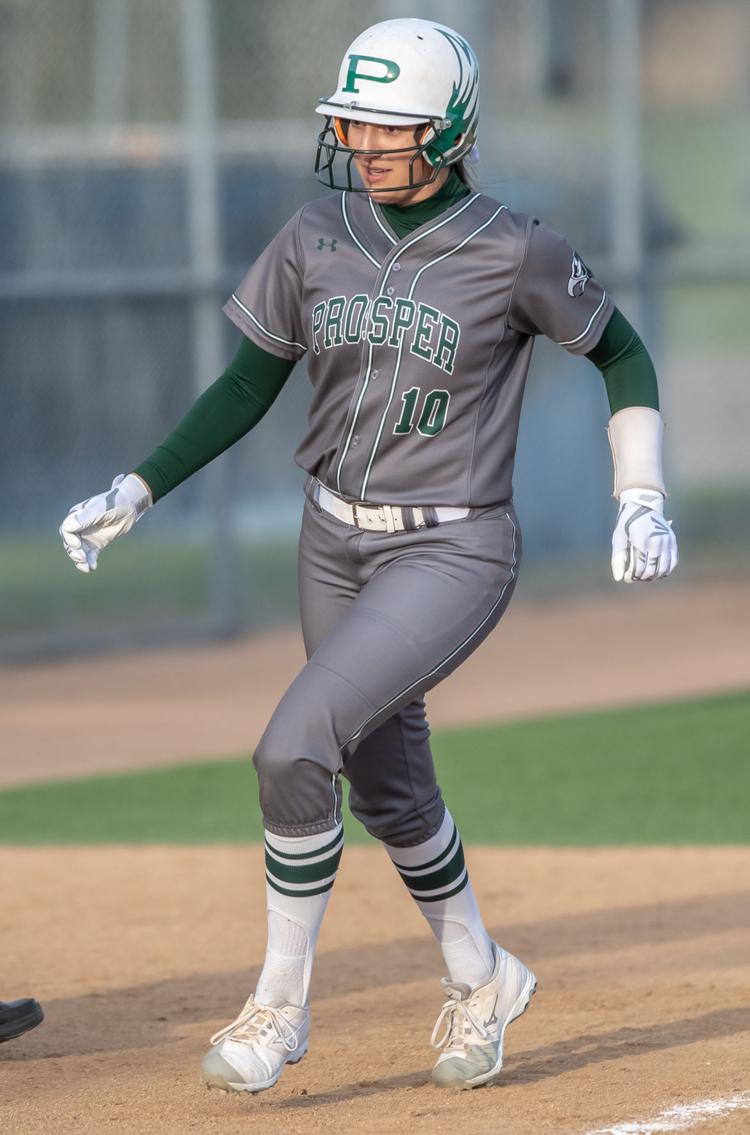 Prosper, meanwhile, was fueled by three-hit outings for Coffey and freshman Syndey Lewis, the latter doubling twice in the loss – a setback that kept the Lady Eagles alone in second place in 9-6A entering the final week of district play.
"There are a lot of good things to move on going forward," Rainwater said. "We're going to clean up our pitching and defense and get better from here."
The Lady Eagles look to bounce back at 7 p.m. Tuesday at Allen, while the Lady Wolves – now two wins away from a perfect district record – visit Plano East at the same time.
"It really shows how much everyone on the team worked over the summer and how much everyone is dedicated to pulling this out for each other," Rosado said of the district championship. "Everyone is really selfless and working for the team."