McKINNEY — For the third time this postseason, the Celina baseball team held an opponent off the scoreboard. In the case of Thursday's one-game regional quarterfinal against Van Alstyne, the Bobcats got to spread the wealth at multiple ballparks.
A mid-game lighting issue at McKinney's Al Alford Field prompted an abrupt change in venues through four innings of Thursday's ballgame. The contest was relocated to McKinney Boyd High School with the action between the two district rivals delayed 40 minutes.
"We've been put in some bad situations this year and this group has shown me and each other that whatever adversity is in front of them that they will respond to it very well," said Troy McCartney, Celina head coach.
The Bobcats were unfazed, shutting out the Panthers 5-0 to punch their ticket to the regional semifinals.
They did so by besting Van Alstyne for the third time this season, having swept two regular-season meetings by a combined score of 23-0. The Panthers offered a bit more resistance on Thursday, with starter Matthew Crawford striking out five batters during his first swim through the Celina batting order.
Instead, it was the Bobcats' patience at the plate that paid off, helping spur a three-run fourth inning that materialized without Celina so much as recording a hit. A grounder by junior Noah Bentley was thrown well high of first base to put the first of three consecutive runners on base. Senior Ty Marthiljohni and junior Jackson Rooker drew walks to load the bases, and Bentley later made his way to home plate after Crawford was called for a balk following what the umpire deemed an illegal pitch for not having both feet on the rubber.
"It's called the hybrid rule. The pitcher can't be staggered. He has to have both feet on the rubber," McCartney said. "One of the umpires called an illegal pitch ... when you don't have runners on base, it's a ball, but in this situation since we already had guys on base, it's a balk."
Sophomore Major Brignon then plated a second run on a groundout and Rooker scored on a passed ball to suddenly up the count to 3-0.
"I was really impressed and proud of my guys on how they stayed in it," McCartney said. "I felt early that we put some pressure on ourselves and weren't having very disciplined at-bats. We were giving those guys strikes. Then the second and third time through, we were much more disciplined and playing like who we have been all year."
And even though Celina's newfound momentum was short-lived with play suspended between the fourth and fifth innings, McCartney praised his players for handling the circumstances.
"We got on the bus. I didn't turn the AC on, I had them roll their windows down to just keep them warm but still get a little breeze," he said. "I didn't want that AC to make them tired at all. They stayed in it on the bus and were focused the whole time. It was awesome and they eliminated all distractions."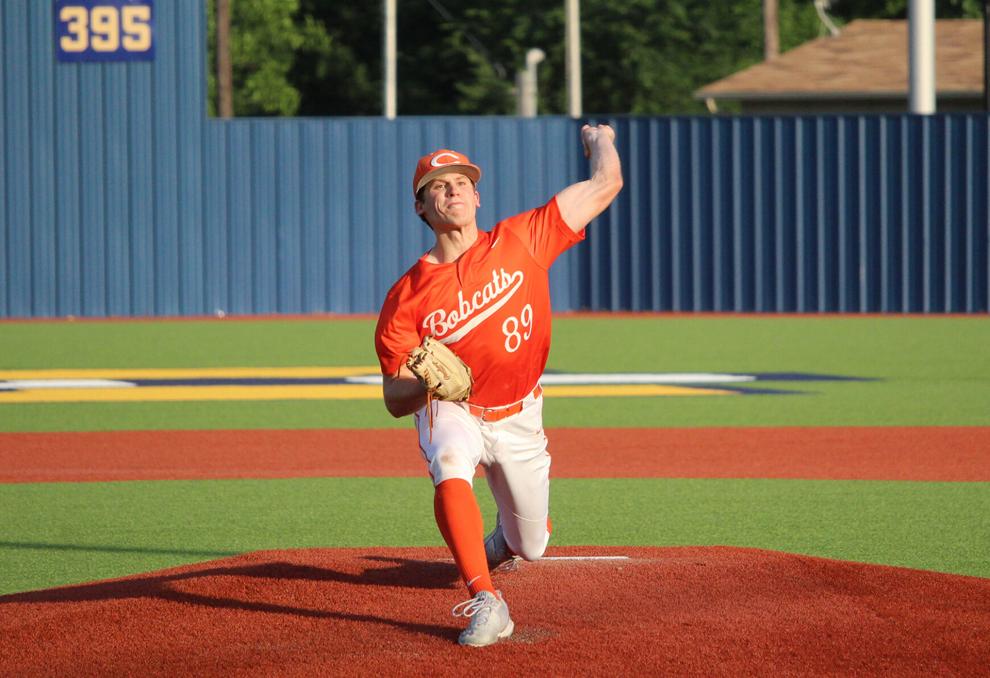 When play resumed, Celina didn't miss a beat — particularly junior pitcher RJ Ruais. The Baylor commit is yet to allow a run during the postseason, logging a second straight complete-game shutout on Thursday. He struck out eight batters and allowed just four hits.
"RJ is obviously a phenomenal ball player, but I think the most impressive thing is that he's such a great guy," McCartney said. "He does well in school and there's never any problems with him off the field. He's super competitive and the exact kind of player you love coaching."
The run support was there as well. Brignon singled in another run in the sixth inning and Rooker put an exclamation mark on the win by successfully stealing home. Rooker scored two runs on 1-of-1 from the plate plus two walks, while Ruais also logged a hit.
Celina will continue their postseason next week at a time and place to be determined against either Liberty-Eylau or Bullard.
"What's special about this group is the way they rally and always have each other's backs. I'm very honored to be able to coach these young men," McCartney said.