Ever since the Lone Star football team shocked the world earlier this season by becoming the first in-state squad to take down Highland Park at Highlander Stadium in over 20 years, the rematch has been almost inevitable.
The two juggernauts have been on a collision course ever since that Sept. 13 meeting, and as long as both sides won their respective districts, they would undoubtedly meet in the third round of the playoffs.
Both Lone Star and Highland Park have taken care of business and steamrolled through the first two rounds of the postseason — setting up a date for 3:30 p.m. Friday under the bright lights of AT&T Stadium for an epic showdown pinning the No. 1-ranked Rangers against the three-time defending state champions.
The Scots will be looking to not only advance in hopes for an unprecedented fourth consecutive state title, but will also be out to avenge their only defeat of the 2019 campaign.
Not to mention, the loss to Lone Star was not particularly close despite falling by just two scores, 30-19. The Rangers dominated throughout and even held a shocking 24-0 stranglehold over Highland Park going into the second half.
Senior quarterback Chandler Morris tossed a whopping four interceptions in that contest, and that turnover bug has plagued the superstar gunslinger at various times this season.
Both teams come in averaging 55 points and over 500 yards per game, but the Lone Star defense holds a slight edge defensively with just 13 points allowed per contest compared to the Scots' 18.
Lone Star senior wide receiver Marvin Mims will undoubtedly be an X-Factor for the Rangers, as he torched Highland Park for 236 yards and two touchdowns back in Week 3.
However, the Oklahoma commit was sidelined in the bi-district round due to injury but returned last week against College Station. He appears to be good to go against the Scots after he exploded for 295 yards and three scores against the Cougars.
Prediction: Lone Star 33, Highland Park 31
Other area-games to watch
Independence versus Lancaster, 7 p.m. Friday at Richardson's Eagle-Mustang Stadium
The Knights are in the third round of the playoffs for the first time in program history following two impressive victories over Mansfield Timberview and TexarkanaTexas High.
As formidable as those two foes were, the competition ramps up a notch this week for Independence against a Lancaster crew that features some of the top talent in the state on both sides of the ball.
The Tigers' defense will be more than prepared to take on the likes of Braylon Braxton and Co. after limiting high-powered offenses from The Colony and McKinney North to fewer than 30 points in both games.
It is also the same unit which held Texas Tech commit Myles Price under 100 total yards and limited North wideout JJ Henry to just 1 yard on four receptions.
Prediction: Lancaster 42, Independence 24
Frisco versus Ennis, 1 p.m. Friday at The Star
Frisco gained revenge last Friday by shutting out South Oak Cliff, the same team that trounced the Raccoons out of last year's postseason.
With Frisco, Independence and Lone Star all picking up wins in Round 2, three FISD programs are now in the third round for the first time ever.
Standing in the way for more history to be made for FISD is an Ennis ballclub fresh off of a blowout victory over Reedy and a narrow 17-13 triumph last week against Burleson Centennial.
The key for the Raccoons will be containing Ennis quarterback Collin Drake and keeping him from dominating the game with both his arm and his feet.
Prediction: Frisco 24, Ennis 20
Prosper versus The Woodlands, 7 p.m. Saturday at McLane Stadium
Prosper has adjusted to Class 6A competition just fine and reached the third round of the playoffs in just its second-ever season in the state's highest classification.
Not only that, but the Eagles have looked dominant in their two playoff victories, specifically last week in a rout over a red-hot Mesquite unit.
In recent history, a matchup against The Woodlands would almost certainly equal an impending doom for Prosper, but this isn't necessarily the same Highlanders powerhouse from a few years ago.
With that said, the Eagles very well could be flying high into the fourth round next week if they can take care of business in Waco.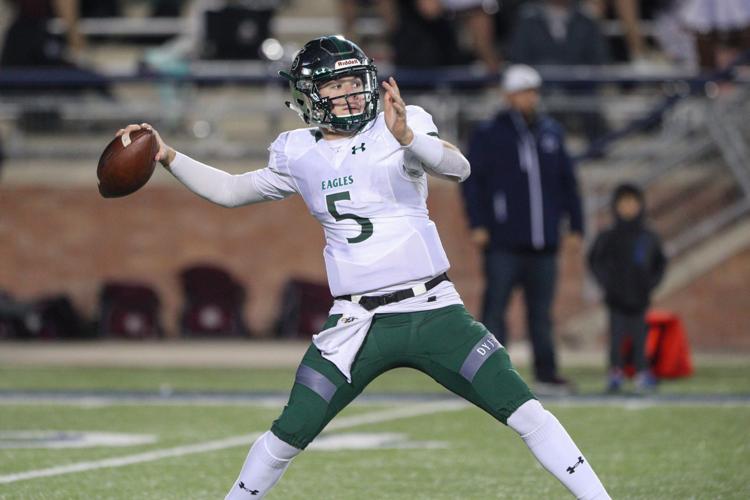 Prediction: Prosper 31, The Woodlands 27