After playing a preseason schedule heavy on Class 6A opponents, the McKinney North girls basketball team is starting to reap the fruits of their labor.
The Lady Bulldogs entered the holidays tied atop the standings in District 10-5A, sharing first place with Wylie East at 3-0. On the heels of wins over Sherman and state-ranked Princeton, the Lady Bulldogs kept pace on Tuesday with the most lopsided of their three district victories thus far in a 67-45 win over visiting Prosper Rock Hill.
As North's offense ebbed and flowed from player to player, its defense was a constant from the onset. The Lady Bulldogs limited the Lady Blue Hawks to just five made field goals in the first half — a stretch during which North generated nine turnovers — to open up a 26-15 halftime lead.
"I thought we were letting them pass, cut and just do what they wanted to do in the first half," said Veronica Reed-Hamilton, North head coach. "We came back at halftime and talked about imposing our will — getting in the passing lanes, jamming their cutters and be aggressive in those passing lanes."
That paid off during a resounding third quarter that saw the Lady Bulldogs outscore Rock Hill, 23-10, for a 49-25 advantage. Those defensive stops were promptly converted into points on the other end, with North igniting its transition game behind a flurry of long-range makes from senior Amaria Fields and freshman Kaelyn Hamilton. The two combined for 29 points in the second half alone, with Fields finishing the afternoon with 21 points and Hamilton logging 19 points along with five assists.
Hamilton got going early, joined by fellow freshmen Ciara Harris and Cheyenne Wooten to score the Lady Bulldogs' first 16 points of the contest.
"Playing some of those teams we played early, seeing some of the quickness and height we saw, I think that has prepared them for what we're seeing right now," Reed-Hamilton said. "Now they know that if they can do this against a certain opponent, it'll work against this one as well."
Although Rock Hill's defense, sparked by Haleiyah Hayes, played Fields tough early on, the Boston College commit caught fire in the second half with 18 of her game-high 21 points, which included four 3-pointers as well as four offensive rebounds.
"I think they were trying to jam her through the cutters — lock her up and push her off those screens," Reed-Hamilton said. "I told her when we got back that she needs to set the tone. She needed to take that girl deep and she got a few tight cuts coming in there and that opened some things up for her. Just doing what we work on everyday — knowing that you have to use your screen tight and not let people bump you off the cut."
Harris recorded 12 points off the bench and was active on the glass with seven rebounds, while Wooten added eight points and had a hand in three steals.
Rock Hill received a 19-point effort from Rebekah Juett, who scored 16 of her points over the final two quarters. Hayes added eight points and three steals as the Lady Blue Hawks dipped to 2-1 in 10-5A action.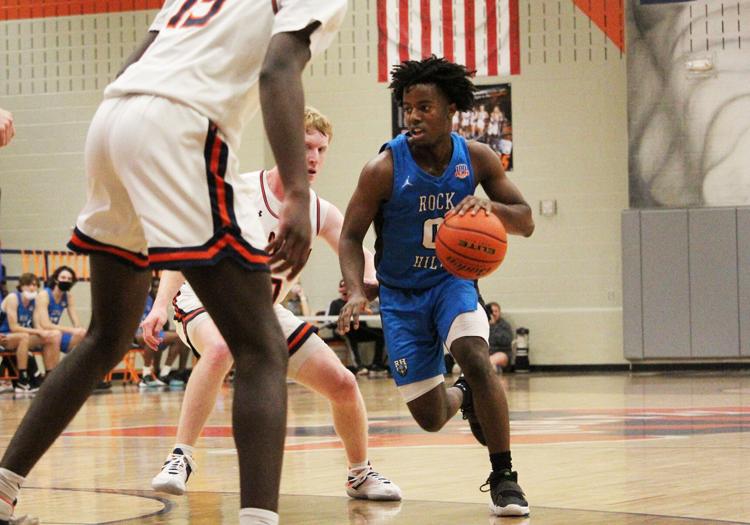 Rock Hill boys continue hot start
No passing lane was safe for the McKinney North boys Tuesday afternoon and thanks in large part to a stifling defensive effort by state-ranked Rock Hill.
The Blue Hawks held the Bulldogs to single-digit scoring marks in each of the first three quarters to fuel a 56-41 victory that kicked off Rock Hill's district campaign on a winning note.
"That's how we've got to play. Sometimes we can get stuck offensively, but we pretty much guard the whole way. I was really impressed with our defense today and have been the whole season," said Shawn Williams, Rock Hill head coach.
North's 41 points scored were a season-low the Blue Hawks in points allowed. Turnovers were the Bulldogs' biggest bugaboo, committing 10 in the first half to fall back, 25-17, in a defensive-minded first two quarters.
Rock Hill has thrived all season in that type of setting and that remained the case Tuesday. The Blue Hawks hounded passing lanes, poked the ball loose on drives to the basket and forced the Bulldogs into a myriad of difficult looks at the rim as the game progressed.
Four of the Blue Hawks' five starters logged at least two steals in the win, while senior Grant Shaw helped keep the Bulldogs at bay with a game-high 15 points and six assists.
"He's a college point guard and that's what college point guards do at the end of the game — they close it out. His leadership and maturity this year have been pivotal for our success," Williams said.
Shaw took command in the second half as North began the third quarter on a spirited note with an and-one finish inside by senior Jaylon Russell that closed the gap to 25-19. The Rock Hill point guard responded with a 3-pointer on the other end, and the Blue Hawks' lead never got to within two possessions for the remainder of the contest. Shaw added six points and two assists in the fourth quarter as the Bulldogs managed to trim their deficit to nine points.
Shaw got help from senior Jaythan Jackson (11 points), junior Anthony Williams and junior Grant Jessen (11), who had a number of hard-nosed finishes in the second half against the Bulldogs' athletic frontcourt.
Russell's 10 points paced North, while junior Dylan Frazier sparked the team off the bench with 10 points of his own.
Tuesday's loss snapped a six-game winning streak for the Bulldogs, who dipped to 0-1 in district play. Just a first-year varsity program, Rock Hill improved to 7-2 overall and currently holds the No. 17 ranking in Class 5A, per the Texas Association of Basketball Coaches.
"In anything I do, I tend to have high expectations. We're just trying to build a culture and I'm lucky that these guys have bought into what I've been preaching," Williams said.