GARLAND — The Celina volleyball team's 2021 campaign has been nothing short of historic. The Lady Bobcats entered Saturday sporting a 42-1 record headlined by the program's first-ever appearance at the UIL state tournament.
Proud as the team's veterans were looking back on their momentous year afterwards, it didn't make the final result of Celina's state debut any easier to stomach.
An afternoon that began with plenty of promise for the upstart Lady Bobcats gradually dissolved into a showcase of force by reigning Class 4A state champion Decatur — one that culminated in a 3-0 sweep (25-23, 25-10, 25-10) for the Lady Eagles, who hoisted their second consecutive 4A title from the Curtis Culwell Center.
"We really came out on fire in that first set and felt like we really had a lot of wind in our sails," said Ginger Murray, Celina head coach. "There were a few points we gave them that created some points for them on the board, but we felt like we could come back in the second set. In the end, they made adjustments and we kind of let the wheels fall off a bit."
Saturday's start was everything Murray could have hoped for — the Lady Bobcats built a quick 3-1 lead on the strength of two kills by senior Lexi Manning and held the advantage for the majority of the opening stanza, including at 22-18 late in the frame.
But Decatur, a team unbeaten in its four previous trips to the state tournament, had an answer ready in the chamber. The Lady Eagles responded with a 7-1 run to close out the frame, nudging ahead at 23-22 on a Celina error and ultimately sealing the come-from-behind victory after a shot by Kota Hartman snuck over the net and sailed to the far side of the court for a 25-23 win.
Coincidence or not, Decatur was a different team from that point forward.
The Lady Eagles blasted Celina for a pair of 25-10 frames to close out the match, totaling 35 kills in the second and third sets to just 12 for the Lady Bobcats. Decatur divvied up its firepower all over the floor — Jentry Lamirand, an SMU commit, totaled 18 kills, eight digs and five blocks on her way to tournament MVP honors. She had plenty of help with Kaylee Peterson and Hartman respectively tallying 14 and 11 kills.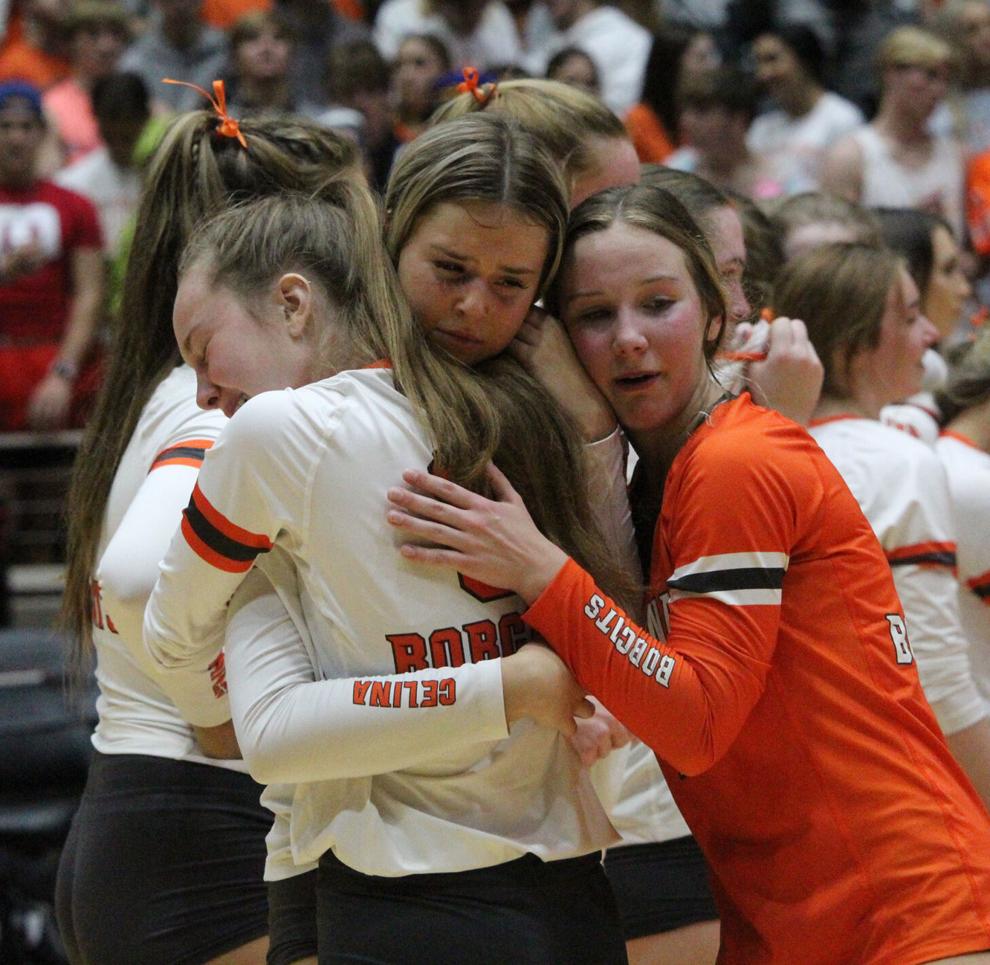 "They were tipping us to death — that magical donut right there in the hole," Murray said. "Those are so hard to read and then they started hitting line more when we were expecting some cross. They made the adjustments and we were always a tad bit late."
Celina was paced by 12 kills from Manning, half of which came during the nip-and-tuck first set. Sophomore Ryan McCoy added six kills and senior Megan Hodges chipped in five kills, 14 assists and 17 digs in her final high school match.
"We've talked about [making it to state] since Day One," Hodges said. "Before the game, I was like, 'We made it here. Let's just enjoy the moment and have fun.' I feel like we did get a little bit in our heads, but I couldn't ask anymore playing with these girls."
Hodges has been front and center for the Lady Bobcats' rise to prominence, emerging as an immediate contributor at the varsity level as a freshman during the 2018 season. Fittingly enough, that year marked the first of four consecutive postseason runs where Celina advanced at least three rounds deep.
As a sophomore, Hodges and the Lady Bobcats made a run to the regional finals that included Manning and senior Lily Neidhart. Last season, Celina exited in the regional quarterfinals but had reason for optimism heading into 2021 — graduating only one senior from a group that went 20-5 last year.
"Our relationships were so close all of last season, even though it was a new team," Hodges said. "I think coming back with so much this year made it even stronger. Our connections, humility and just being there for each other really showed up on the court."
The Lady Bobcats closed out their season at 42-2 overall, shattering all manner of program records along the way. 
"I'm so proud of everybody because this was our goal from the beginning of the season — just to make it to state," McCoy said. "We had everyone behind us talking about how we could go to state, and it's crazy because we finally we did it and being the first team from Celina to do it makes it so much more special."