DENTON — Although three teams finished the regular season tied for first place in District 5-6A softball, Prosper has a strong case as the hottest of the conference's star-studded trio. 
Sharing the district title with Allen and Denton Guyer, Prosper managed to run the table over the second half of league play for a six-game winning streak heading into the playoffs. The Lady Eagles picked up where they left off in the bi-district round, punctuating a two-game sweep of Marcus with a 9-2 victory on Friday at Denton Guyer.
"Marcus is a gutty team that has a lot of power and speed. We knew we'd have our hands full with them, but our district prepared us for tough games like this," said Todd Rainwater, Prosper head coach. "Two gutty performances from our pitchers who kept us in both games and timely hitting from our sticks. I couldn't be more proud and we're just excited to keep it rolling."
Whereas low-scoring, defensive games scoured the bi-district slate between two of the area's top softball districts in 5-6A and 6-6A, Prosper wasn't one to comply. The Lady Eagles totaled 14 runs and 17 hits across their two wins over the Lady Marauders, including three home runs.
One of those long balls set the tone for Friday's Game 2 victory as Sydney Lewis blasted a two-run shot over the left-center wall to plate a pair of runs for a 2-0 advantage just three at-bats into the contest. Lewis homered in Prosper's 5-1 victory in Game 1 on Thursday and went 3-of-4 with two runs and three RBIs in Friday's series clincher.
"Her sitting in that 3-hole, fortunately she has a good 2-hole (Elizabeth Moffitt) and 4-hole (Gabby Coffey) around her, so they have to pitch to somebody," Rainwater said. "She's seeing some good pitches and taking advantage of them. She goes up there with a good plan and attacks it when she gets what she wants. She has been huge for us all year long."
Although Prosper never let that early lead get away, Marcus made things interesting in the bottom of the third with a home run of its own. Alexa Hanish did the honors, parking a solo shot to center field to cut the Lady Eagles' lead in half at 2-1.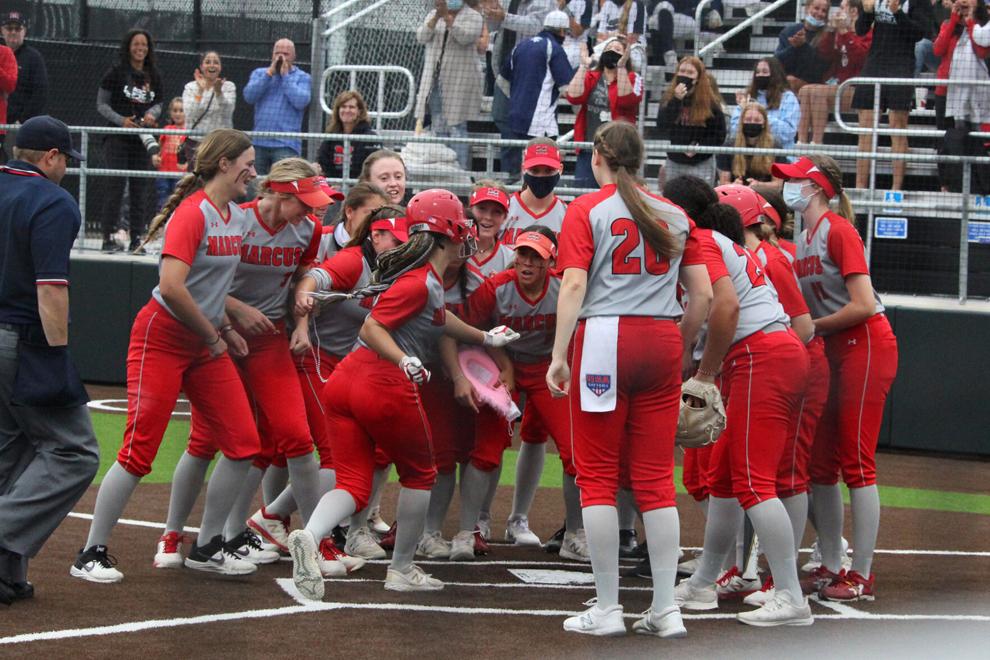 Hanish's homer was a bright spot in an otherwise bumpy road for the Lady Marauders' offense, who mustered two runs on five hits off Prosper pitcher Abbey Beasley on Friday. In Game 1, Elissa Griffin limited Marcus to just one run on four hits as the Lady Eagles' one-two pitching punch combined to strike out 19 batters.
"We look at them both as our aces. It's about keeping them healthy and ready to go," Rainwater said. "They know they could pitch back-to-back or one every other game — we just keep them both ready, we've kept their innings and we feel like they're both ready to make a run."
The Lady Marauders made a brief run of their own in the bottom of the seventh inning by putting four consecutive runners on base, including singles from Tori Edwards and Emma Adair, before Hanish scored Brooke Johnson on a sacrifice fly for Marcus' second run of the night.
Unfortunately for the Lady Marauders, the damage had already been done. Prosper punctuated its night by scoring five runs in the top of the seventh — sending 10 batters to the plate and logging five hits. Amidst the barrage came RBIs from Moffitt, Lewis, Coffey, Beasley and Sydney Reid to blow the contest open. Moffitt and Coffey logged two hits apiece in the win.
Prosper's nine runs scored marked the second-highest total allowed by the Marcus defense all season. The Lady Eagles advance to the area round for a matchup with either Irving Nimitz or Arlington Bowie at a time and place to be determined.