McKINNEY — Everything came up Prosper during Friday's run at Myers Park for the District 5-6A cross country championships.
The Eagles swept their way to the top of both the individual and team standings in the morning's boys and girls races, authoring a resounding start to their postseason. 
The Prosper girls, ranked No. 3 in Class 6A by the Cross Country Coaches Association of Texas, opened the festivities by accruing 26 points in a race that saw the Lady Eagles produce the top three finishers. Prosper's boys followed suit with 45 points to earn a gratifying first-place team finish after missing out on qualifying for regionals as a group last season — due to the COVID-19 pandemic, the UIL made a one-year amendment to its postseason structure where only the top two teams in each district qualified for regionals instead of three.
"It's something we've been working for all season. We had a setback last year with the boys team not making it … so it was a huge thing not just to get to regionals but to win district," said Jennifer Gegogeine, Prosper head coach. "The girls got second last year as well, so coming out and winning district again was a huge goal for us."
The Eagles and Lady Eagles followed through on that pursuit, fueled by a pair of commanding first-place runs by juniors Shewaye Johnson and Jack Johnston. 
Johnson impressed in her first-ever UIL postseason race, clocking a 17:51.3 to finish 36 seconds ahead of the field. She entered Friday sporting the district's top 5K time for the season as part of a banner debut campaign at Prosper after transferring from Bullard High School in Iowa.
"It's a big deal. My teammates were there for me and we did an awesome job as a team," Johnson said. "It was hard and the course with a little rough, but we did it."
"It's been a great addition to the team. [Johnson] helps the competitive level of the entire team during workouts," Gegogeine said. "She's obviously a huge contributor and an overall great kid. This is a close-knit team that hangs out all the time and pushes each other as well."
Johnson was joined in the top three by senior Aubrey O'Connell in second place at 18:27.3 and senior Sadie Gonzales in third place at 19:03.2.  Senior Emily Kern also cracked the top 10 with a ninth-place run of 19:56.1 with freshman Reagan Reed not far off in 11th place after posting a 20:10.0.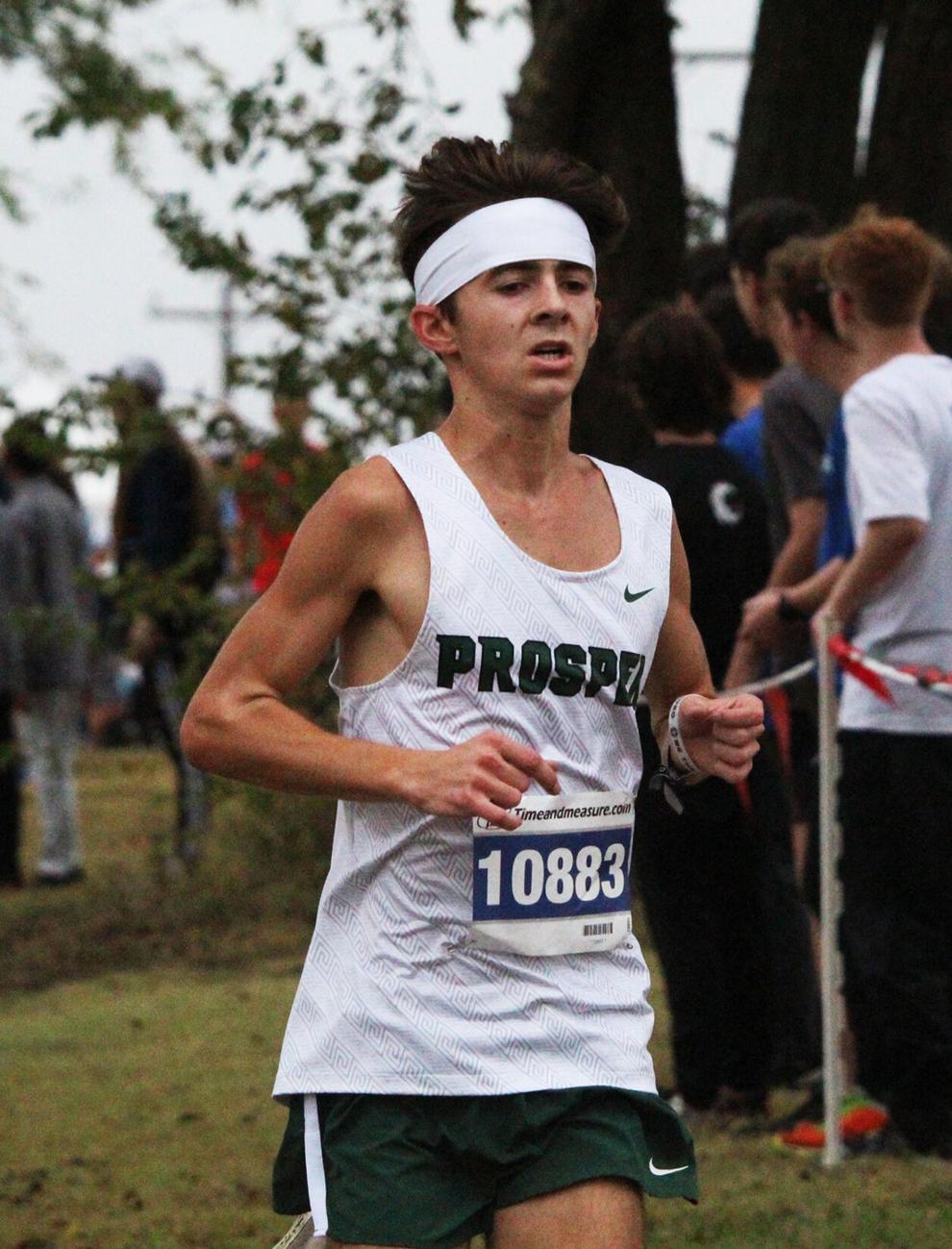 On the boys side, Johnston made good on a pre-race proclamation by running a 15:48.7 to finish 17 seconds ahead of the field. He placed first overall one year removed from taking second behind teammate and junior Dawson Svoboda in the 2020 district meet.
"[Johnston] said that he was going to be a district champion when they were on the line before racing today," Gegogeine "He and Dawson are really good friends and they run really well together, so I think they're just as happy for each other when one of them wins."
Johnston and Svoboda set the pace early into Friday's race, but as Johnston began to distance from the pack, the remainder of the top five featured a bit more fluctuation. In the end, it was a late rally by McKinney Boyd senior Jack Morrissey that proved enough to finish second overall, posting a 16:05.7 to edge Svoboda in third at 16:06.3. Bronco junior Zach Martin was right behind in fourth after running a 16:07.2, while Little Elm senior Jason Alcala booked a return to regionals with a time of 16:29.7 for fifth place.
The top three teams and top 10 individuals from Friday's races secured spots in the Region I-6A meet, scheduled for Oct. 25 at Mae Simmons Park in Lubbock. The representation from 5-6A will be, if nothing else, consistent — in addition to Prosper's boys and girls taking first overall in the team standings, Boyd's boys and girls teams took second on Friday, and Allen's boys and girls teams finished third.
The Broncos and Lady Broncos used their depth to scale the leaderboard. On the girls side, senior Rosalene Reyes Perez took seventh at 19:42.0 and senior Bella Evans rallied to finish 10th at 20:09.6, and the duo got help with three other Boyd runners placing inside the race's top 16: senior Allison Fortman (20:18.5, 13th place), sophomore Carly Hunt (20:30.4, 15th) and senior Faith Talbott (20:38.9, 16th).
With Morrissey and Martin leading the charge for the Boyd boys, the team got a boost elsewhere from junior Adam Toombs in 15th place (17:01.1), sophomore Gavin Brown in 20th (17:05.5) and senior Grayson Smillie in 23rd (17:09.7).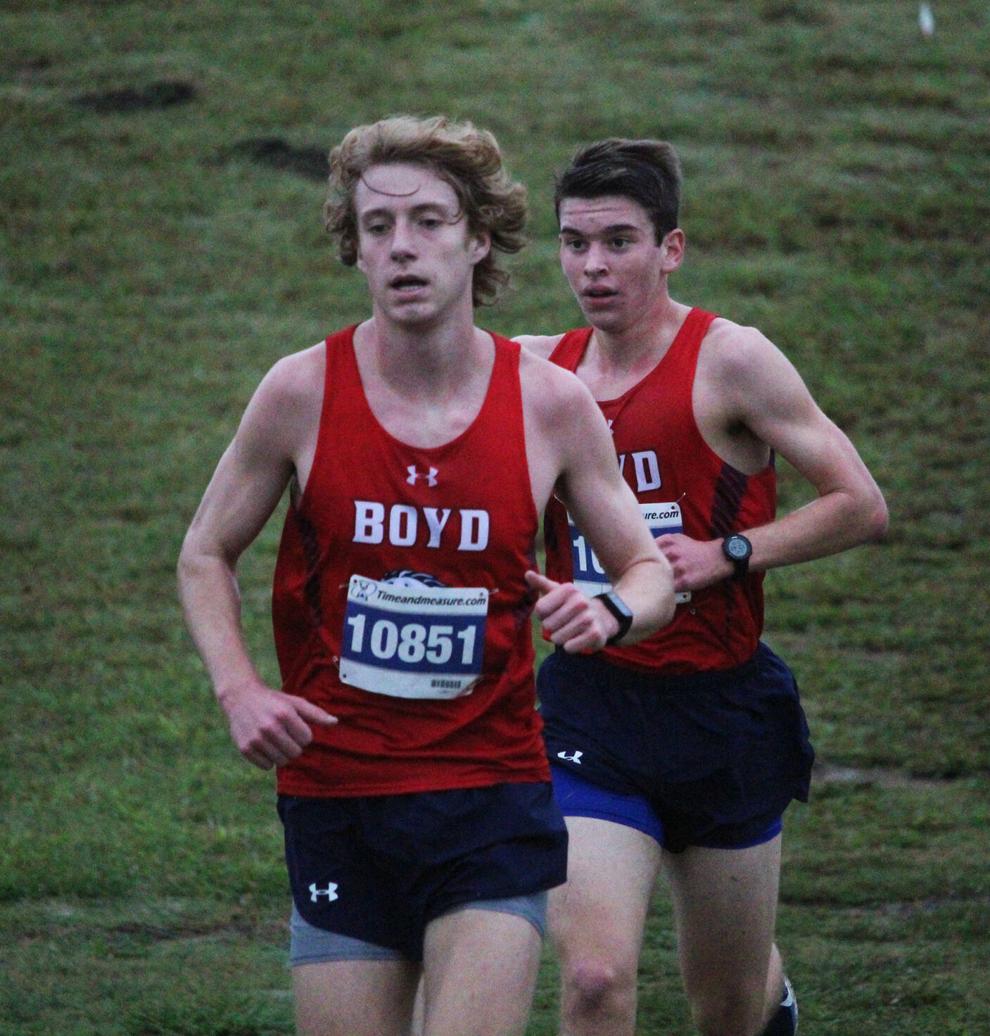 Allen, meanwhile, landed two runners in the top 10 of both races. Despite carrying the district's 19th-fastest 5K time into Friday's meet, senior Jack Goode rose to the occasion and raced to seventh overall with a personal-record time of 16:38.4. Junior Noah Green also finished inside the top 10 with a time of 16:44.5, good for 10th place.
On the girls side, Allen accounted for the first two non-Prosper racers to cross the finish line with senior Brenna Zerby (19:09.7) and sophomore Mia McGlade (19:15.1) respectively placing fourth and fifth on Friday.
With Alcala entrenched as Little Elm's lone regional representative, the Lobos' district turnout also featured a 21st-place finish by sophomore Joshua Hernandez (17:06.9) and a 37th-place run by sophomore Emma McLain (23:14.4).
McKinney sophomore Tara Bouck is also headed back to regionals, qualifying by virtue of a sixth-place run of 19:33.6.
All qualifiers have 10 days to rest up before making the trek to Lubbock to compete in a talent-rich Region I-6A meet. The event will feature the state's top three ranked girls teams (No. 1 Flower Mound, No. 2 Southlake Carroll, No. 3 Prosper) and four programs ranked in the state's top 10 on the boys side (No. 1 Carroll, No. 3 El Paso Eastwood, No. 7 Plano West, No. 10 Flower Mound).
"Of course, the goal is always to win, but we'd like to see if we can get both teams out to state," Gegogeine said. "Since I've been coaching, we've never had both teams go. Having them both get to state would be amazing."