McKINNEY — Sacks and turnovers scoured McKinney ISD Stadium Thursday night. Fortunately for Prosper, those conditions are right in their comfort zone.
The Eagles submitted another defensive gem on Thursday, holding McKinney to just 180 yards and only one offensive touchdown in a 27-17 road win. Less than a week removed from a last-second, 24-23 loss to state-ranked Denton Guyer, the Eagles rediscovered the win column to improve to 4-1 on the year and 2-1 in District 5-6A action.
"Our defensive coordinator, coach (Bill) Robertson, and our defensive line coach, (Devin) Lemons, they had a great game plan coming into tonight to get pressure on the passer," said Brandon Schmidt, Prosper head coach. "Just different stunts up front and getting after their quarterback."
The Eagles did that in droves, bringing down McKinney junior Sampson Nazarko behind the line of scrimmage seven times on Thursday. Juniors Atticus Burandt, Aeden Combest and seniors Mason Jolley, Alex Stowers and Martez Harris headlined an aggressive pass rush, while seniors Aidan Siano and Herman Lee provided some key stops against senior running back RJ Carver and the McKinney run game.
The Lions (3-3, 0-2) succumbed to that pressure as early as their opening series, advancing inside the Prosper 10-yard line before ultimately turning the ball over on downs after Lee blew up a Carver run on fourth-and-two.
"Credit to them. That's a really good, physical defense and they do a great job up front. Aidan Siano is one of the best high school football players I've ever seen," said Marcus Shavers, McKinney head coach. "They definitely present some challenges in that area "I thought our kids handled it well early, but they've got to play a full four quarters of football."
Rough go for the McKinney offense. 3 straight plays for negative yardage, capped by this Mason Jolley sack, forces a punt from 4th and infinity. Prosper ball at the MK34, leading 21-10. pic.twitter.com/LQluY4pvyc

— Matt Welch (@MWelchSLM) November 6, 2020
That was the case for both teams, which had their issues with turnovers on Thursday — totaling five. Three of those were produced by McKinney's defense on a trio of interceptions thrown by Prosper senior Jackson Berry. That included a 59-yard return for a touchdown by junior Joshua Dixon in the waning seconds of the first quarter to trim Prosper's lead to 13-7.
Seniors Geor'Darrius Mays and Jack Moses added picks in the loss — the former setting up a 20-yard field goal by senior Josh Secrest that trimmed the gap to 13-10 heading into halftime.
"We had some adversity and responded to it in a positive way," Shavers said. "A lot of times kids can hang their hands down two scores like that, but our guys kept fighting and I'm not surprised by that. We've seen examples of that all year."
Prosper had a response ready to begin the third quarter, however. Berry swelled the Eagles' lead up to 27-10 through three frames, finding senior Keaton Nickerson deep for a 73-yard touchdown and later scoring on a 1-yard run to give Prosper a three-score lead.
Nickerson was on the receiving end of a 13-yard touchdown pass in the first half and finished with five catches for 122 yards.
"He's not very big, but he knows how to get the job done," Schmidt said. "He does a great job blocking on the perimeter, he runs great routes and has great hands."
Prosper 13, McKinney 0 @ 1:47/1QEagles blowing through the McKinney D their 1st 2 series. Jackson Berry to Keaton Nickerson from 13 yds out for the 2 score lead. Berry has completed 8 straight passes. pic.twitter.com/WLgkiizmkF

— Matt Welch (@MWelchSLM) November 6, 2020
Berry had a hand in all four Prosper touchdowns and totaled 328 yards through the air alongside three scores and three picks.
"We've got to eliminate those turnovers. That's the third game where we've had three turnovers and we're not going to win too many games that way," Schmidt said.
Schmidt added that Prosper's kicking game has to improve. The Eagles shifted away from it following a missed extra point in the first quarter and attempted a pair of two-point conversions on their two second-half scores.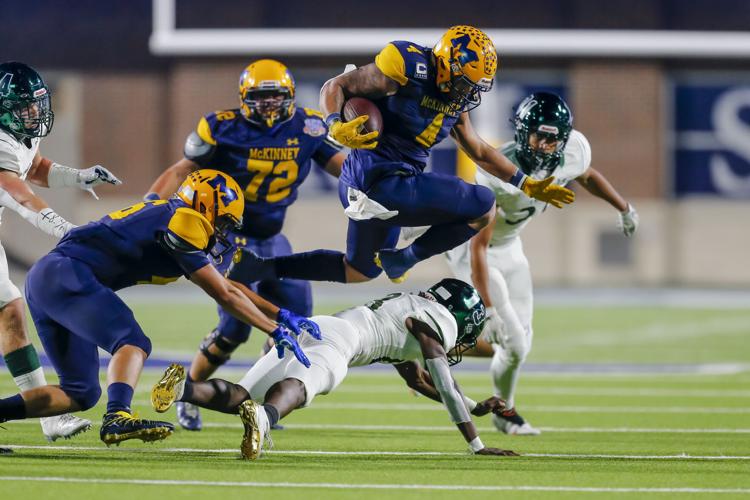 Meanwhile, Shavers lamented on McKinney's inconsistencies in execution. Offensively, the Lions have scored just three offensive touchdowns over their last seven quarters of football — with two of those scores coming in garbage time during a 55-35 loss to Denton Guyer.
Prosper's defense limited any sustained drives for the Lions' offense on Thursday, with McKinney getting a jolt after a fake punt was converted by senior Divaad Terry for a 56-yard gain that eventually set up a 1-yard touchdown run by Carver to trim the gap 27-17 with 9:27 left in the fourth quarter.
"We have to get better at executing and being able to tackle late in games. We've got to continue to do a better job of that," Shavers said. "The offensive execution hasn't been great and that hurts — turning the football over and then you're not able to execute your offense well enough."
Carver totaled 90 yards on 24 carries, while Nazarko managed just 44 yards through the air. With run game at the forefront, McKinney deployed Carver and senior defensive back Adrian Shepherd on a number of direct snaps on Thursday in a different wrinkle to the run game.
"We had a bye week and wanted to find ways to get RJ the ball downhill with more guys blocking for him," Shavers said. "It's just a matter of us trying to get the ball in our best player's hands as much as possible."
Prosper 27, McKinney 17 @ 9:27/4QLions not going away. RJ Carver takes the direct snap and scores on a 1 yard run. McKinney's 1st offensive TD of the night. pic.twitter.com/9VzxdUtWrQ

— Matt Welch (@MWelchSLM) November 6, 2020
The Lions hope to iron out their offensive issues in time for next week's pivotal matchup against fellow playoff hopeful Denton Braswell. Shavers tabbed the game as a "must-win" for his Lions, who kick off against the Bengals at 7 p.m. Nov. 13 at C.H. Collins Stadium.
Prosper, meanwhile, has a bye to rest up for its own showdown with Braswell on Oct. 20 back at Children's Health Stadium.