FRISCO – The Prosper volleyball team may have come away with a convincing victory over Reedy Tuesday night in four sets (18-25, 25-12, 25-17 and 25-19), but a troublesome first set caused some reasons for concern.
The Lady Eagles entered the week as the No. 6-ranked squad in Class 6A, but Reedy began the match unfazed and was firing on all cylinders early on.
The Lions leaped out to an 8-5 lead over Prosper thanks to a pair of big-time plays from senior middle blocker Ally Riddle. The home team was then able to pull away down the homestretch of the opening set when Reedy reeled off six straight points behind monster kills from junior middle blocker Macy Edwards and senior right side Ashley McGregor to go up, 18-10.
Prosper powered through with a pair of 3-0 runs, but it wouldn't be enough as the Lions closed things out with a 25-18 triumph to take a surprising 1-0 lead on one of the state's elite programs.
Although Reedy's heavy hitters made play after play, the Lady Eagles certainly did not do themselves any favors with six hitting errors and five service errors in the first set alone.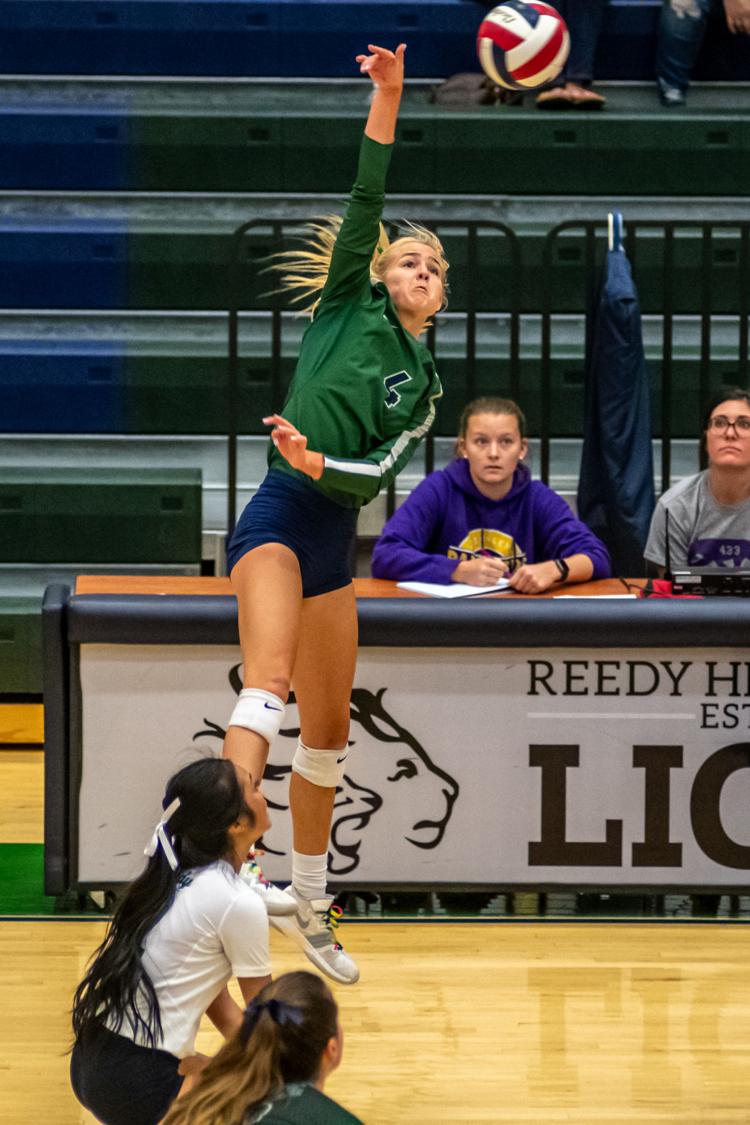 "We have to really cut down on that, because when you make an unforced error, you're giving that point to the other team," said Erin Kauffman, Prosper head coach. "Anybody that watched tonight knows that we have more athletes than Reedy, but Reedy played gritty volleyball. We're shanking so many balls and serving so many balls out right now. We have never served so many balls out like that, and we can't allow a complete team breakdown like that." 
After giving away 11 points to Reedy in that first game, Prosper tightened things up in the second with just one service error en route to a commanding 25-12 bounce-back win.
It was truly a tale of two halves as things buckled down in the third with both sides going blow-for-blow much of the way. In fact, the third frame featured eight ties and three lead changes before Prosper's size and athleticism began to take over.
"Prosper is going to get some kills on us and are going to put the ball down on us," said Katie Rudd, Reedy head coach. "We needed to fire right back at them and were having a hard time doing that."
Kauffman was pleased with the performances of various players that came off the bench in the third, such as senior defensive specialist Taylor Kaiser, junior outside hitter Riley Price and sophomore setter Jazzlyn Ford.
Ford took over late with her serving and landed three aces as the Lady Eagles concluded the pivotal third set on a 7-0 run to close things out.
Then in the final game, Prosper proved to just be too much for the Lions with some stellar play from a plethora of juniors in Sami Jacobs, Taylor Youtsey, Nikki Steinheiser and Bailey Birmingham.
Birmingham slammed five kills in the final game, including the last two, as she finished with 12 kills on the night.
"[Birmingham] has always been super athletic," Kauffman said. "I remember her coming to seventh-grade tryouts and me begging them to put her on the A-team because I knew she needed a good setter to get the ball to her as a lefty. She is finally starting to figure out the skill part of the game and is doing a nice job for us."
As for Reedy, the Lions fell to 2-3 on the season but will look to use the first set against Prosper as something to build off of moving forward with the district opener against Liberty set for Sept. 3.
"It gives us a good gauge and lets us know we can play at that high level," Rudd said. "Hopefully we'll learn from this and realize that it is hard to beat anybody if we can't take care of the ball on our side of the net."
Meanwhile, Prosper improved to 5-1 and will host 9-2 Denton Guyer at 5:30 p.m. Friday.