BEDFORD — Most nights, a fourth-quarter deficit against Euless Trinity, inside Pennington Stadium no less, is the last place a visiting team hopes to find itself. Prosper apparently felt otherwise.
The Eagles hit all the right notes in all three phases down Thursday's homestretch to seize momentum behind 15 unanswered points scored inside the final 6:10 of the ballgame for a 29-21 road victory. The meeting of state-ranked programs — Prosper No. 20 and Trinity No. 21 in Class 6A, according to Dave Campbell's Texas Football — upped the Eagles' record to 2-0 on the year.
"I'm so proud of the resilience of our team and the fight they showed," said Brandon Schmidt, Prosper head coach. "Last week, we had to come back from 10 points down and this week, coming on the road and playing such a physical football team, I can't say enough about the heart our kids showed."
Schmidt saw that in droves over the back end of the fourth quarter. Trailing Trinity, 21-14, and on the receiving end of three consecutive touchdown drives by the Trojans' bruising run game, Prosper's defense at last mustered a stop after tackles for loss by seniors Mason Jolley and Aidan Siano backed up Trinity to fourth-and-13.
The Eagles' special teams swung the pendulum in their favor moments later after Jolley broke through to block the ensuing Trinity punt and set up Prosper at the Trojans' 2-yard line with 6:30 remaining in the ballgame. Jolley then punctuated the Eagles' resurgence with a 2-yard touchdown run to pull the team within one point.
"It's an effort play on Mason's part. He's a war-daddy. It was a great play by him," Schmidt said.
Prosper 22, Trinity 21 @ 6:04/4QAfter blocking the Trinity punt, LB Mason Jolley scores from 2 yds out. Eagles then take the lead after Jackson Berry finds Cameron Harpole for the 2pt conversion. #SLMGridiron pic.twitter.com/4CCtLcQYeN

— Matt Welch (@MWelchSLM) October 2, 2020
Schmidt kept his offense on the field for a two-point conversion — a gamble that senior Jackson Berry came through on by finding senior Cameron Harpole for Prosper's first lead of the night, 22-21, with 6:03 to go.
"We're on the road against a quality opponent. If we go for two and don't get it, so be it," Schmidt said. "It's a non-district game and being on the road against a team like that, we wanted to go for the win."
Staring down a deficit for the first time all night, Trinity maneuvered into Prosper territory before being backed into fourth-and-10 from the Eagles' 40-yard line. After finding a wealth of success on play-action passes over the final three quarters, the well ran dry for Trinity as a pass from quarterback Valentino Foni sailed incomplete to turn the ball over to Prosper with 54 seconds remaining.
"Our defense was outstanding and made play after play after play. Their offense is huge and they do a great job running the ball, and I thought their quarterback played lights out tonight," Schmidt said, "The resiliency of our team to keep plugging away and keep fighting and believing each other."
Fortune remained on Prosper's side until the final horn sounded. Despite struggling to run the ball all game, the Eagles punctuated the victory with a 52-yard scamper by junior Noah Billings for the eventual 29-21 final with 24 ticks remaining.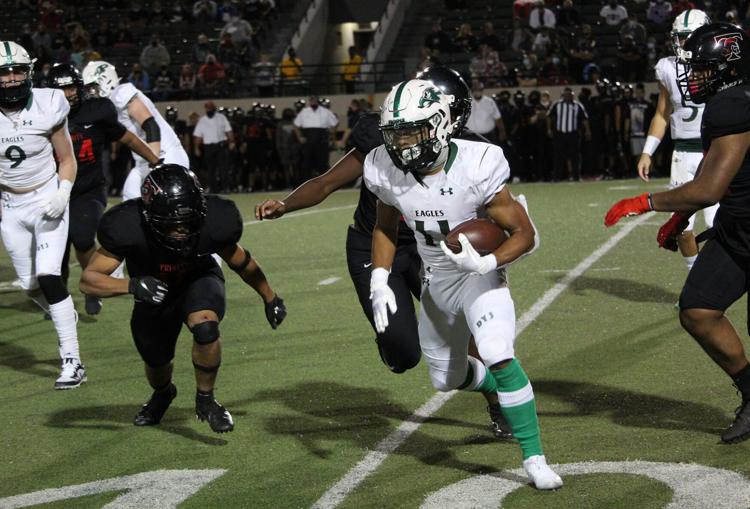 Even before shifting gears late, Prosper never let Trinity get comfortable on Thursday.
Despite either being tied or trailing for three-and-a-half quarters, the Eagles answered every touchdown by the Trojans in stride. When Trinity scored the game's first points on an 18-yard Foni run with 4:44 left in the first half, Prosper needed seven plays to respond. Berry found senior Fisher Naumann for a 52-yard catch-and-run that set up the first of two Jolley touchdown runs — this time from 3 yards out for a 7-7 tie at halftime.
The Trojans regained the lead less than four minutes into the third quarter on a 14-yard touchdown pass from Foni to Xzavior Kautai, only for Prosper to tie it back up just a few minutes later after Berry found Harpole for an 8-yard score.
Prosper 14, Trinity 14 @ 5:21/3QEagles respond to a Trojan TD drive with one of their own. Cameron Harpole catches a 27yd pass to move Prosper into the red zone and then hauls in this one from QB Jackson Berry from 9yds out. #SLMGridiron pic.twitter.com/WGux4xmj1p

— Matt Welch (@MWelchSLM) October 2, 2020
Trinity running back Gary Maddox opened the fourth quarter with a 10-yard touchdown run — the lat time the Trojans would find the end zone before Prosper's late salvo.
As expected, Trinity deployed a voluminous run game that amounted to 51 carries for 185 yards — mixing in a series of well-timed play-action passes that at times had the Eagles scrambling.
"They're so good at running the ball. They run, run, run, and we're loading the box to stop that run," Schmidt said. "You're just hanging your secondary on an island, and when they try play-action, it's so tough on your defense."
Prosper countered with 142 yards through the air from Berry, with Naumann bagging three catches for 77 and Harpole snagging three balls for 43 yards and a score. Defensively, with Siano and Jolley leading the charge, Prosper held Trinity to just 3.6 yards per carry.
"The leadership of our team and their demeanor — the fight they showed. This game was a building block for us," Schmidt said.
Prosper looks to stay unbeaten at 7 p.m. Oct. 9 when it visits another state-ranked opponent, DeSoto.