DENTON — The Celina football team had no intentions of letting Aubrey get comfortable during Friday's Class 4A Division II regional final. Seventeen consecutive points to begin the ballgame accomplished just that and then some.
The Bobcats smothered the Chaparrals from the onset, authoring a verse familiar to that of the teams' first meeting on Oct. 8, a 49-14 lambasting by Celina to begin District 4-4A Division II play. Friday's rematch in the Region I finals took on a similar feel, as the Bobcats overwhelmed Aubrey for a 34-0 victory from Apogee Stadium to clinch their first state semifinal berth since 2015.
Celina will take on Gilmer, which bested Pleasant Grove 36-15 on Friday, in the 4A Div. II semifinals at 7:30 p.m. Friday at Prosper's Children's Health Stadium.
"I was so worried about this game all week. It almost felt like a trap game after beating them 49-14 the last time. You always worry about guys looking past a really good team like that," said Bill Elliott, Celina head coach. "It was a big stress all week about staying on top of things and just making sure we were locked into this game. They did just that and came out exactly like we asked: fast and on fire."
It was the exact start Elliott envisioned for the Bobcats, who piled up points on each of their first four drives while overwhelming the Aubrey rushing attack up front. 
Junior quarterback Noah Bentley fired a shot across the bow on Celina's first offensive snap by connecting with senior Collin Urich on a 41-yard strike downfield. Five runs later, junior Troy Peterson was in the end zone for a 4-yard score and a 7-0 lead with 7:45 remaining in the opening quarter.
That would become a familiar refrain for the Bobcats, who found the end zone on the ground four times in Friday's win.
While Peterson got the ball rolling with the game's first points, the rest of the contest belonged to junior Gabe Gayton. The second-year running back totaled 182 rushing yards on just 12 carries in victory, finding the end zone three times on touchdown runs of 56, 39 and 21 yards.
"Gabe did a great job. He's a great young man and our offensive line did a great job blocking for him," Elliott said. "If you get deep in the playoffs, that's what you've got to do — you've got to be able to run the football and play great defense, and that paid off tonight."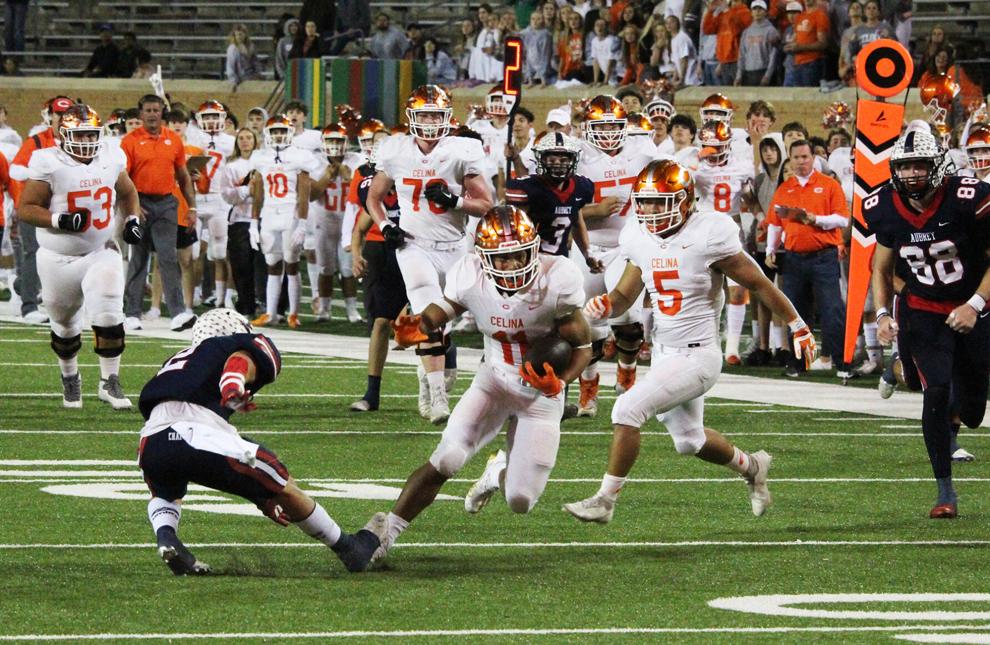 Gayton's big night came in handy to ease a passing game that managed just 82 yards on the night.
Overall, Celina ran for 258 yards on 7.8 yards per carry, handily out-dueling the run-first Chaparrals. Aubrey finished the night with just 88 yards on the ground, averaging only 2.3 per touch.
The Chaparrals only operated past midfield twice all game, with one time coming on an interception in Celina territory late in the second quarter. Holding Aubrey to just 192 yards overall and generating two turnovers on interceptions by seniors Zach Veverka and Jedd Ubanoski, the Bobcats pitched their second shutout of the season — the other coming Nov. 5 against Sanger (70-0).
"I think our defensive coaches did a great job with their scheme and preparing us this week," Elliott said. "Our kids did a great job of buying in and learning exactly what they had to learn this week. It was all preparation. If you prepare right, good things will happen.
"It's knowing their tendencies and what they're going to do based on their formations. Our kids know that because they've been taught well by our coaches, and they go out and execute it on the field."
It all materialized into another lopsided verdict over Aubrey, as Celina struck for a 17-0 lead by the end of the first quarter. 
Following Peterson's opening-drive score, the Bobcats got a lift on special teams after senior Hunter Neely blocked a punt on Aubrey's second drive. That led to a 47-yard field goal by junior Kaden Lorick, and Gayton found the end zone for the first time on the following series from 56 yards out for a 17-0 advantage through one frame.
That lead upped to 24-0 by halftime on Gayton's 39-yard scamper, despite Aubrey nearly averting the shutout late in the quarter. A miscommunication on a throw by Bentley was picked off by the Chaparrals at the Celina 30-yard line with 1:11 to play in the half. However, the Bobcats' defense forced a turnover on downs with junior Jacob Vincent stuffing Aubrey quarterback Semahj Brown on fourth-and-two to preserve the 24-point lead at halftime.
Gayton boosted the count to 31-0 on a 21-yard run with 1:28 left in the third quarter just two plays as Veverka intercepted Aubrey. Lorick put the finishing touches on the rout with a 38-yard field goal with 8:48 to go in the fourth, as Celina improved to 12-1 on the season following its 10th consecutive win.
Leading up to Friday's ballgame with fellow powerhouse Gilmer, Celina navigated Region I with four playoff wins by an average of 45.8 points per game.
"It's all about this group of kids. They've got such great heart and they've submitted to everything we've asked them to do," Elliott said. "They buy in, our parents and community are bought into everything we're doing. That's what it comes down to — when everybody submits to what we're doing, and it's just a special group of kids and coaches."