U.S. Marshals have apprehended a suspect related to a Wednesday active shooter incident in Celina. 
Celina Mayor Sean Terry went on Facebook Live on Wednesday afternoon to announce an active shooter situation at the Greenway subdivision in Celina.
Terry said officials had identified the suspect as a Hispanic male 5-feet-5-inches tall. Officials have not released the man's name. The man was wearing all black, said Donna Lynch, Celina marketing and public information director.
"Someone saw the male running from a house, and then smoke started billowing out of the house," Lynch said. "That's when 911 was called."
Construction workers in the area saw the fire and the fleeing suspect and called 911, Terry said during a 4 p.m. press conference in front of the Greenway subdivision.
The Celina Fire Department responded to the fire at around 11:08 a.m. Wednesday, Terry said. 
"Upon arrival, on-scene, they saw smoke coming from the house, they immediately went into attack mode," he said. "They go in and put the fire out, and then they find a subject that's in there that's deceased."  
They called the police department, Terry said, which took over the investigation. 
"Our Celina PD did an amazing job, along with our fire department, setting up a perimeter," Terry said. "We have great things in place, so as soon as this happened, we knew somebody was running from a fire, and we knew we had a deceased body. We immediately notified our schools to let them know they needed to go on lockdown."
Terry said he believed the situation was an isolated incident. He said he did not know where the man had been apprehended but that he believed it was outside of Celina and possibly south of the city. 
This could happen anywhere, and it's how you're prepared for it," he said, "and I think we're very prepared for it."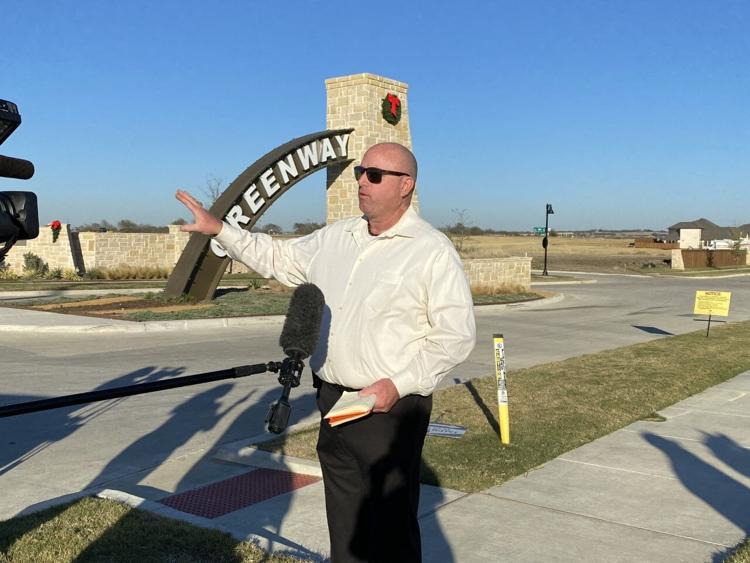 Other departments assisted during the incident, Terry said, including the Prosper, Frisco, McKinney and Little Elm police departments. U.S. Marshals, the Collin County Sheriff's Office and the Department of Public Safety also assisted. The agencies arrived on the scene within the hour, Terry said. 
"We have a suspect in custody that we feel comfortable enough saying 'This is the guy,'" he said Wednesday afternoon. 
The investigation is ongoing.   
"When people get home tonight, we want them to look at their Ring cameras, any cameras that may have been at their house," Terry said. "Officers are going to be going door to door again later to see if there's any more information."
 This is a developing story and will be updated as more information is made available.