When Robert Martinez suffered a stroke at the age of 33, he thought is life would never be the same. However, his determination to get back on his feet led him to a full recovery. In 2000, he ran the Los Angeles Marathon, his first full marathon run after his stroke. He has competed in more than a dozen running competitions and says he improves his time with each race. As the owner of the Coppell 9Round Kickbox Fitness Studio, Martinez hopes to help others overcome their challenges and live their best life. 
Tell us a little bit about yourself.
I am a father, husband, business owner and an avid dog lover. I have always been a fitness enthusiast from a very young age. I started at the Albuquerque Boys & Girls Club as a basketball player and a Little League baseball player. I played football at Highland High School and went on to college from there. I moved to San Diego, California, in 1995 where I discovered Triathlon competitions, a multisport event that includes swimming, cycling and running.
I am also a Stroke Survivor. The trauma of my stroke 20 years ago has shaped my life in ways I was not prepared for. After a stroke, the life you once had is changed forever. My journey to create a new way of living has influenced every aspect of my life. This has strengthened and propelled my fitness journey, nutritional habits and positive lifestyle. In 2000, I ran in the Los Angeles Marathon: my first full marathon run after the stroke. To date I have competed in more than a dozen running competitions, improving my time with each race.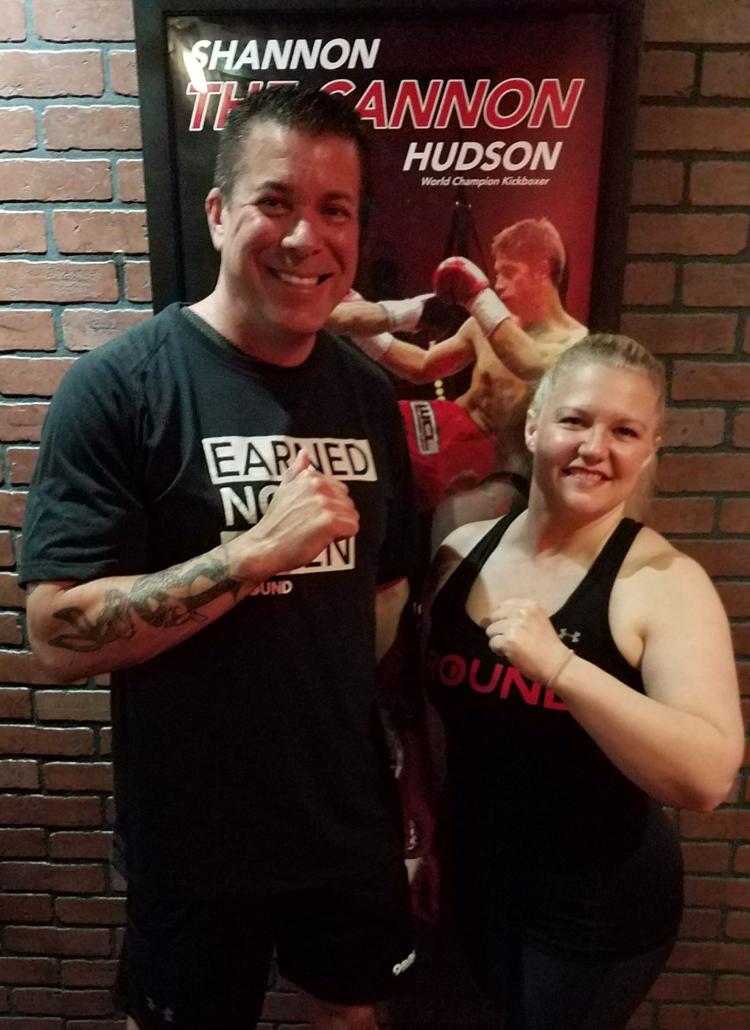 In June of 2006, my wife Jennifer and I moved to Dallas-Fort Worth and bought our first home. Jennifer and I became members of 9Round 30 Min. Kickbox Fitness and students of KRAV MAGA, disciplined in a combination of techniques sourced from Boxing and Muay Thai, along with realistic fight training.
 I worked in the finance and mortgage servicing industry for more than 20 years until May of 2018 when I decided to leave the corporate world to become an owner and operator of my own 9Round 30 Min. Kickbox Fitness studio in Coppell.
 Tell us about your journey from having a stroke to your recovery?
In June of 1998, I had just started dating Jennifer, the woman who is now my wife. Neither of us had any idea at the time that we would soon embark on a journey together, and less than four months later on September 18, 1998, I had my stroke and that journey began. 
While at work on September 18, 1998, at the age of 33, the morning started off like any other and I arrived at work in the early morning like I would any other day. Soon I started to feel dizzy, then I couldn't stop sweating and I felt like I was burning up inside. I was a healthy man: I ate clean, ran, swam, rode a bike and lifted weights regularly. My first thought was that I had a cold or the flu. Later that morning, I simply turned my head to see someone behind me when I heard a "pop" in my neck – the same sound that is common while stretching or adjusting. After this, not only was I having problems with my body temperature, but I was also having difficulty walking and maintaining balance. Jennifer, who was also my co-worker at the time, suggested I go home and rest. I somehow managed to drive myself home.
After I left work that morning, I simply went home to nap. But Jennifer had a strong feeling that something was seriously wrong and decided to come home to take me to a doctor. When she woke me up, we quickly noticed I was dizzy, unable to walk and had Nystagmus of the eyes, which is rapid eye movements. I also had paralysis and numbness on the right side of my face and the left side of my body. Everything seemed tilted or off balance, as if I was on a carnival ride. Jennifer drove me to the hospital, where a nurse who noticed my rapid eye movements quickly sent me to the ER as this was a sign of brain trauma.
After a few hours of multiple doctors and nurses examining my symptoms and running tests, it was determined that I had a stroke. The "pop" that I had heard earlier that day was actually a dissection of the artery in my neck, which blocked blood flow to my brain, resulting in what is known as Wallenberg Syndrome. This lack of oxygenated blood flow to my brain is what ultimately caused my stroke. At this point, three different doctors told me I would likely never be able to walk again without assistance, much less run. They said I would have long-term neurological problems and that the paralysis I was experiencing might be permanent. That night, they were not even sure I would survive due to a high fever and extreme side effects caused by the stroke.
It was a very humbling and terrifying moment to think that my short time on this earth was changed forever. But miraculously, after months of challenging physical, occupational and speech therapy at the San Diego Rehabilitation Institute, I was able to relearn almost all of the daily functions we all take for granted. 
What would you say was the hardest part of your recovery?
The hardest part of the recovery was the unknown. Will I be able to walk again? Will my blurred vision come back? How will I take care of myself? Will I be spending the rest of my life in a rehabilitation facility? Will I die from this? Sometimes people with Wallenberg Syndrome experience paralysis or numbness on one side of the body. Other symptoms include nausea, hiccups, rapid eye movements, a decrease in sweating, problems with body temperature sensation, dizziness, difficulty walking and difficulty maintaining balance. I had all of these symptoms.
The first five days after the stoke I was bed-ridden due to the paralysis. The doctor was worried about muscle apathy. I also had a bad case of the hiccups, with an average of twenty hiccups per minute for five days. And lastly, I had extreme difficulty seeing correctly. The Nystagmus (rapid eye movement) was debilitating. I kept my eyes closed most of the time. But once I was able to maintain some vision stability, I was able to begin my physical and occupational therapy. I worked with my therapists to create a rehabilitation plan with specific recovery goals. I wrote my three goals out and posted them in places where I could see them every day. These included: 
Goal 1 – Regain vision
Goal 2 – Walk
Goal 3 – Run
I told myself that once these goals were achieved, everything else would follow. I was determined to be a survivor rather than a victim, and I knew the only way to achieve this would be with a lot of hard work, dedication and the will to survive, and I have maintained these strategies for success in every aspect of my life to this day.
Who were some of your biggest supporters through your journey?
There were many difficult days, but I was able to make it through them with the help of the San Diego Rehabilitation Institute and my girlfriend Jennifer, who is now my wife. Jennifer spent every single day with me in the hospital until I was released and then moved in with me once I was able to leave the rehabilitation facility to help care for me long term.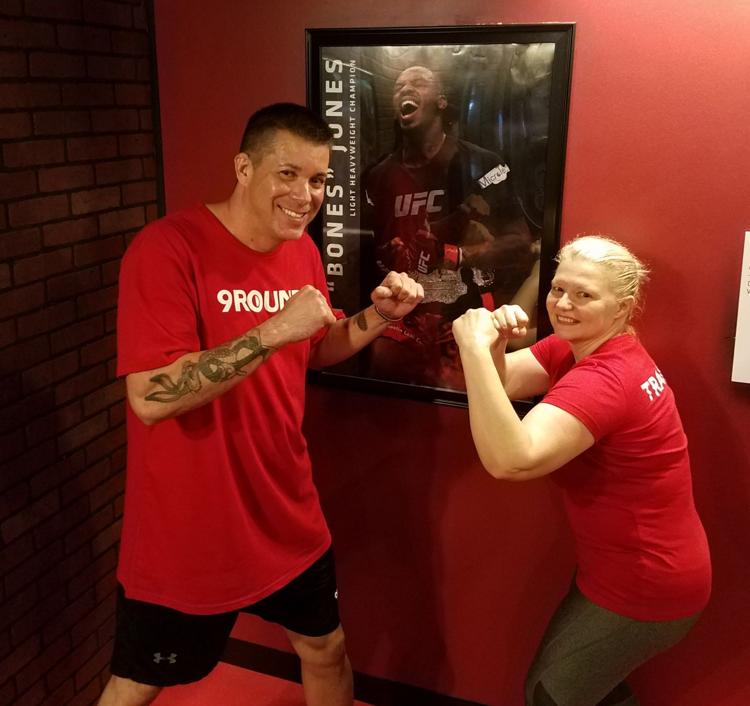 My other supporters include my family. My brother, Roger, moved to San Diego in response to my stroke, and my mother flew out to care for me as soon as my rehabilitation started, which gave me hope that everything would be okay. And finally, my faith also played a large role in getting me through my journey, helping to keep me from being overwhelmed by the whole process. With all of this support, I fought and worked hard to win my body back. It's a fight that never ends, and to this day I continue to work hard to ensure I'm at my optimal health. 
What would you say to other people who may have had a similar experience?
My motto is, "Fitness isn't a seasonal hobby. Fitness is a lifestyle". This also applies to recovery. The bottom line is that you have to be motivated to recover. Many people talk about the importance of determination, perseverance and patience in both physical and mental aspects of recovery. On the physical side, keeping up with physical therapy and doing exercises are essential to recover.  At the same time, it is important to recognize personal limitations by balancing activity and exercises. On the mental side, positive thinking and goal setting were very helpful for my recovery. Anyone who goes through a traumatic experience like this will cope differently, but if you are in the right mind space to take on the challenge, YOU WILL DO IT!
When you look at yourself today, what goes through your mind?
I feel that I'm truly blessed. My stroke could have taken me down a road with no recovery. I cherish every moment that I'm given and attempt to be the best I can be for myself and for my family. I am one of the lucky few stroke survivors who have recovered most of their functions. I believe that the fact that I was young, fit and healthy before the stoke made it a lot easier for me to recover. 
When I'm on a run, riding my bike, in KRAV MAGA class, or at a 9round studio, I am thankful I can actually function in all of these activities.
Looking back, I especially wish there was a therapy like 9Round during my recovery – seeing how 9Round offers a full-body kickboxing circuit workout, I believe this could have accelerated my recovery.
What do you like to do in your free time?
I'm an avid runner.  Most days you'll find me running in Lewisville: a 53-year-old running past pedestrians and parked cars. I also enjoy attending a 9Round 30 Min. Kickboxing session or participating in a martial arts class with my training partner and wife, Jennifer. I also spend my free time at the dog park with our three dogs running from one end to another. I'm truly blessed to have a family who understands the importance of exercise, self-discipline and the ability to enjoy the recovery periods.   
What's your favorite way to work out?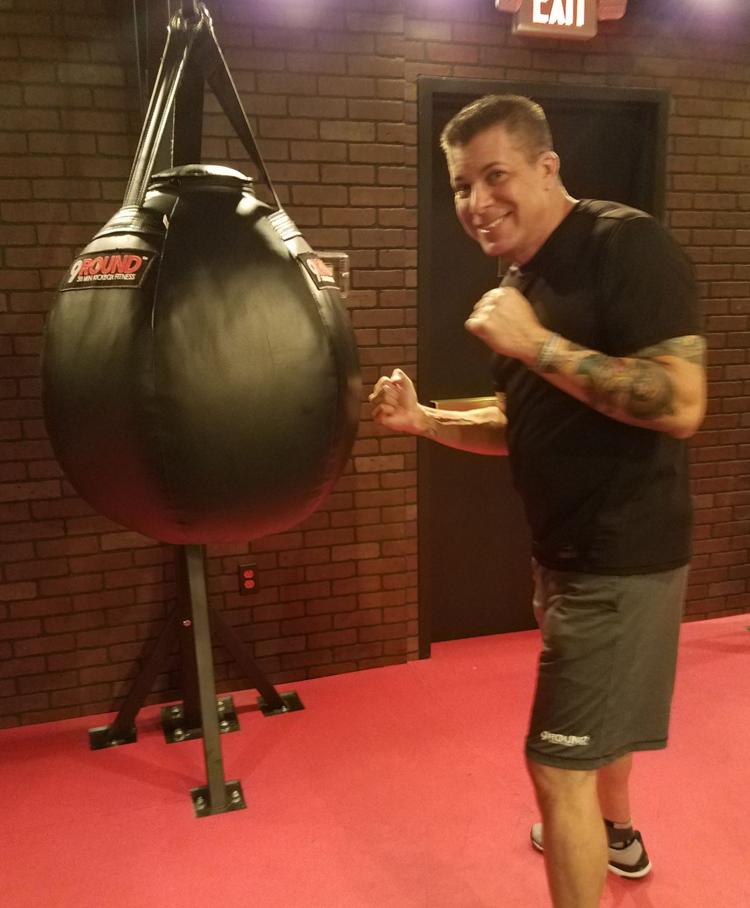 I prefer high intensity interval training (HIIT) like 9Round 30Min. Kickbox Fitness. Whether you are a triathlete, runner, cyclist, or another endurance athlete, you need to guide and monitor your training by your lactate threshold and VO2 max. Lactate threshold intervals are an essential and time-efficient way to build sustainable power. HIIT workouts in which you alternate periods of high-intensity exercise with low-intensity recovery periods are useful for this. And as you increase your effort during exercise, the amount of oxygen you consume to produce energy (and the rate at which you exhale carbon dioxide) increases. However, there is a maximum level of oxygen consumption, beyond which increases in exercise intensity don't lead to further increases in oxygen consumption. This level of oxygen consumption is called the VO2 max.
I always include interval training in running, cycling and swimming in my personal workout programs. Once of my favorite bike training programs is the Chris Carmicle Training Systems (CTS) Time Trial. This DVD/Video offers a 60-minute workout that will help develop cycling-specific strength, improve steady state lactate threshold power and enhance your ability to respond to cadence changes during a time trail.
9Round 30Min. Kickboxing also provides a triple threat approach to fitness with killer workouts, heart rate technology and nutritional guidance to ensure members get the most from their workouts and achieve lasting results. The workout consists of nine, three-minute stations that include cardio, weight training and core exercises, plus kicks and punches. This type of HIIT is great for increasing and maintaining VO2 Max. It helps you sustain power for a longer period of time no matter what you do in life, such as play with your kids or grandkids, work in the yard or play with your dog, as well as in any workout activity.
What's your all-time favorite movie?
Rocky – The classic tale of a small-time Philadelphia boxer who is given the chance of a lifetime to fight for the heavyweight championship of the world. Rocky stands tall and has come to represent a tradition of inspiration. Once you hear songs like Eye of the Tiger during a workout, you push yourself a little harder – Rocky style!
 What are some things that make you laugh?
My three fur babies (Dallas, an Australian Shepherd, Klondike, a Husky, and Olly, a three-year-old Husky we recently rescued), or really all dogs in general. With their goofy looks and antics, it's no wonder we cherish our dogs as our best friends. Dogs make me laugh when they're unpredictable and silly. They entertain me with their playful nature and creative problem-solving skills. But I think one of the biggest reasons that dogs make me laugh is their human-like behaviors and expressions. Even though they don't share most of our human emotions, sometimes they seem to act like young children. Maybe that's why we even find it humorous when they're a little mischievous. Don't feel bad for laughing at your dog. They might just be laughing at you, too. Learn to laugh with them. Give it a try!
What would be your dream vacation?
You cannot get a much better dream vacation than Maui, Hawaii, with its wide, sandy beaches, velvety green mountains and year-round dreamy weather. It's easy to see how this location earned its reputation as a dream vacation spot as Ka'anapali and Kapalua, located on Maui's west shore, are home to some of the best beaches I have ever seen. Near these beaches in Lahaina, you will find numerous shops and restaurants. Whether you want to go out on a whale-watching boat tour, try some snorkeling, do some sight-seeing or just relax on the beach, Maui is the place to do it.
What's an outdoor activity you haven't you, but would like to?
I want to do a Trail Run in the near future, where I imagine myself running a 5-to-50-mile challenging course through scenic canyons and stunning overlooks. The other activity I want to try is cross-country skiing, or perhaps even a biathlon that combines cross-country skiing and rifle shooting. For each shooting round, the biathlete must control his/her breathing in order to hit five targets on the exhale. These cross-country skiing biathletes are the fittest athletes in the world in my opinion. 
Where do you hope to see yourself in the next five years?
Five years from now, my plan is to have multiple 9Round studios in the Dallas-Fort Worth area.  But my plan for now is just to make my new 9Round studio in Coppell a success by making the community "stronger in 30 minutes" per the 9Round motto.
I want to continue my fitness journey not only for me but also for other stroke survivors who have shared a similar experience, and I especially want to continue my journey for those stroke survivors who are not able to run, punch or kick. I realize I am extremely lucky, but I feel awareness needs to increase among people my age and younger regarding strokes and stroke prevention. I look forward to using the lessons of my fitness journey to assist 9Round Coppell members in continuously striving for a healthier life.