After a recent win that let Coppell clinch its second straight outright District 6-6A crown, senior leader Adam Moussa had something to say about two sophomore stars on his team.
Ryan Agarwal and Anthony Black, two youngsters with college recruiters lurking around looking to make them part of the future of their school, have dominated as high school athletes. Agarwal can score at will. Black, meanwhile, is a three-sport star that could play college ball in any sport he so chooses.
"Let's just say for the next two years this program is in very good hands," Moussa said.
Since elementary school, the two have forged a bond on and off the basketball court, where they have watched each other grow into some of the top sophomores in the talent-rich state of Texas.
They played on the same middle school team. Black then introduced him to his AAU team, 3D Empire, who both of them play for in addition to being Coppell teammates.
"We're really close," Agarwal said. "I always take him from his house to school and I usually drop him off every day, take him to AAU practice all the time. We're always together, hanging out with each other and with friends."
And their maturation process has been a huge driving force to lift the No. 24 Cowboys back to the top of District 6-6A for a second straight year and has them back in the second round of the playoffs for a third straight year, where they will face No. 11 Waxahachie at 7 p.m. Friday at Mansfield Timberview.
Last season, head coach Clint Schnell told the duo that they were not quite physically ready yet for the varsity game as young freshmen and that there was not a ton they could do heading into the campaign that would get them prepared in that regard.
But what he also told them was to be mentally tough and to play your styles of the game. Be you, and that is just what they did to help a strong Coppell team to an outright district title.
"Them having that first-year experience, coming here this year, they had a big season," Schnell said. "It's not hard to see, how with those two guys with two years left, how talented they are and the success we can have."
Now, with a multitude of varsity experience under their belts like Schnell said, Agarwal and Black have shown just why they are rated as some of the best sophomores in the state, doing it all in every facet of the game on the basketball court to lift Coppell back to the top once again.
Agarwal, a three-star recruit by Rivals.com, finished among the top scorers in the Metroplex during the regular season. The lengthy guard averaged 16.4 points per game in the Cowboys' run to the district crown, displaying his all-around scoring abilities by knocking down 3s, mid-range jumpers and driving to the bucket.
"He's a special shooter," Schnell said. "He's a tall, long kid. He's got a quick release, which makes it really hard to guard. He puts in a ton of time with it. I constantly have to open the gym up for him so that he can get shots in. It's just something that he's really worked on, and again much like Anthony, his confidence in it last year wasn't as great as it is now. It's just been fun to watch him grow and even broaden his game to be more aggressive and attack the rim, too."
Today, Agarwal – who boasts a 3.7 GPA – does not have any offers yet but said he has heard from a variety of schools, including the Ivy League and multiple Power Five schools in Texas. 
"He works out a lot. He shoots a lot," Moussa said. "Every single time I'm in the gym, he's in the gym. I've never seen a sophomore honestly with that type of work ethic so early."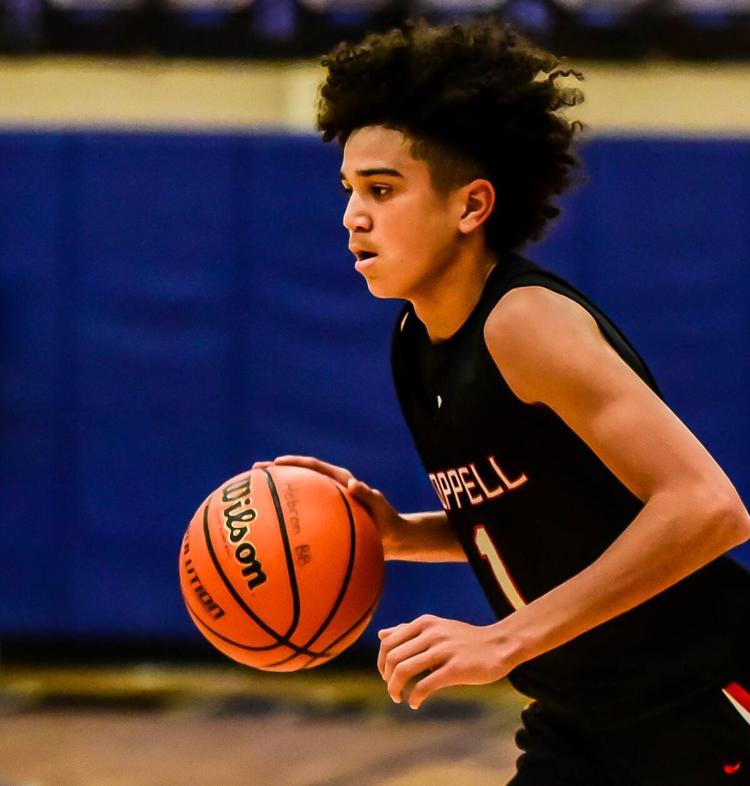 Black is a freakish athlete that can excel at whatever he puts his mind to.
He is the rare athlete with offers in multiple sports. Illinois State, Kansas, North Texas and William & Mary have offered in football. North Texas also extended an offer in basketball.
There was even a time when the fans were on Twitter and trying to get North Texas to offer him in track and field and give him the trifecta.
"I don't know what that was about," Black said, laughing.
That's just who Black is – the rare, prodigious athlete that got here because of his remarkable abilities and work ethic.
On the football field as a sophomore, Black dominated at receiver and led the team with 822 yards and nine touchdowns, highlighted by a 228-yard night against Flower Mound. As a basketball player this regular season, Black scored 10.4 points per game next to the second-highest rebounding average on the roster (5.2). In track, Black finished in second place in the junior varsity high jump as a freshman with a 5-10 mark.
"No. 1, I think he has to be a gifted athlete, which I think he is," Schnell said. "He's blessed with that, but at the same time he's willing to work and he puts in the time for both sports. He even does track as his third sport. He's a high jumper in track, so he embraces the grind of working to be better in all those and he doesn't settle for just, 'I'm a good athlete.'"
From elementary school kids to middle school teammates to AAU and high school teammates, Agarwal and Black are thrilled to see just how far they have come. They are now Division I recruits and stars on one of the state's top teams.
There is even more they want to accomplish together at Coppell, and they and everyone else around the program can't wait to see what is in store this postseason and the next two years. 
"It's crazy," Agarwal said. "It's just fun to see both of us succeeding together as teammates. It's just fun to know that both of us will hopefully go far in sports and stuff. It's fun."