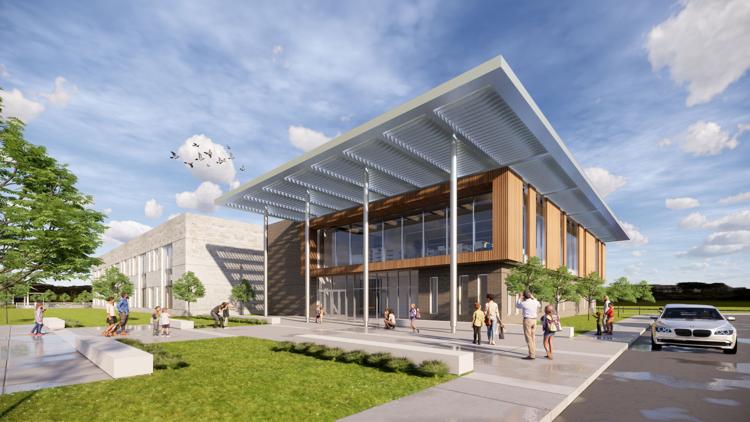 Frisco ISD got an inside look at its forthcoming 43rd elementary school during a Tuesday evening Board of Trustees meeting.
Trey Laird, principal with Stantec Architecture, said the district's newest elementary school, located near FM 423 and Rockhill Parkway, will feature flexible learning spaces with rooms of various sizes. Laird's presentation included an explanation of the "learning houses" that would each hold the equivalent of three classrooms-worth of students. Houses would hold a variety of space sizes from "extra large" to small.
With the design, Laird said the school's capacity would now amount to 768 students.
"It's just a little bit more than the prototype we were working with, but it's very much in line with the functional programmatic capacity of the school," he said. "And I would say that this building is the same size as the other building as well, and I would argue that we have more space dedicated to teaching and learning than we have ever had in a school for Frisco ISD."
Houses would include extra large spaces at 1,600 square feet, or what Laird called "home rooms" where grade levels could meet, such as in the morning. After that, Laird said, students could stay in the area to work with other students in their grade.
"But really, this is a much more flexible educational model, and oftentimes students could be doing vertically-aligned exercises," Laird said. "The first grade could be working with the second. The first grade could actually be working with the fifth grade where the fifth grade is helping the first-graders read. So there's a lot of ability for the space to be responsive to the educational needs that are driven by curriculum."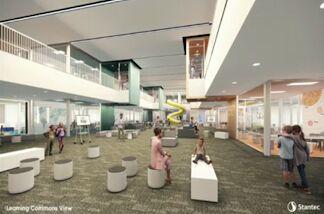 Houses also include four "flex" classrooms: 700 square-foot rooms that can be used in multiple capacities, such as being broken down for small groups, for student overflow or as a classroom space.
"It could be used for a science classroom," Laird said, "however the idea of science being in one place really doesn't make a lot of sense in this model because science is interwoven into curriculum, and science would be shared throughout."
Before presenting the school renderings, Laird mentioned the nearby under-construction PGA of America Headquarters and upcoming 12th high school for FISD. He also mentioned amenities in a nearby neighborhood.
"There is a more modern yet rustic kind of blend in the kind of architectural language that's developing up there," he said. "We talked about that with the previous design."
The school renderings reveal the various classroom sizes coming together with a learning commons in the middle of the first floor. The second floor features similar rooms, as well as a media space and "maker space." The renderings also portray a slide connecting the first and second floors.
Laird noted that creative spaces like the maker space and art rooms were not in the wings and separated from educational spaces.
"The idea of learning and creativity are kind of mixed together, and they're adjacent in a purposeful manner, and so I think that's a really fabulous outcome of the planning," he said.
In an email, FISD Assistant Communications Director Meghan Cone said designs for the school have not yet been finalized. 
The school is slated to be ready for opening in fall of 2022, according to a district press release.