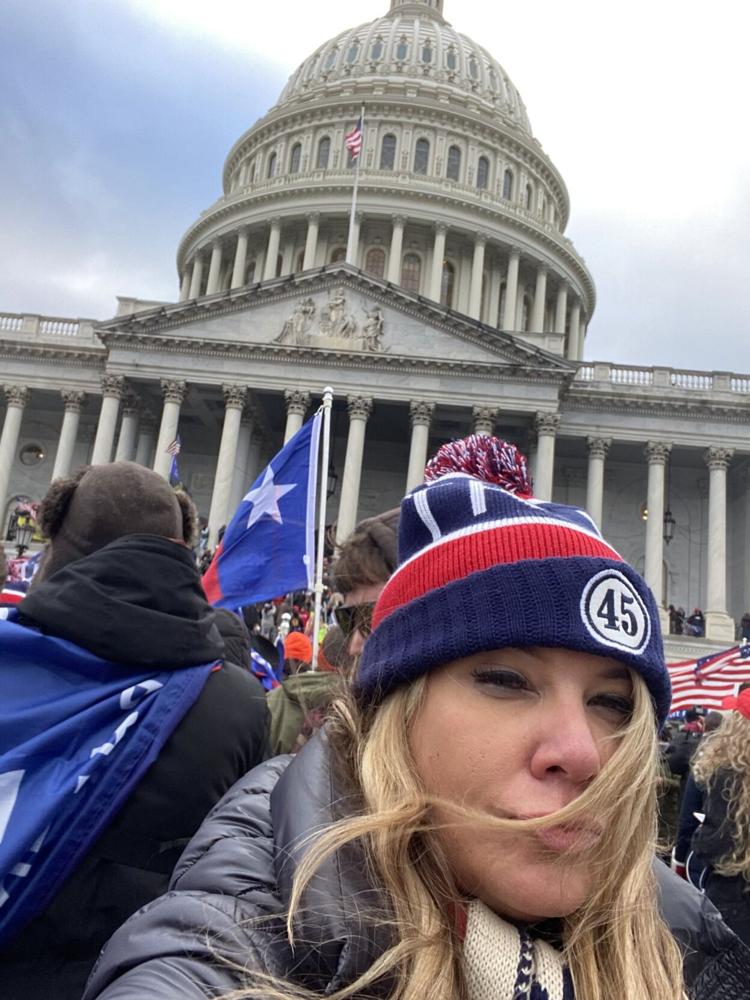 A Frisco-based real-estate agent has publicly shared that she was among the crowd that stormed the U.S. Capitol on Wednesday and that she took a private jet to get there.
Jenna Ryan posted videos and photos of her experience as part of the large crowd that traveled to Washington D.C. to contest presidential election results on Wednesday. Ryan's documentation of her attendance is on both her Facebook and Twitter accounts and includes a photo of her posing next to a broken Capitol building window.
"We just stormed the Capitol," she tweeted Wednesday evening. "It was one of the best days of my life."
We just stormed the Capital. It was one of the best days of my life.

— dotJenna (@dotjenna) January 6, 2021
A Facebook Live video that aired at roughly 7 a.m.Wednesday from her account shows her walking the streets of Washington D.C. with people she said were other real-estate agents.
"We flew by private jet," she said in the video. "God wanted us here today."
Multiple times in the video, Ryan says the event they are walking to is a "prelude to war."
"Just like the vaccine is a prelude to the chip, protesting like this is a prelude to when we're going to go to war," she said. "We're going to pack up our bags, and we're going to have to fight. We've got to get out there right now, because we can't tolerate this. It's not okay."
She also mentions President Donald Trump in her video.
"President Trump yesterday said, 'We are not giving up the White House,'" Ryan said Wednesday. "He said we're not giving up. He said we're not giving up the White House. He said we are going to fight. And I believe that."
Ryan is shown again in another video posted to Twitter and retweeted by Ryan's account.
"We're all going to be up here, and we're going to be breaking those windows," she said in the video. "We're going to be having to deal with the tear bombs."
Here is Jenna Ryan of Frisco Texas admitting that she will be breaking windows! pic.twitter.com/cFmf1s9pqz

— Zoey (@maveryleans) January 7, 2021
Ryan later stated that she had been standing back as a "citizen journalist" in the video and that there is nothing wrong with the video. She also said that she did not break any windows.
"I didn't even touch the building," she stated. "There is no law against taking a photo with a broken window."
Ryan also posted photos of ransacked media equipment and tweeted a threat regarding news media.
On Thursday, after a joint session of Congress approved Electoral College votes, Ryan posted that the election was over and that Joe Biden was president-elect.
"I think the election was stolen," she said in the same post. "But it is what it is. I will never stop fighting for freedom."
Since Wednesday, she has received both backlash and support on social media as footage of her time in Washington D.C. has been covered by multiple media outlets. She stated that she has received death threats.
"All these emails and calls I'm getting of people who are wanting me to lose my livelihood," she stated. "They're wanting to take my job so bad. They're salivating over my success and happiness. It's so weird. Biden stole it! Go be happy and be free!"
On Friday, she issued a statement in which she said she was invited by a friend to witness a Wednesday march.
"Unfortunately, what I believed to be a peaceful political march turned into a violent protest," she stated. "I do not condone the violence that occurred on January 6, 202(1), and I am truly heartbroken for the people who have lost their lives.
Ryan ended her statement with a call for Republicans, Democrats and Independents to resolve differences in peace.
My Public Statement regarding the violent protest pic.twitter.com/uHHZTPRSKx

— dotJenna (@dotjenna) January 8, 2021
She did not respond to an interview offer.