Coffee, donuts and hand sanitizer sat inside a socially distant circle at 6 a.m. on a Friday morning.
It was May 22, the first day that "Ironworks," Pastor Mark Vowell's Friday morning Bible study, had met since the COVID-19 pandemic led to the closure of First Frisco United Methodist Church. Two members of the group tuned in virtually, including a man with a young family who wasn't quite ready to meet in person.
"That was kind of a first step at trying to gather again," Vowell said.
The church's last Sunday worship day was March 8. They had expected to get together the next week on March 15.
"We already had the bulletins printed," Vowell said, "and then that got shut down."
Since then, First Frisco, as it is more commonly called, has been operating at a social distance. The church has conducted Sunday school classes over Zoom, a drive-through blessing for mothers on Mother's Day and worship services live online. The church is just one of many that have had to adjust practices in the wake of the pandemic. 
As the time for communion approached, viewers were told to stock the elements at home in preparation.
"Thankfully our theology, our understanding of the spirit of God is not limited online," Vowell said.
Church staff returned to work with a face mask policy and additional safety measures.
"This is the first time in my whole career that I haven't cared about worship attendance," Vowell said.
When First Frisco initially closed due to the pandemic, Vowell didn't want to give a hard date on when it might reopen, thinking it was likely that nobody knew when that would be possible. 
The challenge is moving forward, he said, because every church has both those who want to come back now and those who aren't quite ready.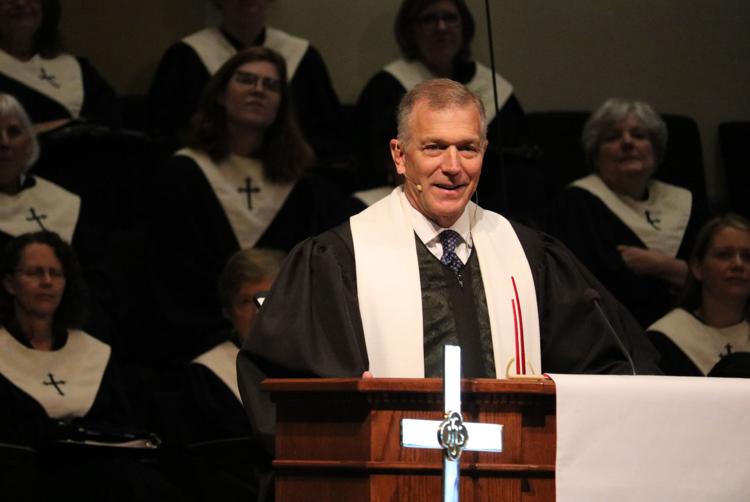 Vowell mentioned in a June 17 interview that the church is discussing a reopening protocol that would feature a series of phases. He emphasized that those plans are "at best, wet cement."
The church has still held off on reopening the campus and offices to the public.
"I know a lot of churches are already trying to open with more or less success and more or less compliance when they get people together, because, you know, you're kind of herding chickens," Vowell said.
Even if the church did reopen now, Vowell said they probably wouldn't be able to do what they would like to do at worship: hug, stand close together, sing side by side. It would probably make people feel they were being told more what not to do than being free to worship, he said.
Online worship provides a sense of personability, Vowell said.
"We feel like, obviously, it's not 100 percent satisfying to do what we're doing, but we feel like we're pretty blessed with that," he said, "So what I know is that as things open up, spikes are unavoidable. We're just trying to not be part of contributing to that right now."