Troy Hammons leads an active life.
When the Celina resident isn't working as a captain with the Lake Cities Fire Department, he volunteers with the North Shore Fire Department.
Friend and fellow firefighter Battalion Chief Jeromy Porter of the Frisco Fire Department recalled that Hammons, a skilled mechanic, would also work on fixing broken fire trucks and other projects on his days off. Porter also mentioned that Hammons was part of putting together an annual rodeo to raise money for a fellow member with a special needs child.
"He would just really help anybody that needed help," Porter said, "and now he's the one that needs help, so everybody's reaching out."
Hammons developed an infection from a muscle tear in his left calf. Within one week, the infection turned into staph, his wife Raychel said. A week later, the staph infection had turned into a flesh-eating bacteria. After having seven surgeries to try to save his leg, Hammons heard the news that he would have to undergo a below-the-knee amputation on his left leg.
He has since had the operation and is staying at Texas Health Frisco. Raychel said when he does get to leave, Hammons will have been in the hospital for about a month and a half. He can currently only have one visitor per day due to the COVID-19 pandemic, and that visitor can only be 16 or older, which means his 14-year-old daughter is unable to see him.
Raychel said her husband has been devastated.
"That's all he knows is being a firefighter, and the thought of possibly not getting to go back to work, it's hard for him to think about," she said.
"I heard you requested some breakfast from Whataburger"
Lake Cities Fire Chief Michael Ross wanted to know how he could help.
When he talked with Hammons over the phone, that's what he asked.
"He goes, 'Man, I'm really craving some Whataburger,'" Ross said.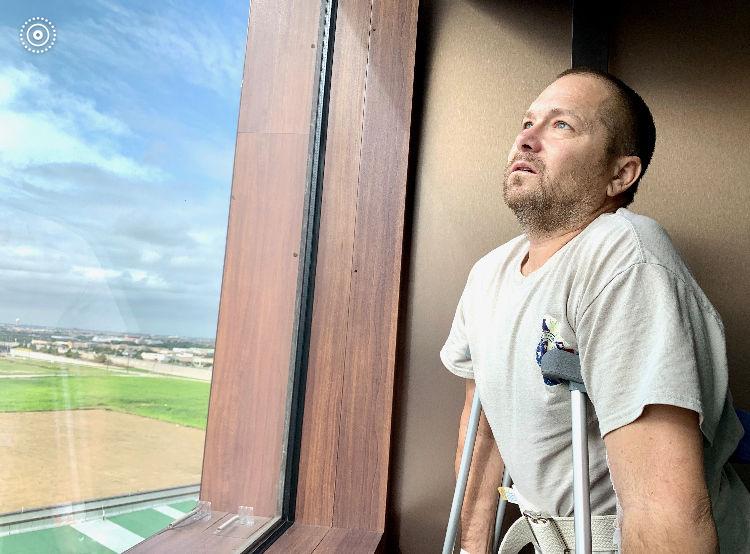 But Ross didn't stop at planning to get breakfast from the fast food chain. He also reached out to Porter and asked if the Frisco Fire Department would want to show up at the hospital on July 7 when they delivered the breakfast. The plan was to wave to Hammons' window to say hello and show support.
Porter checked with his bosses, who were supportive of the cause. Soon after, other departments got in on it, including the departments from Little Elm, The Colony and Celina, as well as the North Shore Fire Department.
"Next thing you know, there's a whole group of us out there showing him love and support," Ross said.
After picking up the Whataburger breakfast, Ross handed it to Raychel so that she could deliver it to Troy.
"I heard you requested some breakfast from Whataburger," she told her husband.
She then had him look to his window so he could see who had delivered it. He saw what Raychel estimates were about 50 to 75 firefighters on the ground. Raychel said Troy was overcome with emotion.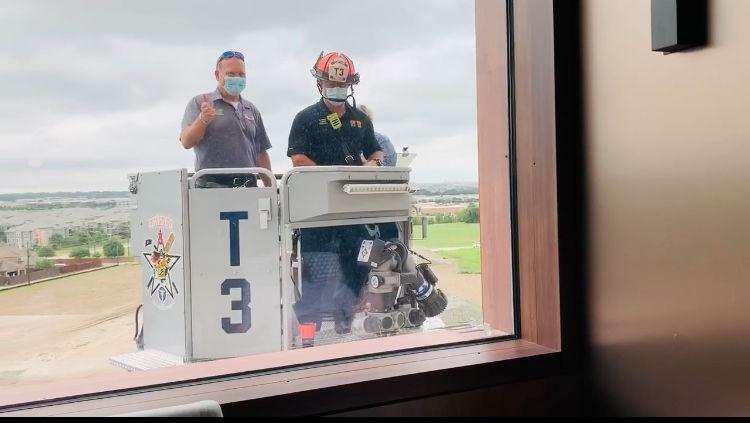 Back on the ground Porter said the glare of the sun would have made it hard to see as the firefighters waved to Hammons. To help out, the Frisco Fire Department offered its ladder truck, complete with a bucket, to lift visitors two at a time to Hammons' fifth-floor window. Visitors could then call Hammons over the phone and talk to him through the glass.
For Porter, going up to see the friend he had worked with for about 18 years was an emotional experience.
"My message to him was 'Hey, don't let this limit you. You can get a prosthetic. You can get back to work,'" Porter said.
Ross said Hammons is not one for attention.
"Honestly, I thought he was going to be mad at us for doing it, just because he doesn't like the attention," Ross said, "but he actually had smiles on his face, and you could tell he was glad to see us."
Stems of support
Since that day, Raychel said she has had an influx of people reaching out to her. The family of a Denton firefighter who had been through a similar situation reached out, offering to guide the Hammons family through the process. She said she has heard from nonprofits and from a woman whose passion is helping firefighters get prosthesis.
The Lake Cities Firefighters Association Local 4231 has initiated efforts to raise money for Hammons' medical expenses by starting a Go Fund Me page. The association is also organizing a raffle to benefit the family.
"We're so thankful for our fire family, because I don't know what we'd do without them," Raychel said.
In the meantime, Troy Hammons continues to push through the recovery process, Raychel said.
"He's been very strong even though we're kind of having to take it day by day," she said. "And that's what I keep telling him, 'Let's just get through today. God promises he'll give us enough strength for today.'"