The staff, board and volunteers at Frisco Family Services had at least 3,785 reasons to smile last year. That's the number of neighbors living in Frisco and FISD FFS helped during the 2018-19 fiscal year.
Friday, their cups were overflowing at the long-awaited groundbreaking of their new client services building, just next door to Frisco Resale and the FFS Food Pantry on Dogwood Street off of Main. For years, the organization has been split on opposite sides of the city with the main office currently located near the Dallas North Tollway.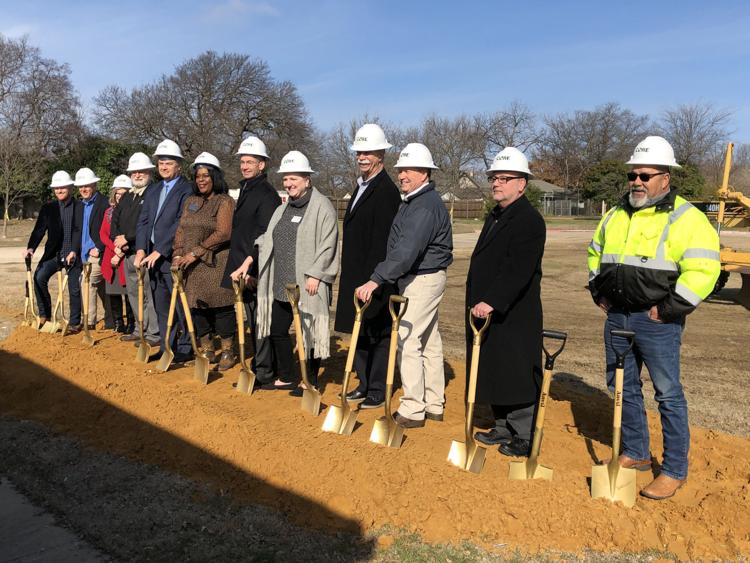 "This vision began back in 2008 when we acquired this property, the vision to serve our community for those that just need some help, and it's been a long time coming, so today is a very, very important day," said Board President-Elect Tyler Clutts.
In 1994, the year FFS was founded, Frisco's population hovered near the 13,000 mark. Now, 25 years later, the city is more than 185,000 strong with no signs of stopping. And, as Frisco continues to grow, the larger space means more efficient service for clients.
FFS offers an array of services for people who live in Frisco or in FISD – which can include parts of McKinney, Plano and Little Elm – who are facing a life-changing crisis such as divorce, job loss or illness. Services include food, education, school supplies and more. In additional, Frisco Resale sells new and gently used items with proceeds benefiting FFS programs.
Plans for the new campus include expanded programs, on-site counseling, a learning lab, vocational training, simultaneous classes and multipurpose flex space. Additionally, the central location offers streamlined services, increased privacy, easy access and better visibility.
Capital Campaign Chair Mike Mullen said the FFS board and staff members have been dreaming and planning of expanding the space and creating a single campus location on Dogwood. In 2008 the board purchased the land next to the previous Frisco Resale store as a future building site but in 2011 built the new store on the land and moved the food pantry to the old store location.
Mullen said the time was right at last in 2016 to officially launch the capital campaign for a new building and start the process for the project.
Executive Director Nicole S. Bursey never lost sight of the finish line.
"This day is such a special day because it's been such a long time coming," she said. "To know and to experience and feel what the community needs and not be able to provide it because we lack capacity is a really difficult thing, and so what today means is that we'll have the capacity to become what we know the community needs us to become as it continues to grow."
On a personal note, Bursey couldn't hide her excitement for what Friday's groundbreaking event held for the future.
"This project became very personal to me because the community and the ability to meet the needs of people that need us – it's a calling for me," she said. "This just solidifies all the work that has occurred over the years."
FFS officials expect to see progress move quickly on the nearly 20,000-square-foot facility over the next few months, according to Mullen.