In a symbolic gesture of unity, numerous school, city and state officials came together for a reception at the Baylor Scott & White Sports Performance Center at The Star before Thursday's game between El Paso Eastwood High School and Plano Senior High.
The guest list included officials from the Ysleta, El Paso, Plano and Frisco school districts; El Paso, Frisco and Plano city leaders; Sen. Van Taylor; and State Reps. Jeff Leach, Candy Noble, Matt Shaheen and Jared Patterson.
Several people were recognized for their contribution in ensuring the once-canceled game was back on and the red carpet was rolled out for visitors. On Aug. 15, Plano ISD announced the game was canceled due to the district's security concerns at Kimbrough Stadium but announced on Aug. 16 the game was back on after Frisco ISD offered the use of The Ford Center at the Star.
Plano Superintendent Sara Bonser said the game is an opportunity to show the connection between the communities.
"It makes me proud to welcome the students of Eastwood High School to the game of football that will demonstrate to our communities, the state and the world collectively that we will model our students, and we will model their example of unity, fairness and an unyielding support of one another to stand united in an effort to heal and to inspire hope," she said.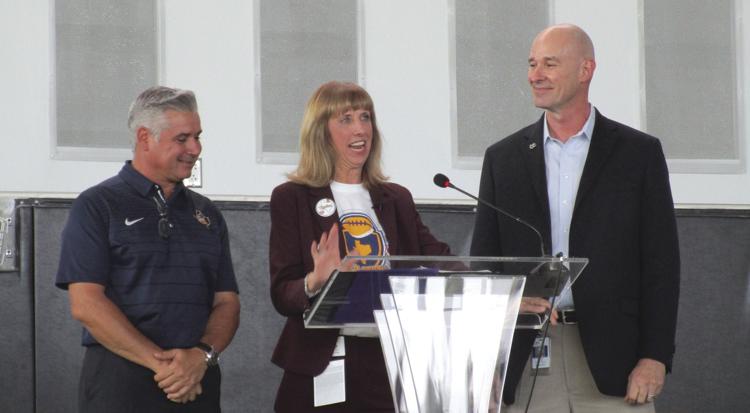 Bonser was joined by Frisco Superintendent Mike Waldrip and Ysleta Superintendent Xavier De La Torre, who said this week's event has been "more than a game" to his students, who only a month ago saw their community go through the trauma of the mass shooting that claimed 22 lives. The youngest victim was 15-year-old Javier Rodriguez, a student at Horizon High School in El Paso.
"For these kids, many of whom, believe it or not, have never left El Paso County, the experience that has been afforded to them today – the trip, meeting players, meeting owner (Jerry) Jones and the Jones family – is something that they will take away for the rest of their life," De La Torre said. "I only wish that the other 41,000 students that make up the Ysleta Independent School District, and frankly all students in the El Paso region, could experience something similar."
Ysleta ISD School Board President Cruz Ochoa echoed his sentiments.
"It is so wonderful to see what has happened after what we just went through on Aug. 3. Our communities have come together not only to honor those that tragically were taken from us, but we're here to celebrate their lives and the lives of our children," he said. "We are two cities, two communities. We are Texas. We are bound together until the end of our days, and to see such support given to us is just overwhelming for all of us."
El Paso Mayor Dee Margo and Plano Mayor Harry LaRosiliere exchanged jerseys for their respective home teams. Margo said he couldn't think of a better way to foster healing for his community than the camaraderie shown between the two cities.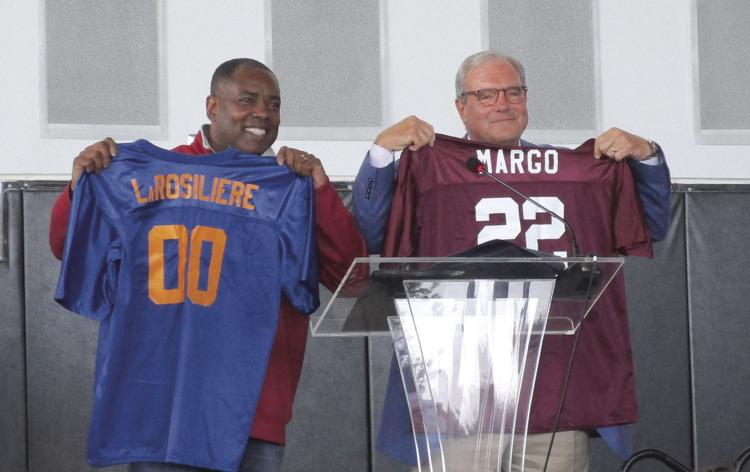 "I feel like there's no better way to bring people together in Texas than through a high school football game," he said. "This will truly be memorable, not only for the community of El Paso and the Juarez region, but for these kids and their families, and I hope we properly recognize the victims and their families as a part of this, including Midland and Odessa."
LaRosiliere said, "There will be a winner on the gridiron, but tonight we all win because this game is here and it's being played. And we're here to celebrate our unity and our youth, and no one, no one can take that away from us."