As members of a guest panel stood together for a picture following Frisco's State of the City luncheon Wednesday, it was fitting that former Mayor Bob Warren would be holding a pair of ceremonial ribbon-cutting scissors from 1989.
It signified the message the panel members had conveyed to a packed conference room at Embassy Suites Hotel just a few minutes earlier: Frisco's success is a result of standing on the shoulders of those who came before.
Members of the Frisco Chamber of Commerce listened as Warren, Sam Roach, who served on the city's first Economic Development Corporation Board of Directors, Councilman Will Sowell, Chris Kleinert, CEO of Hunt Consolidated Investments, and later Mayor Jeff Cheney each gave their perspective of where the city is, where it's been and where it may be in the future.
Some told stories of Frisco's old days, such as when Frisco won a court battle as The Colony was trying to become part of the city.
Then there was the decision to go after extraterritorial jurisdiction (ETJ) along SH 121 as The Colony was on the cusp of out-sizing Frisco.
There were also attempts to call Frisco a town instead of a city, similar to Addison.
"We wanted to be a city with the heart of a town," said Warren, who joined the City Council in 1983 before serving as mayor until the mid-1990s.
There were other land acquisitions decades ago that turned out to be huge for Frisco's development, such as Legacy Park.
Chamber President Tony Felker, the moderator, asked each panelist what they thought the most defining moment that made Frisco what it is. Most said it was when the city landed Stonebriar Mall.
"That was the engine that really started it," Warren said. "We worked for seven years to get that here in Frisco. There were a lot of other places that wanted that mall. It took a lot of work to get it here."
Others echoed that but said there were other key moments, too, such as bringing in Craig Hall's development, The Star and even the recent announcement of the PGA bringing its headquarters to Frisco, as well as a Ryder Cup tournament by 2040.
Cheney pointed to the hiring of City Manager George Purefoy more than 30 years ago.
"We've had a lot of leaps along the way," Cheney said. "And we're far from done. We have a lot of leaps left."
Cheney said while Frisco is known as a sports city, he wants it to be known as an arts city as well.
Roach recalled a story in which had a discussion with one of the committee members charged with finding Frisco's first city manager. The committee member was the city manager in Plano at the time.
"He said there are three things that you need to be looking at: education, education and education," Roach said. "And he was as right as he could be. I've heard that mentioned on this stage about education and the small-school model."
Cheney touted the strong partnership the city has with Frisco ISD, the one it's growing with the University of North Texas and the ones it has even with the private sector.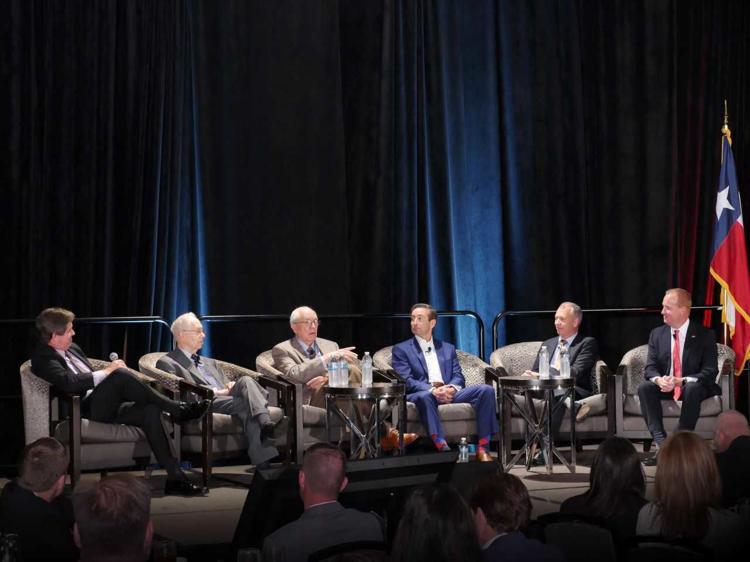 "A lot of cities look at developers and private entities as the enemy," Cheney said. "But we look at it differently."
Panelists said those types of partnerships are critical in Frisco's future. And a big part of the city's future is the 2,500-acre Fields Frisco development, which will be located on the far north side of the city and is being led by Kleinert's firm.
The mixed-use project will include 500 acres for the PGA's headquarters. It will also include various types of residential, retail, offices, parks and amenities.
When asked what type of advice they have for Kleinert and his team as they begin planning for the development, Warren said to remember the neighbors.
"Figure out the right things to satisfy the neighbors," Warren said. "Do what's best for the city."
Kleinert said his team is putting a lot of thought into how the development will increase the tax base and enhance the area around it at the same time.
He said the key for this project and the future of Frisco is adapting to changes in how people live, shop, interact and transit from one place to another.
"If we want companies to relocate to Frisco, those employers want their employees to be close by," Kleinert said. "You need amenities, a trail system, the opportunity to be outside and vibrancy. One way to achieve that is diversity of product, and we need to be thinking about affordability. As we get to 300,000 people, we're going to need to do things ever so slightly differently. How do we contribute to the solution?"
Sowell agreed, saying things such as transportation will be different in the next 20 years.
"We need to make sure we don't box ourselves into a solution that keeps us from evolving," Sowell said.