As Brett Lee stood inside a packed room at the new Texas Health Frisco on Saturday and shared his vision for the new medical campus, his voice was calm.
Much like the atmosphere project leaders set out to create for the hospital.
But make no mistake, the Texas Health Frisco president is excited about the future of healthcare in the Frisco area.
Texas Health Frisco, a $270 million medical campus located at Dallas Parkway and Eldorado Parkway, celebrated its grand opening Saturday and welcomed its first patients Monday.
Texas Health Frisco is a partnership between Texas Health Resources and UT Southwestern. The 325,000-square-foot, 63-bed acute care hospital includes a 24/7 emergency room, surgical services, women's services and a neonatal intensive care unit (NICU). It's designed to expand to 140 beds in the future.
Lee said the campus was built with resident feedback in mind.
"Our philosophy was to engage with the community in how we plan this facility," Lee said.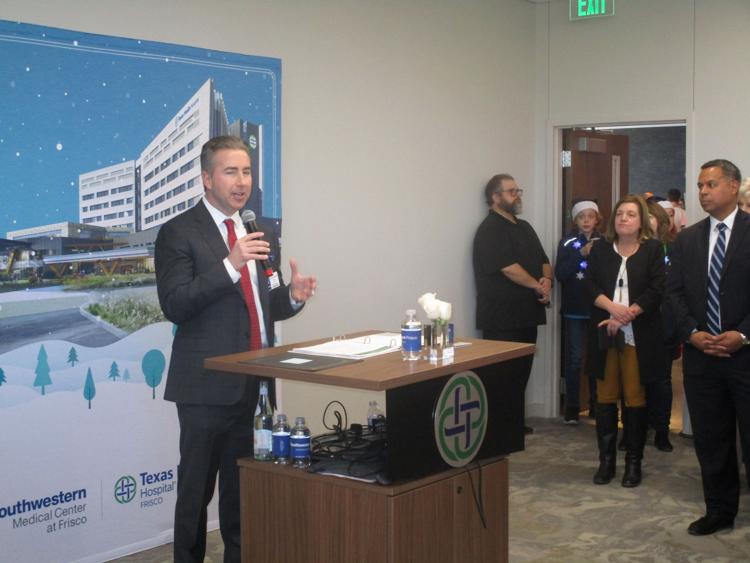 "Most importantly we heard that Frisco wanted outstanding care in a warm and welcoming environment that they didn't have to drive an hour and a half down the tollway to reach," he said.
Lee said Texas Health Frisco has several features many hospitals don't have, several of which came as a result of resident feedback.
Among those are the 22 postpartum suites where mothers go after delivery. There, she can welcome the family but still have privacy as each suite features a main room and a private room separated by a sliding door.
"We wanted a place where the new mother can recover and bond with her baby," Lee said. "There needed to be that separate area for dad and the siblings to step in and be supportive but still be out of the way."
The hospital will also have eight separate NICU rooms instead of just one large shared room.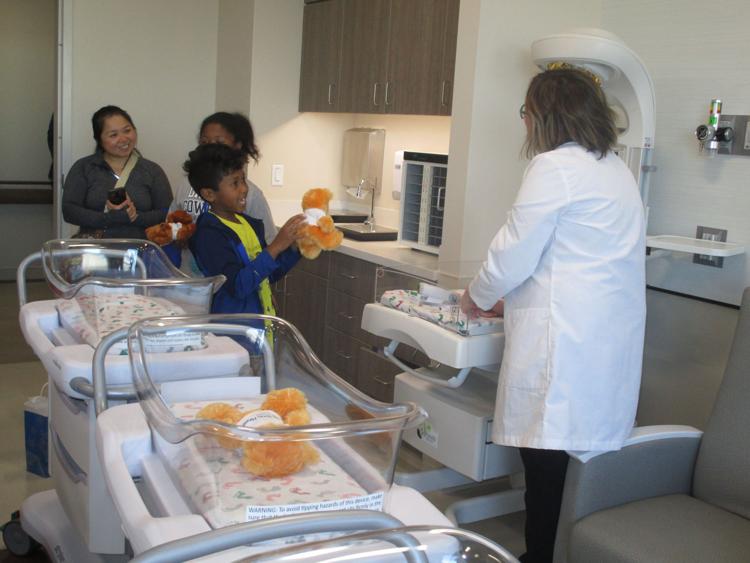 "We felt like with individual rooms there would be more privacy, better opportunities for bonding and it would be better for infection control," Lee said.
Lee said there will also be overnight rooms for families who have a baby in the NICU. He said that will keep families from often having to commute back and forth, and it will let the mother get used to having a new baby before going home.
Lee said the community discussions led to other design decisions, such as creating an environmentally friendly campus – native Texas plants in its landscaping, the use of reclaimed water for its irrigation system and building material that absorb heat to reduce energy consumption.
Other decisions included providing a cafeteria that offers farm-to-market food options.
Natural lighting, rooftop patios and coffee shop-like waiting areas are other perks, officials said.
Hospital officials said the campus strives to be a place that can benefit everyone in the community. There will be various services offered, such as yoga classes and boot camps.
"Texas Health Frisco is the latest addition to Texas Health's 350 points of access across 16 counties is a shining example of a campus that is so much more than just a hospital," said Barclay Berdan, CEO of Texas Health. "This campus isn't just a place to come to when you're sick. It's a place to come to to maintain good health and find support to help you live your best life possible."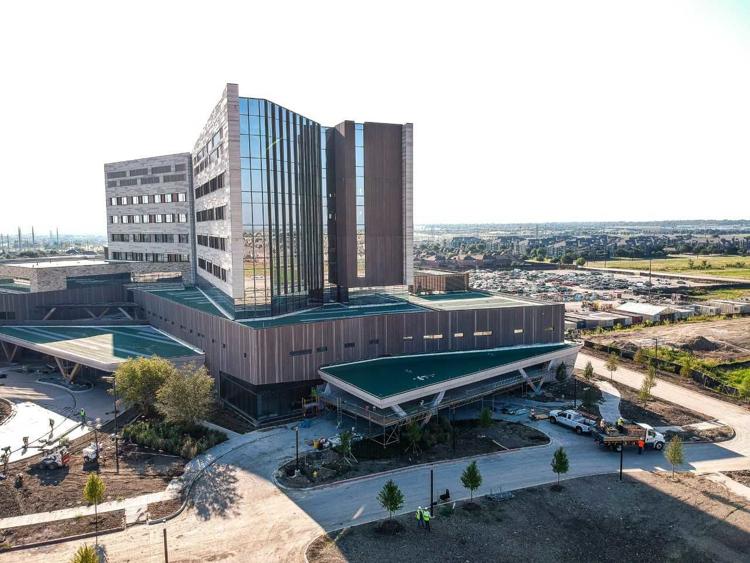 The hospital connects with the 120,000-square-foot UT Southwestern building will house primary care practices with services including pediatrics, neurology, spine surgery and rehabilitation. It will include the extension of its Peter O'Donnell Jr. Brain Institute and the Harold C. Simmons Comprehensive Cancer Center, which will provide programs in breast and colon cancer screening.
Daniel Podolsky, president of UT Southwestern, said the partnership with Texas Health Resources will help provide healthcare to the growing area.
"This all follows years of thought about how we can best serve the needs of our patients, wherever they are," Podolsky said, "and recognizing at UT Southwestern that many were traveling from Frisco, even as Frisco was continuing on the cusp of further expansion."
Texas Health Frisco is expected to attract patients from The Colony, Little Elm, Prosper, Celina, Pilot Point and Aubrey as well.
"Together we'll provide the residents of Frisco and surrounding communities a premier destination for medical care," Berdan said. "Residents are going to have access to emergency services, maternity services, neuro sciences, including back and spine care, orthopedic and gynecological services. All in their own backyard. Plus a medical office building that features the best in primary and advanced medical specialties."