Frisco Animal Services, a division of the Frisco Police Department, was contacted by the Humane Society of the United States (HSUS) in early August about concerns involving Petland in Frisco, an independently owned franchise, after it allegedly conducted an undercover investigation with one of its members, who was hired as an employee at the store.
Between July and August, the HSUS member conducted their own hidden-camera investigation in the store and reported to the city alleged deficiencies in animal health, record keeping and veterinary care. HSUS described animals as too sick to eat or suffering from severe vomiting and diarrhea.
"Our investigations into various Petland stores have revealed mistreatment of puppies and rabbits, and a disturbing trend of consumer deception," HSUS Stop Puppy Mills campaign senior director John Goodwin said in a release.
A Petland Inc. spokesperson said the HSUS member was employed in the store for six weeks and states the HSUS claims are "irresponsibly inaccurate and clearly uneducated."
"The health and welfare of all our pets is our number one priority," a Petland Inc. statement said. "We work closely with and take direction from respected, professional animal care personnel such as veterinarians, and local, state and federal animal agencies, all of whom frequent our stores and inspect our operations."
Petland blamed the intentions of HSUS on meeting end-of-year fundraising goals rather than animal welfare.
"Petland finds it hard to comprehend that an organization that claims to care about the welfare of animals continues to participate in activities that purport to document the suffering of animals while doing nothing except wait until they have enough for a story," the Petland statement said.
HSUS claims that puppies appeared to be underweight with their ribs showing, and many showed evidence of illness such as coughing, wheezing, bloody diarrhea and vomiting. The HSUS claims sick animals are not taken to a veterinarian for diagnosis; however, a statement from Petland Inc. said a consulting veterinarian visits weekly, and puppies are examined upon arriving to the store.
During its investigation, Frisco Animal Services identified several animals that needed immediate care, and Petland began taking animals to receive proper veterinary care immediately, according to the city. The Petland owner was cited for failure to comply with a city ordinance requiring Petland to provide documentation of veterinary care upon request, and the store owner and staff were given information about requirements for compliance.
The claims also state that when puppies that had been sick showed signs of improvement, they were put out front for sale, but potential health issues were not disclosed to customers.
"It's distressing to realize that personnel without veterinary credentials are once again attempting to treat serious illnesses with guesswork and home remedies," Goodwin said. "It's time for Petland to change its business model to stop selling puppies and rabbits."
HSUS also claimed the investigator saw an injured rabbit in a cardboard box in a back room and asked an employee what would happen if it didn't get better to which the employee told the investigator they freeze them, the HSUS release states. The investigator said the employee added, "So don't look in the freezer (if) you're grossed out by dead things." To the implication that live rabbits are placed in the freezer, Petland Inc. responded, "This is absolutely not true. This type of allegation is unacceptable and demonstrates the depth to which HSUS will go."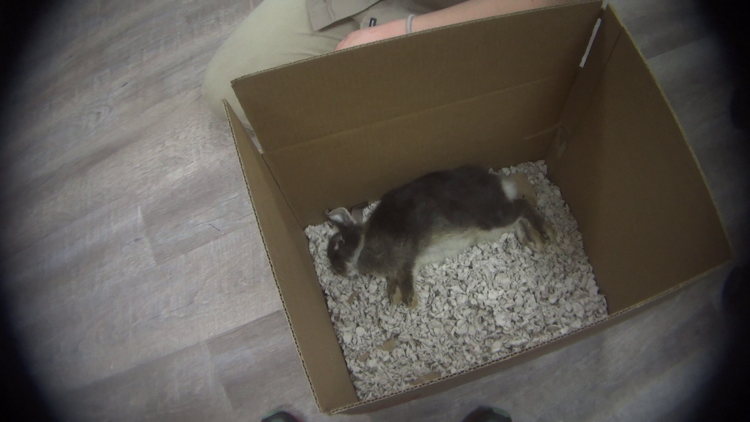 HSUS reported it cut its investigation short because the undercover member was diagnosed with campylobacter, a bacterial infection that can be spread from animals to humans.
Frisco Animal Services continued its investigation, making frequent, unannounced, inspections to make sure Petland is compliant with city ordinances regarding the retail sale of animals. According to the city of Frisco, police investigators who are working alongside animal services officers have not reported any evidence that meets the Texas statute for cruelty to animals.
"Our animal services officers take such allegations very seriously," Frisco Interim Police Chief Greg Ward said. "Petland Frisco has been cooperative with animal services during this investigation and has taken steps to become compliant. Our department continues to work with the Humane Society (of the U.S.) and Petland Frisco to make sure the animals are cared for appropriately within the law."