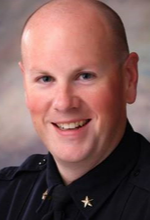 The city of Frisco announced today it has selected 17-year FPD veteran David Shilson as its new police chief. Shilson is being promoted from deputy chief beginning Nov. 1. 
"It's an honor to be asked to serve as police chief in a great city with such an outstanding (police) department," said Chief David Shilson. "It's very humbling. I'm going to do everything in my power to make sure we continue to provide excellent service to our citizens. I'm also committed to ensuring our officers are well trained and equipped to face whatever situation comes their way."
City Manager George Purefoy named Shilson out of three finalists for the police chief job. The finalists were chosen from an original pool of 71 candidates.  
"I'm very proud to promote Chief Shilson to oversee the Frisco Police Department," Purefoy said. "We conducted a national search, which netted impressive candidates from around the country. In the end, we found the best person for the job here at home. Our nationally accredited department has a history of excellence and a reputation for providing exceptional service to our residents, businesses and visitors. I'm confident Chief Shilson will lead with integrity, compassion and commitment."  
Chief Shilson has 20 years of law enforcement experience. Seventeen of those years have been with the Frisco Police Department. During his tenure, Shilson served as a deputy chief over three of the department's bureaus:  investigations, operations and services. He has experience in patrol and traffic; K9 and special operations; records, community services, dispatch, public information, crime scene and school resource officers. He also served as a lieutenant in administrative services where he gained experience in detention, accreditation, budgeting and training.
He has been instrumental in implementing "Closest to Dispatch," which is designed to improve response times. 
As a regular collaborator with Frisco Independent School District (FISD), Shilson is credited with revamping the Junior Police Academy program and helped develop this school year's anti-vaping campaign. 
Chief Shilson led, deployed and implemented "hot spot policing" for Frisco's large tourist venues including Stonebriar Centre, Dr Pepper Ballpark, Comerica Center, Toyota Stadium and The Star, where he served as police liaison for construction of the Ford Center and surrounding development.   
Prior to coming to Frisco, Shilson was a police officer for the College Station Police Department. He holds a master of public administration from the University of Texas-Arlington and a bachelor's degree in political science from Texas A&M. Shilson is a graduate of the FBI National Academy, Law Enforcement Management of Texas and Senior Management Institute for Police. In 2013, Shilson was awarded Frisco PD Supervisor of the Year.
Interim Police Chief Greg Ward has been serving since June following the retirement of Chief John Bruce, who served the city for 23 years. Ward will return to his previous role as assistant chief. Shilson's promotion leaves a deputy chief position vacant.