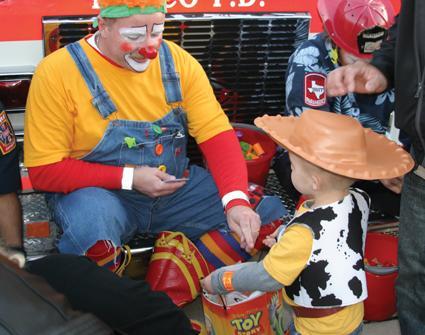 The weather may make tonight's event a bit tricky, but there are plenty of treats to be had from 6-9 p.m. today at Frisco Fire Safety Town presented by Texas Health Hospital Frisco for the trick-or-treating fall festival.    
The line and treats are being moved inside due to anticipated rain. Beginning at 5 p.m., free shuttles are available from the Frisco Athletic Center, 5828 Nancy Jane Lane. Food will be available for purchase. 
Children can climb aboard an actual fire truck or meet our resident fire clowns. It's a great way to mark National Fire Prevention month in October.  
"We're excited to be the first presenting sponsor of Frisco Fire Safety Town," said Brett Lee, president of Texas Health Hospital Frisco. "We're a destination for health and wellness and we recognize safety plays a large part in our overall wellbeing every day. That's why this sponsorship is such a great fit. It allows us to meet our goals while promoting the importance of safety."
Frisco Fire Safety Town presented by Texas Health Hospital Frisco is also supported by a family of sponsors, which make up the 'miniature' town where children can drive child size toy vehicles or bikes while learning about pedestrian and bicycle safety. The 'town' also emphasizes safety surrounding railroad crossings, toll booths, and electric transformers. Inside the education building, kids of all ages learn lessons in fire prevention and escape and weather preparedness.