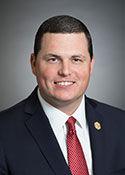 A North Texas state representative has filed a bill to the Texas Legislature that seeks to clarify an election judge's ability to carry a handgun at a polling place.
H.B. 530, submitted Nov. 12, is an effort to clarify the law, bill author Rep. Jared Patterson (R-Frisco) said.
In 2018, Texas Attorney General Ken Paxton released a nonbinding opinion stating that the part of the penal code that makes it an offense to carry firearms at a polling place does not apply to presiding election judges who are licensed as they carry out their duties, with some restrictions.
Patterson said while the opinion established election judges' ability to carry on election day, he was looking to provide some clarification to the law.
"Statute really isn't clear, and there's no ruling from the attorney general on whether they can carry during early voting," Patterson said. "So I authored the bill just to kind of clarify that election judges can carry both on election day and during early voting."
Patterson said his office began working on the bill around late 2019 after a constituent brought the issue to them. The bill is just one of multiple filed by Patterson on Nov. 12 for the upcoming session of the Texas Legislature.
H.B. 541, another bill authored by Patterson, would presume that a public safety employee with COVID-19 resulting in disability or death contracted it while on the job.
"It's just so difficult with COVID-19, or any pandemic like this, to know exactly where a person got it," he said. "Our first responders are obviously front line workers that are forced to be around people in various situations."
He added that if a public safety worker gets COVID-19 and has to quarantine for a period of time, they may not have enough personal or vacation time to last two weeks-worth of quarantine.
"So we just want to make it very clear that that is a worker's compensation issue, that they should be able to have enough time away from the job to quarantine according to CDC guidelines and have it not affect their job status or their employment status with who they are employed by," Patterson said.
With a legislative session gearing up to begin in January, Patterson said he sees a response to the COVID-19 pandemic being a large focus.
"I think that as the legislative branch, we need to give the people a voice, and they haven't had a voice all year," he said. "It's been through executive action or through the courts, and there's one branch of government that hasn't really had a say. And so I think it's our turn to get to work and to be an advocate for the people we represent."
The 87th session of the Texas Legislature convenes Jan. 12.