It was an eventful opening round of the postseason for Frisco ISD, as three of the five programs that qualified will advance to the second round.
Those three teams include Lone Star, Reedy and Frisco, but high-quality opponents await each one this weekend.
Let's take a closer look at these three matchups that feature an undefeated squad and another coming off of its first-ever playoff victory.
Reedy vs. Midlothian
The Lions are fresh off their first playoff win in school history following a 47-21 dismantling of Ennis last week.
After the heartbreaking way that last season ended for Reedy in the first round against Lake Dallas, it had been one of the team's goals to not only get back into the postseason, but also advance beyond the bi-district round.
Now, the Lions get to experience playing on the week of Thanksgiving, something that makes competing this far into the playoffs even more notable.
"It feels pretty good thus far, and it's exciting," said Chad Cole, Reedy head coach. "I told the kids, 'How often can you just focus on football for a week and not have to worry about going to class or tutorials?' If you really enjoy what you're doing, this should be a really special week for you."
All of the focus and attention shifts to taking on a Midlothian team that is coming off one of its best seasons in recent history along with a 42-13 pounding of Red Oak last week.
The Panthers have also notched at least 34 points in their last four victories behind a unique triple-option rushing attack led by Austen Thomas, Nolan Samek, Tate Corbin and Laine Martin.
Those four players combined for 302 yards on the ground and four touchdowns last week against Red Oak, as each one also ran the ball at least 10 times as well.
"There are no head-toppers but they have a bunch of 400-yard rushers," Cole said. "It's not like we can key in on one specific guy and get the game in hand if we take him out. Our focal point for our defense is that we have to be sound the entire game."
Midlothian's style of play is somewhat similar to that of Frisco's, which sports a run-heavy wing-T offense.
Perhaps having already played a unit that is looking to run the ball with so many different backs can be beneficial for the Lions going into Friday, but the preparation defensively is still vastly different.
"Our guys are big on getting three-and-outs, and we have to be ready for a grind," Cole said. "It might take eight plays for us to come up with a stop against them, but we'll take any of those that they give us."
Lone Star vs. Lufkin
The Rangers are coming off of a dominant 41-6 victory over a quality Mansfield Legacy team and head into round two of the postseason with mountains of confidence.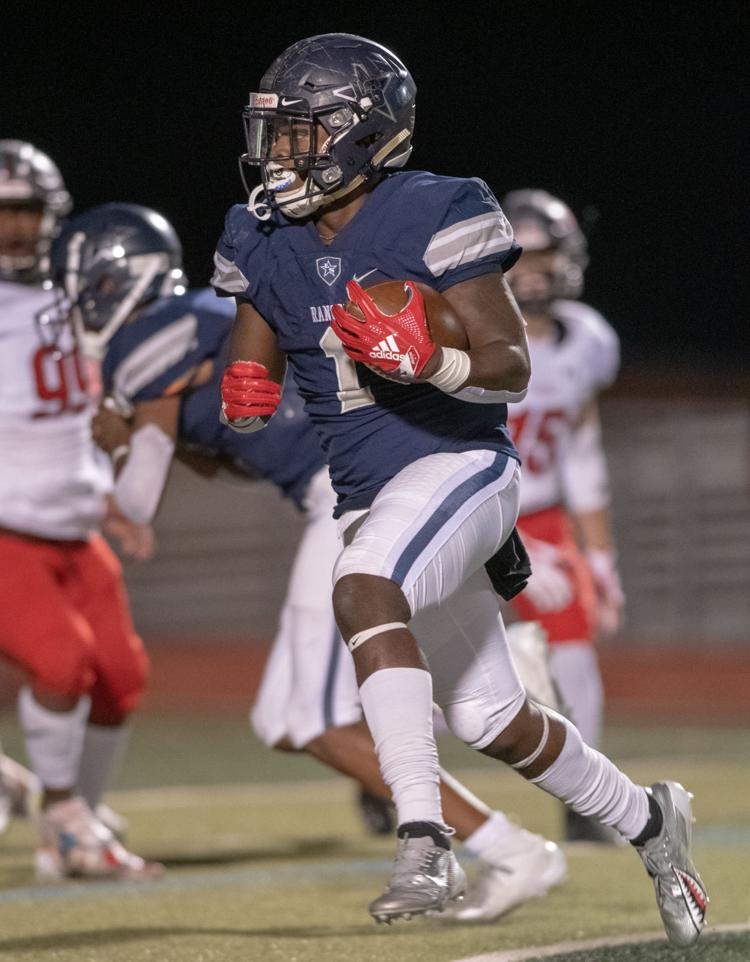 Lone Star will need every bit of that this week it faces a Lufkin team that hasn't lost a game since Aug. 31 when the Panthers nearly defeated state-ranked Longview.
This will undoubtedly be the Lone Star's toughest test this year since it played Highland Park in Week Three, and if the defense continues to compete at a championship level against Lufkin, then the Rangers have a chance to ride away with a win.
Against Legacy, the Rangers kept an explosive Bronco offense out of the end zone until the very end of the contest when the score was well out of reach at 41-0.
Lone Star also forced three turnovers in the win and will need to create some takeaways again Saturday against a Lufkin squad that is scoring 39 points per game.
Frisco vs. South Oak Cliff
The Raccoons are back into the area round for the first time since 2013 and will look to scratch and claw their way past an undefeated South Oak Cliff ballclub Friday.
The Bears have not been tested since a 31-21 win over Red Oak on Sept. 20, and since then the Bears have outscored their opponents, 340-14, in seven games.
However, those victories came against programs such as Spruce, Conrad and Adamson, while Frisco could have the edge after being battle-tested much of the season.
Frisco's 2018 season has been a success, rebounding from last year's 0-10 record, and the Raccoons have a chance to carry on their magic for another week.