The 2018-19 high school sports year was rife with new challenges for Frisco ISD which made the move to District 9-5A as part of a 10-team, all-Frisco district. The result was a parity-heavy athletics campaign from many of the top Class 5A programs in the Metroplex.
Throughout the summer, Star Local Media will reflect on the year that was for 9-5A's 10 schools while also looking ahead to what lies in store for 2019-20.
With that said, here's the second installment of Five Questions for District 9-5A.
1. Pound-for-pound, what was the best overall team in 9-5A in 2018-19?
It feels like a team from Wakeland, either girls cross country or boys soccer, should be the answer to this brutal question, but that may not be entirely true.
The Lady Wolverines' cross country team was the only FISD program to win a district, regional and state title in the same season, and the Wakeland boys soccer team nearly achieved the same feat before finishing as state runner-ups by season's end.
But I'm going to go with another young Frisco juggernaut that nearly completed that same trio of championships.
The Lebanon Trail girls golf team, despite not having any seniors until next year, steamrolled through district and regionals and nearly pulled off the unthinkable at the state tournament last month in its first-ever season in Class 5A.
The Lady Trail Blazers led by one stroke after the first day of competition but settled for second behind only Grapevine and return their entire roster next season. No offense to the aforementioned programs from Wakeland, but Lebanon Trail girls golf was pound-for-pound the best.
2. What lies ahead in 9-5A tennis in 2019-20?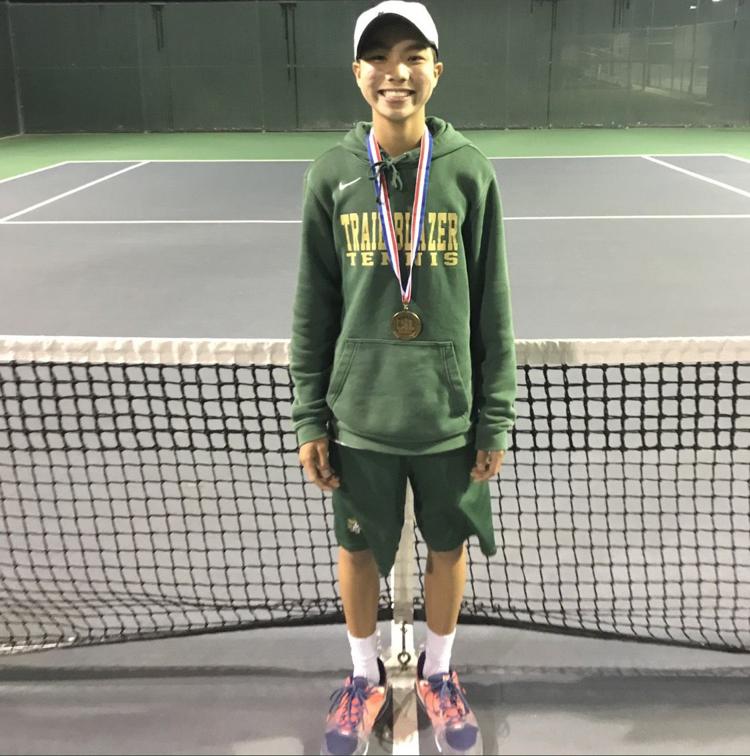 Speaking of Lebanon Trail, Trail Blazers golf was also a force on the court in 2018, and had it not been for Highland Park, they might have qualified for state.
Despite not winning the district crown, which went home to Wakeland, Lebanon Trail still advanced further than any other FISD squad at the regional meet and even dethroned the Wolverines, 10-5, in the regional quarterfinals.
A name to watch for next season is Nathan Tserng, who finished out his freshman campaign as a district champion and picked up bronze at the regional tournament.
Another program that has made some noise over the past few seasons and that is expected to be in the mix again in the fall is Independence, who will have a new head coach after legendary coach Steve Schkade retired this spring.
With that said, tennis within the FISD landscape should be another slugfest between 10 programs all worthy of recognition.
3. Who were the winners and losers from the first year of this 9-5A alignment?
It's never an easy thing to open your doors and immediately be thrust into one of the more daunting districts in the state, but that's exactly what Memorial did in 2018.
Just like Lebanon Trail, the Warriors did not feature any seniors last season but did not have the luxury of beginning its athletics programs from the ground up like Lebanon Trail did three years ago when it first started out with just freshmen enrolled.
Memorial was a "loser" from the start, but it's something each and every other brand new FISD school has had to endure over the last decade.
By that same accord, those growing pains don't last long. Just look at programs like Independence and Reedy, for example, which also opened its doors this decade and have already experienced immense success in a handful of sports that include district titles and deep playoff runs.
Memorial won't be a bottom feeder for long, and I expect them to contend for district titles in sports like girls basketball in which they dabbled with greatness in just a year ago.
As for a "winner" in the newly aligned 9-5A that simply added Lebanon Trail and Memorial, there isn't just one.
Each and every other school featured a state qualifier in something or made the postseason in a team sport, and this all-Frisco district will continue to be one of the more balanced in the state.
4. What is the top rivalry in 9-5A?
The first that comes to mind is the rivalry between Independence and Heritage.
A coach joked with me one time that you could hit a baseball from one campus and reach the other, and although that's an exaggeration, just one mile down Independence Parkway separates the two schools.
Two years ago, I covered a district boys basketball game between the Knights and Coyotes, and even though there were absolutely zero playoff ramifications, the gym was packed.
The kids from both schools are very familiar with each other and meetings between the two in any sport are always a unique atmosphere.
5. What were some of the most memorable performances among the 9-5A schools in 2018-19?
With the season on the line against district foe Lone Star, Liberty's Randi Thompson rose to the occasion on the biggest stage in the Region II-5A final.
Down by three with just seconds remaining, the North Texas signee drilled a 3-pointer from well behind the arc to send the game into overtime before her efforts in the extra period of play helped the Lady Redhawks advance to state.
Thompson nailed another shot from downtown and a critical free throw in overtime, as she poured in 19 points in one of the biggest games of her young career.
Another gutsy performance came recently in the postseason by Lone Star pitcher Ryan Bogusz. The Oklahoma State signee struck out 16-of-21 batters in a no-hitter, and on top of that, he hit for the cycle all in an 8-0 playoff win over Woodrow Wilson.