Two years removed from a winless 0-10 campaign in 2017, the Frisco football team is sitting comfortably in first place in District 7-5A Division II.
The Raccoons faced their stiffest competition of the year Friday night against the defending district champions in Reedy and held on for a thrilling 35-31 victory over the Lions.
The win now puts Frisco at 5-0 (3-0) on the season and atop the district standings at the midway point.
"We knew this would kind of be for the driver's seat of the district," said Jeff Harbert, Frisco head coach. "They are one heck of a football team, and I'm just so fortunate to get out of here with a win."
After squandering an early 28-7 lead, Reedy went on to score the next 24 points and even captured its first lead of the night on a 32-yard field goal by senior Will Harbour to put the Lions up, 31-28, with 4:39 remaining.
With all of the momentum on Reedy's side, Frisco had one last chance to regain the lead or face one of its toughest losses in recent history.
Instead of succumbing to defeat, Frisco chose the latter and strung together one last drive that consisted of a pair of third-down conversions and a 5-yard gain by senior running back Bryson Clemons on fourth-and-one.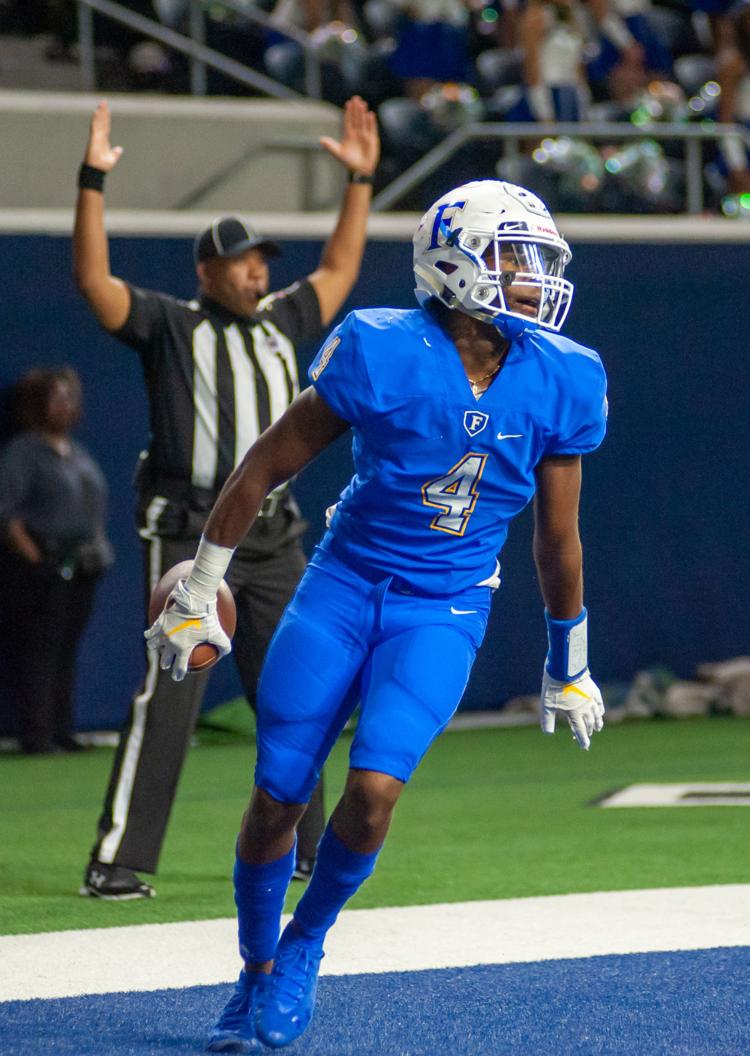 However, the play of the drive, and perhaps the game, came moments later when junior quarterback Caree' Green heaved a deep bomb into the direction of junior wide receiver Chase Lowery.
Prior to that pass, Lowery had already made a plethora of big-time plays, and on second down from the Reedy 40-yard line with just over a minute to go, the star senior corralled the jump ball at the 6-yard line.
One play later, Clemons punched it in for his second score of the night and secured the four-point win over the Lions.
"Lowery was high-pointing the ball over several people," Harbert said. "We called the play and saw that he was by himself with the corner. My money is on Chase at that point."
Reedy's game plan coming in was to dominate the time of possession and run as many plays as possible to keep Frisco's heavy hitters on offense off the field.
Reedy did just that by out-snapping Frisco, 79-40, and mustered an eight-minute drive to close the first half and put together a 16-play drive capped off by a 2-yard Harbour touchdown run to start the third quarter.
Although that helped lead to the Lions to a roaring, second-half comeback, their slow start is what head coach Chad Cole ultimately thinks hurt his squad the most.
Frisco scored on its very first possession of the game when Green connected with Lowery for a 59-yard touchdown strike at the 10:39 mark.
Then on the ensuing kickoff, Reedy muffed the return and Frisco senior Nicholas Holland recovered deep inside Lions territory at the 15-yard line. On the very next play, Clemons found pay dirt, and after a successful two-point conversion, the Raccoons were up, 15-0, on the defending district champs.
The struggles for Reedy in the first half did not end there, as junior quarterback Jalen Kitna threw a pass into the hands of Frisco senior Max Sowerwine that he took 71 yards to the house.
"That was horrible and you couldn't have written a worst start," Cole said. "In a key district ballgame, you can't start that way."
But Cole's unit buckled down from that point on and accounted for 472 total yards, out-gaining Frisco by over 200 in that department. The Lions also recorded two big takeaways in the second half with Harbour coming away with a forced fumble and later recovering one of his own, and junior linebacker Michael Swope scooped up a fumble and intercepted Green to set up the go-ahead field goal.
"Swope loves the game of football and plays with so much passion and pride, and Harbour gives you a chance to win against anyone," Cole said. "He's in charge and we live or die with No. 2."
But tonight, Lowery and Co. were just too much, and the Raccoons march onward with a flawless record at the season midpoint.
"This year, I'm thinking the Raccoons are going to find a way," Harbert said. "Tonight, that was our way."