LITTLE ELM – The matchup between Liberty and Little Elm on the basketball court has been laden with elite talent and familiar faces over the past couple of seasons.
The Lobos had won each of the previous two meetings behind the play of former Little Elm superstar RJ Hampton, but with the current New Zealand Breaker no longer there to terrorize the Redhawks, Liberty picked up some revenge Tuesday night and snagged a 55-48 victory on the road over the Lobos.
While Little Elm featured an almost entirely new roster from a year ago, as well as a new head coach in Dominique Parker, the Redhawks rolled out much of the same with just two returning starters.
Outside of senior forward Micaiah Abii and junior guard Myson Huff, Liberty displayed little to no varsity experience at key positions and head coach Stephen Friar even started freshman Trenton Walters at one of the guard positions.
That youth and inexperience showed greatly in the fourth quarter when the Redhawks nearly let a 10-point lead slip away after an 11-3 run by the Lobos got them within two at 46-44 with just over two minutes to play.
"That's the curse of youth," Friar said. "We're throwing them out there to the wolves early, and we're trying to see who's ready for the moment."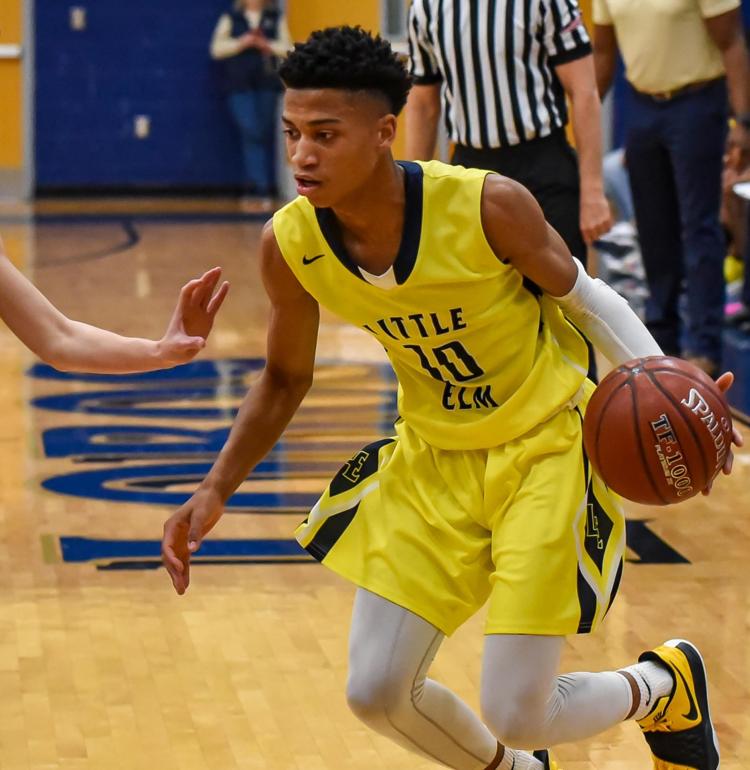 With Abii, who scored a game-high 27 points, struggling down the stretch, the Redhawks relied on their dominant offensive rebounding while also taking care of business from the charity stripe with seven made free throws in the final moments to seal the deal.
"These guys will never quit, but there is not a lot to like in that fourth quarter," Parker said. "We didn't rebound the ball when we needed it, and it's extremely frustrating because we held our own on the glass against Madison, but tonight we didn't compete in that area."
One of the few things Parker was content with in the final frame was the job his squad did defensively against Abii, who scored just two of his 27 points in the fourth.
Much like Hampton no longer being in the mix for Little Elm, former Liberty standout and District 9-5A MVP Zion Richardson is off playing at the collegiate level at Wofford – leaving Abii the reins to take over the program.
"He's just a beast and a warrior, and he is trying to assert himself as the leader of this team," Friar said. "This year, he has to take that role up and I know he'll do it. I want him to speak up a little bit more, but he's one of those guys that leads by example and is somebody that all the kids look up to. It's no secret that we're going to ride him all season."
To that same accord, Little Elm is also looking for a fresh face to lead the way, as senior guard Keith Smith is the lone returning starter from last year's crew.
After serving as a complementary piece to players such as Hampton, Tre White and Javian Williams over the past couple of seasons, Smith is beginning to embrace his new role and poured in a team-high 16 points in the loss to the Redhawks. The senior did the bulk of his damage in the second stanza when he scored seven points, including the first five of the quarter to give the Lobos a 16-14 advantage.
"He's played a certain role for the last three years, and he's not going to be able to just flip that switch and automatically become our leader," Parker said. "He's still learning how to be a leader, and I expect him to be that guy eventually."
However, the two-point edge early in the second quarter proved to be the last time Little Elm held a lead in this contest, as Smith's 16 and senior guard Michael Prather's seven fourth-quarter points weren't enough to mount a comeback.
Up next for Little Elm is another home showdown Friday against St. Mark's, while Liberty looks to mount a winning streak when it hosts Naaman Forest.