LITTLE ELM - After letting an 18-point lead slip away in the fourth quarter Friday night against Frisco Centennial, the Little Elm football team had one last chance to right its wrongs.
With just 2:04 left on the clock and facing a 38-35 deficit, the Lobo offense, which hadn't scored since early in the third quarter, came through in the biggest way.
Little Elm mustered a six-play drive, highlighted by a 10-yard go-ahead touchdown run by sophomore running back Jason Jackson with 1:01 remaining that gave the Lobos the lead for good en route to a thrilling 42-38 victory over Centennial.
"Kudos to our offensive line and [sophomore quarterback] John Mateer on that last drive," said Kendrick Brown, Little Elm head coach. "He showed tonight that he has the makings of being a good high school quarterback."
On that final possession for Little Elm, Mateer started things off with three straight incomplete pass attempts, which led to a critical fourth down with the game on the line.
On that ensuing play, Mateer appeared to have lost the game for the Lobos when he launched a pass into the hands of Centennial senior Trysten Meadors, but the potential game-clinching interception would not stand due to pass interference on the defense.
Trysten Meadors with an interception here BUT there's pass interference!! Little Elm stays alive pic.twitter.com/Qm2Ktwhupy

— Bryan Murphy (@BryanMurphy_) October 5, 2019
That flag sparked life into the Lobos' offense, as Mateer then connected with sophomore Vashawn Thomas II for 14 yards on the next play and then found sophomore Josh Joseph for 18 more yards to set up the Jackson touchdown moments later.
"Our receivers also made some key catches tonight," Brown said. "These young guys made some big plays in this game, and that is going to help us down the stretch."
The Titans still had a chance with roughly a minute to go and even marched all the way into Little Elm territory before a fumble by Centennial senior wide receiver Jacob McCoy was scooped up by Lobos junior linebacker Rocky Navarette to seal the deal.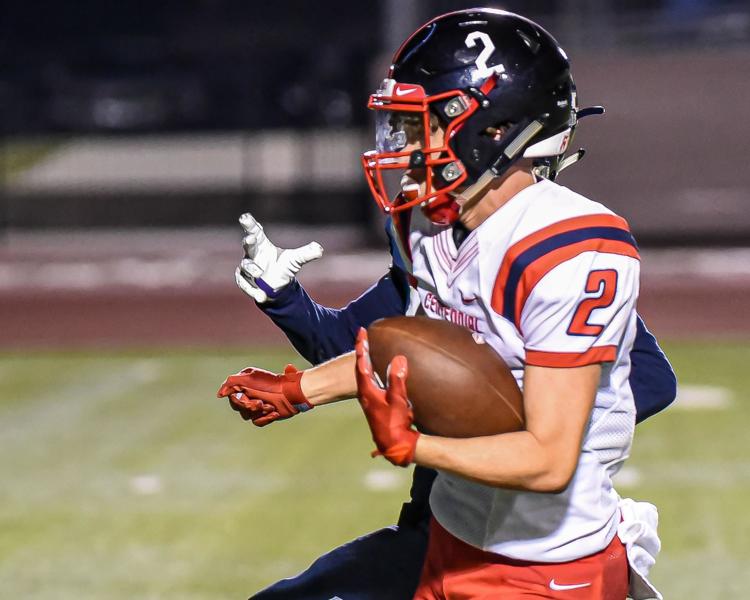 The turnover bug plagued the Titans in the second half prior to reeling off 21 unanswered points when they fumbled the return on the opening kickoff of the second half.
Just one play later, Little Elm four-star recruit Ryan Watts snagged a screen and scampered 30 yards down the sideline for a touchdown that gave his squad its largest lead of the night at 28-10.
Watts received devastating news early Friday that his grandmother had passed away, and Brown had strong praise for his star player on his decision to suit up despite the loss of a loved one just hours before.
"The game ball goes to Ryan Watts," he said. "I give credit to him for just playing tonight, and our prayers go out to him and his family. He came out with a lot of mixed emotions tonight and did a great job."
After Centennial responded right back six plays later with a 59-yard touchdown catch by Meadors, Little Elm capitalized on another costly miscue when sophomore Keyshon Mills pounced on a muffed punt that set up a 15-yard touchdown grab by junior Chuck Egwu on the following play.
That error very well could have sucked the life out of the Titans, but they kept fighting and responded with another fine drive capped off by another touchdown by Meadors, who finished with 186 receiving yards and two scores.
Then, the Centennial defense flexed its muscle and forced either a turnover on downs or a punt on Little Elm's next three possessions and closed the gap to a one-score contest when junior quarterback Grayson Daryies found a wide-open Ridge Texada for a 50-yard touchdown strike.
To no surprise, Texada made a massive impact in this ballgame with an interception on Little Elm's first possession and 139 total yards of offense and a touchdown that cut the deficit to four at 35-31 midway through the fourth.
"He is who he is," Brown said. "Texada is one of the top players in this district and can do it on offense or defense."
After another Little Elm punt, Centennial seized control with a 3-yard touchdown run from senior running back Jawan Washington, who also found the end zone for the Titans' first score of the night early in the opening quarter.
But he was outdueled by Jackson, who not only notched the game-winner, but also paced all rushers with 129 yards and four touchdowns – three of which came in the first half alone while senior Jordan Hall also played while nursing a hip injury.
"We've always thought we had two good backs, and [Jackson] had a big night," Brown said. "But it wasn't just one guy tonight; it was a great team win."
The Lobos improve to 1-1 in district play and take on Wakeland at home next week. Meanwhile, Centennial drops to 0-5 and seeks its first win of the 2019 campaign next week against Liberty.