The Little Elm football team kicked off practice this week with one clear-cut focus – beating Justin Northwest in Week One.
That's something the Lobos were unable to accomplish a year ago when they began the 2018 season with a 41-34, double-overtime loss to the Texans — a setback that opened a year in which Little Elm failed to qualify for the postseason in its first stint in District 5-5A Division I.
As the first week of practice heats up on the field for Little Elm, head coach Kendrick Brown said any expectations are out the window and that doing the little things right will be a point of emphasis to be ready for Northwest in two weeks.
"Our focus this week is on the little things," Brown said. "We had four games where we lost by a touchdown or less. That starts with being on time in meetings, how the kids are approaching the weight room and taking care of business in the classroom. We're really sweating the small things this year so we can be better prepared in those tight games."
A point of concern a year ago started and ended with one of the most important positions in football – the quarterback.
Last season, the Lobos endured a quarterback carousel between Juan Ponce and the eventual starter by the end of the season, freshman John Mateer.
Mateer, now a sophomore, is slated to be the unquestioned Week One starter and has whipped the ball around nicely through the first few days of practice.
"One of the best coaching moves of last year was to go ahead and put the freshman in," Brown said. "Now, you don't see a sophomore out there. I'm not necessarily saying he's a junior or a senior yet, but the game is moving pretty quickly for him and we feel like he can make all of the throws."
Mateer being thrown out into the fire midseason as a freshman was vital for him to come out and be fully prepared to run the show at such an early age.
Three years ago, Logan Kohler took over the reins of the offense as a sophomore and led the Lobos back into the playoffs following a three-year drought.
Brown and his team are hoping they'll get a similar result with another young and capable gunslinger that has already embraced a leadership role despite his age.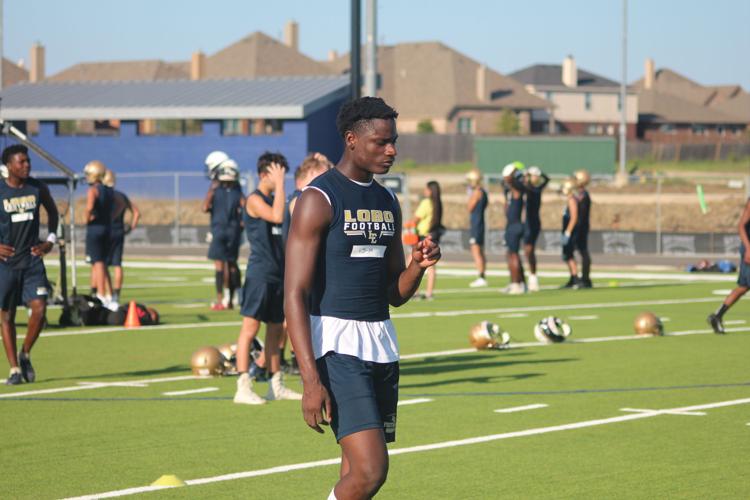 "Watching him play, I wouldn't think he's a sophomore," said Jordan Hall, senior running back. "He's more of a Tom Brady-type of player and leads the team even though he's young."
Despite graduating highly talented players within the offense such as tackle Elias DeLeon and wide receivers Brandon Crossley and Will Harris, Mateer will still have plenty of weapons to get the ball to and big bodies up front to protect him.
Senior Toby Martinez will be a name to watch on the offensive line as he shifts to the guard position and anchors a unit up front that is expected to be younger than it was a year ago.
In the slot, fellow sophomore Noah McCants has impressed in fall camp thus far, and senior cornerback Ryan Watts will be utilized quite a bit offensively, as well, with a similar role Crossley displayed last season.
Little Elm CB and @OU_Football commit @RyanwattsIII making plays and making it look easy at that. pic.twitter.com/X2hE0fZ3Vh

— Bryan Murphy (@BryanMurphy_) August 12, 2019
Watts, a four-star recruit, is committed to Oklahoma after his stock skyrocketed last winter with over 30 offers from other powerhouse programs such as Ohio State, Texas, Alabama, Notre Dame and LSU.
Much like Watts, his primary position will be on defense at cornerback, and Brown knows he must make use of the most highly recruited player to ever come out of Little Elm's football program.
"It's great whenever you have a guy that has the recognition like Ryan Watts does," he said. "He's always at the front of the line and never misses reps. He's a four-star player in his rating, but he's a five-star when it comes to being a leader and that is going to help us down this road."
The Lobos have just over a week to gear up for its only scrimmage against Denton on Aug. 23 before the real deal begins at home against Northwest on Aug. 30.