It may be just Week 3 in District 5-5A Division I action on the gridiron, but tonight's matchup between two playoff hopefuls is about as big as it gets when it comes to early-October showdowns.
Wakeland (1-1) and Little Elm (1-1) square off tonight in what should be a doozy in the two teams' sixth-ever meeting, as Wakeland leads the series, 3-2.
However, the Lobos got the best of the Wolverines a year ago in a 28-16 affair that almost cost Wakeland a spot in the postseason while battling various injuries at key positions.
In the rematch, Wakeland comes in fairly healthy outside of the quarterback position, but so does Little Elm with senior running back Jordan Hall expected to be at almost 100%, according to head coach Kendrick Brown.
Last week, in a thrilling victory over Centennial, Hall was sidelined throughout the contest due to injury, which allowed sophomore running back Jason Jackson to shine in a four-touchdown performance.
With Hall expected to be back in the lineup as a heavy contributor out of the backfield, expect Little Elm to utilize both of its runners throughout the course of tonight's game.
"The running game gets us going, especially if we have two guys that can run it," Brown said. "Both of those guys play an important part to the success of our offense."
Although containing the running game will be key for the Wolverines, Wakeland head coach Marty Secord is fully aware of another impact player to keep an eye on – senior Ryan Watts.
The four-star recruit is used on both sides of the ball at cornerback and wide receiver, and Secord fully expects Watts' main assignment to be containing Wakeland senior wide receiver Kevin Rychel, who has 11 touchdowns on the season.
"[Watts] is special and I'm sure they'll have him on Kevin Rychel," he said. "We've tried to move him all over the place and let him run different routes. We're going to try and create any mismatch we can get where he can possibly get the advantage."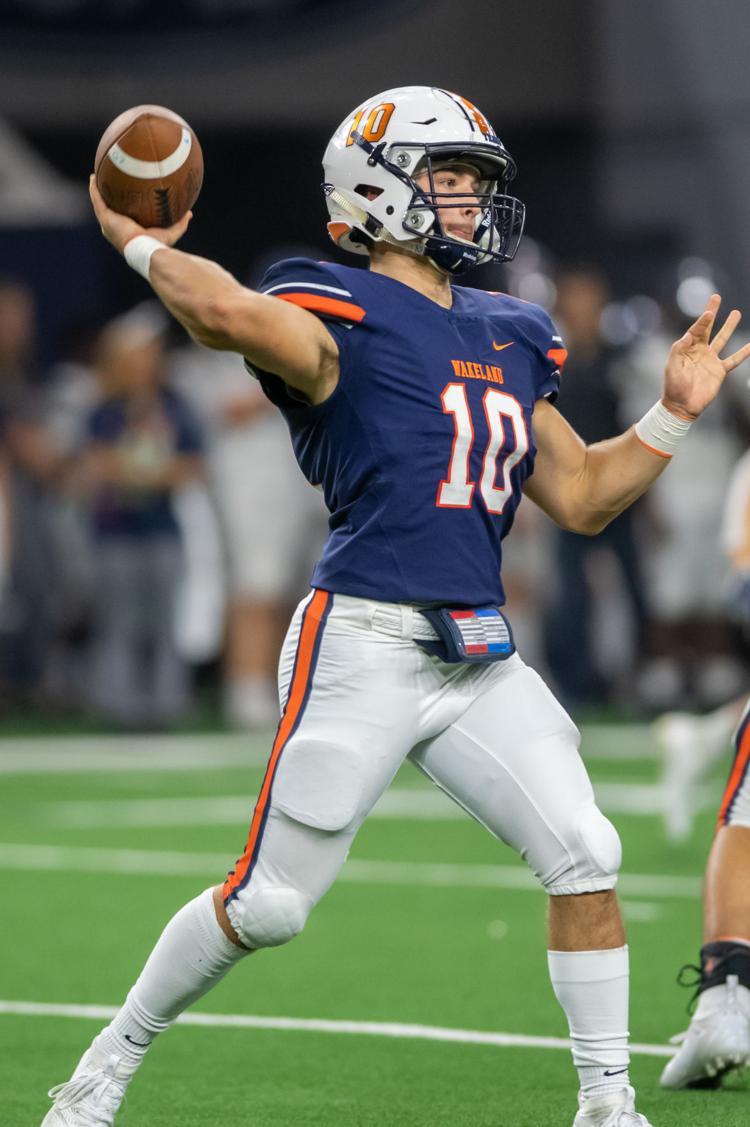 Wakeland's starting quarterback Dylan Liable is once again out this week with a shoulder injury and in his place making his fourth straight start is junior Peyton Lewis.
Lewis is 2-1 since taking over as the starter, which includes impressive wins over McKinney North and Heritage, and has posted 866 passing yards and 11 touchdowns.
"[Lewis] is just a winner," Secord said. "He's such a great kid and his preparation has just been solid. He's a good, quality quarterback and you can win with him. He can also make plays with his feet, so we try and build some things in for him to do that as well."
These two ball clubs come in on opposite ends of the spectrum despite sporting identical district records.
Little Elm is fresh off of a come-from-behind win over another formidable foe in Centennial, while Wakeland is looking to regroup after a blowout loss to No. 1 state-ranked Lone Star.
"They are probably flying high right now, so we just have to go in there at the top of our game," Secord said. "If we don't then we'll be sitting in a spot we don't want to be in. We don't want to become dependent on someone else to control our destiny. It's an important and our kids know it."
Brown is also adamant this week on taking care of business and being able to dictate the Lobos' path moving forward as well.
"It's a big game, no doubt, but we also want to make sure we continue to play well at home," he said. "It's important for us to try and go 2-1 in district play, regardless of who we are playing. We want to stay in control of what we're doing."
Kickoff between Wakeland and Little Elm is slated for 7 p.m. tonight at the Little Elm ISD Athletic Complex.