ARLINGTON – Last season, Jaden Nixon wasn't even at Lone Star. On Friday, the junior running back helped send the Rangers to the fourth round of the playoffs with the biggest play of his career.
Needing a touchdown or field goal to beat Highland Park in overtime, Nixon's number was called on third down before he powered his way virtually untouched into the end zone.
The 18-yard scamper to the house sealed the deal for Lone Star in an epic 33-27 victory at AT&T Stadium over the Scots, who entered this contest as the three-time defending Class 5A Division I state champions.
"I knew at that moment I had to make a play," Nixon said. "After that, everything was like a blur to me, and I was just thrilled."
Lone Star head coach Jeff Rayburn's recollection of the game-clinching play was similar.
"My mind went blank right there," he said. "All I knew was that I wanted to run and give that kid a hug."
With the score deadlocked at 27 apiece as regulation expired, the Lone Star defense was called upon once again to step up in overtime after holding the Scots to just 10 points in the second half.
The Rangers did just that by allowing Highland Park to muster only 5 yards – setting up a 37-yard field goal attempt by Wesley Winters that sailed wide left. Prior to that costly miss, Winters had connected on two field goals, including a 39-yarder to tie things up with 54 seconds left in the ballgame.
That overtime miscue, however, set the Rangers up to end things right then and there in the first overtime, and they needed just four plays to set up the Nixon touchdown.
This highly anticipated matchup was a rematch from a meeting between the two juggernauts back on Sept. 13 in which Lone Star got the best of Highland Park in a 30-19 outcome. The meeting three months ago marked the first time a team from Texas had defeated the Scots at home since 1998, and it was also the only loss they had suffered all season – until Friday.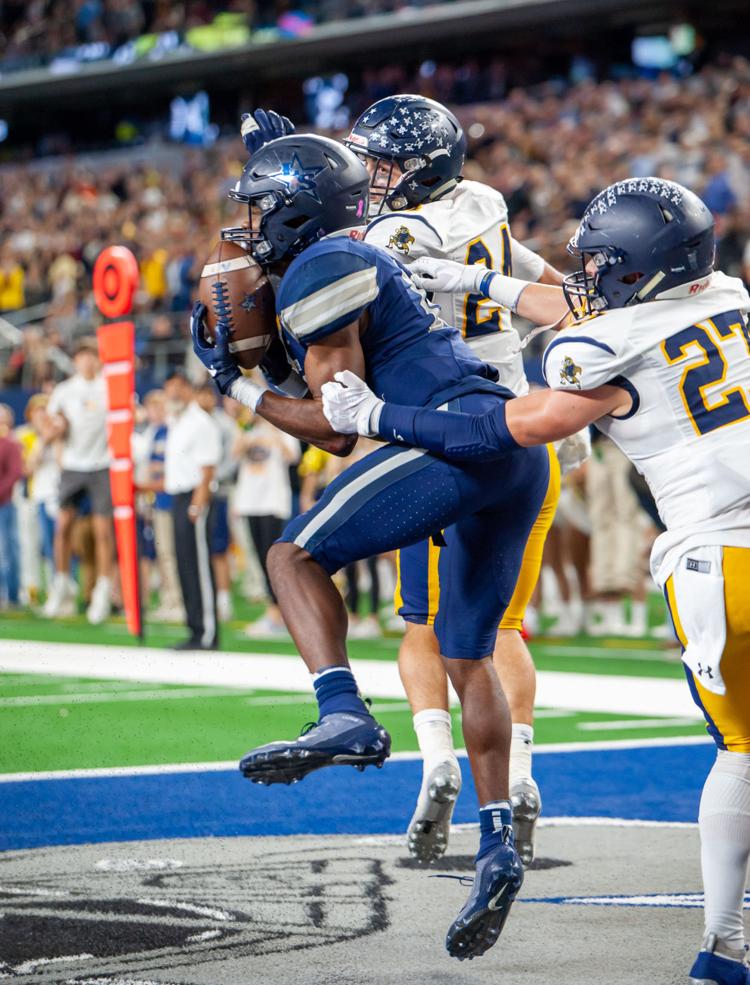 "They played us a little bit better this time," Rayburn said. "We got on them early over there, but this time we had to battle for four quarters and a little bit more. This was two championship-level teams getting after it, and our kids just kept playing regardless of the situation they were in."
Rayburn's crew found themselves in several situations that were not ideal, as they faced a deficit much of the second half when a 10-yard touchdown pass from Chandler Morris to Paxton Anderson gave the Scots a 24-17 lead that they would not relinquish until the 3:43 mark of the fourth quarter.
After a Josh Click field goal cut the Highland Park lead to four points, Lone Star mustered a 10-play drive consisting of all passes, capped off by a 16-yard touchdown from its go-to playmaker in senior Marvin Mims.
The Oklahoma commit's go-ahead score not only gave his squad its first lead since the first quarter, but also came on a critical fourth down with the season on the line. Mims finished his night with nine catches for 96 yards and two touchdowns – the first coming from 11 yards out on the fourth play of the game.
"Mims did a great job and made some big-time plays," Rayburn said. "You're never going to take Mims completely out of the game, and he really opened it up a lot for guys like Trace Bruckler and Tolu Sokoya."
Not only were Bruckler and Sokoya unsung heroes in the triumph, the duo was just as paramount as Nixon and Mims in the victory.
Sokoya finished with 76 yards and a critical touchdown catch to tie things up at 17-17 just before the half, while Bruckler paced all receivers with a whopping 14 catches for 183 yards and drew a pair of defensive pass interference penalties as well.
With the running game struggling much of the night with just 46 total yards on the ground, sophomore quarterback Garrett Rangel was called upon to make play after play in his first-ever game under the bright lights of AT&T Stadium.
The sophomore sensation out-dueled Highland Park's highly recruited gunslinger with 417 yards through the air and three touchdowns, to Morris' 239 and three total scores.
"In a game like this, where you're playing high-level guys like Chandler Morris and that offense, you're not going to completely shut them down," Rayburn said. "But what matters is we made a huge stop in overtime to give us a chance to win."
Lone Star now advances to take on the winner between state-ranked Lancaster and Frisco Independence – the latter a team the Rangers routed earlier in the district slate, 63-14.