ARLINGTON — Throughout the postseason, track and field coaches from Frisco ISD and McKinney North were confident that the level of competition faced in their respective district and area meets would be apt preparation for the Region II-5A gauntlet.
Those beliefs held true Friday and Saturday at The University of Texas at Arlington — the Frisco Liberty boys and Frisco Heritage girls both placed second in the team standings, while the North girls (third place) and boys (seventh) cracked the top 10 as well.
All four programs, plus several others between the 9-5A and 10-5A districts, will have representation in Austin on May 7 at The University of Texas for the Class 5A state meet. The top two finishers in each regional event, plus the top third-place mark across all four regions, qualified for state.
That includes a healthy FISD contingent, with state qualifiers coming from eight of the district's 10 high schools. Three will carry the top seed into their respective events following regional wins for Liberty junior Evan Stewart in the long jump (22-10 3/4), Reedy senior Colleen Stegmann in the 1,600 (4:54.50) and Lebanon Trail senior Thomas Donley in the 100 (10.33).
Donley's road to state is a unique one, recovering from a torn MCL on the football field that cast doubt on his track season. Rehabbing from that surgery precluded Donley from racing at all prior to the postseason but didn't deter the Lebanon Trail sprinter from clocking a personal-record time on Saturday.
"I had surgery on my knee in November, so my first day sprinting was actually two days before districts. Being able to come out here is really humbling," Donley said. "… My doctor said I'd maybe be able to hit my PR but never go faster than that. I didn't stop working."
Stewart, meanwhile, turned everything he touched to gold. One of the state's premier wide receivers, Stewart placed first overall in four events at regionals — complementing his win in the long jump with gold medals in the triple jump (46-8) and as leg in the 4x200 (1:27.63) and 4x400 (3:18.84) relays. Joining Stewart in the 4x200 was senior William Ashmore and juniors Chris Johnson and Cameron Wooley, while Johnson, Wooley and Stewart teamed with senior Bryson Wyatt in the 4x400.
Joining Stegmann atop the medal stand for Reedy was senior Madison Jeffries, who picked up wins in the 100 (11.88) and 200 (24.39) to qualify for state. Other FISD athletes who placed first at regionals included Lone Star junior Kailynn Jackson in the 400 (57.00), Heritage sophomore Kirin Chacchia in the 300 hurdles (43.55), Heritage senior Soham Patil in the 1,600 (4:24.74), Independence junior Alauna Richardson in the discus throw (139-10) and Liberty junior Cori Ross in the high jump (5-4).
North, meanwhile, nabbed qualifying spots in four different events. Two of those resulted in wins at regionals with sophomore Alexandra Harber picking up first place in the pole vault (12-6) and the 4x100 relay of junior Leah Pettis, sophomore Caitlin Offie, senior Nakaila Birdine and sophomore Gabrielle McPherson kicking off Saturday's running finals with a winning time of 47.15.
"It went way better than we expected," Pettis said. "We came in second (in the prelims) and were tied with Lancaster. We didn't expect to get first, but I'm so glad we did."
Saturday was also a productive meet for Lovejoy, which placed both its teams fifth overall and totaled state qualifiers in six different events. Leading the way for the Leopards was a win by junior Tate Barr in the 3,200 (9:39.52), while freshman Kailey Littlefield impressed in her first regional meet with a first-place finish in the 800 (2:10.78).
"I've been running for a long time, but I didn't expect it to be this good in high school. It's been a lot of fun," Littlefield said.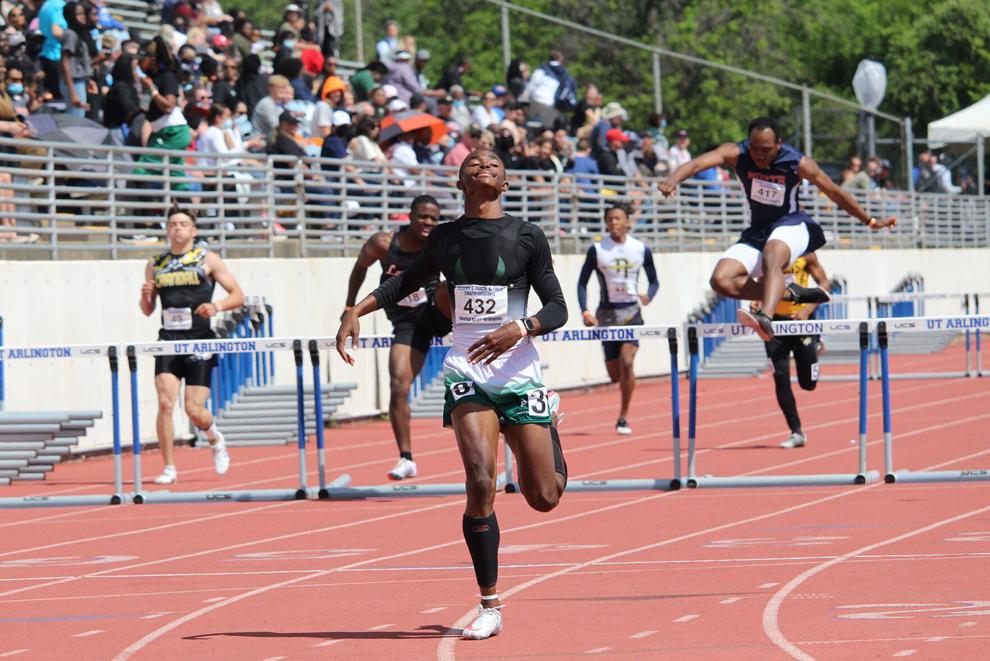 One of the day's most electric performances belonged to Mesquite Poteet junior Kendrick Smallwood, who backed up his standing as the state's top hurdler with a pair of resounding first-place finishes at regionals. Smallwood clocked a pair of personal-record runs in the 110 hurdles (13.56) and 300 hurdles (36.81) — the former doubling as a regional record and the current No. 1 time in the nation, according to Athletic.net.
While Smallwood prepares to compete at state for the first time since his freshman year, Prosper Rock Hill junior Gavin Hecke will be making his debut at the meet following a regional win in the pole vault at 15-0.